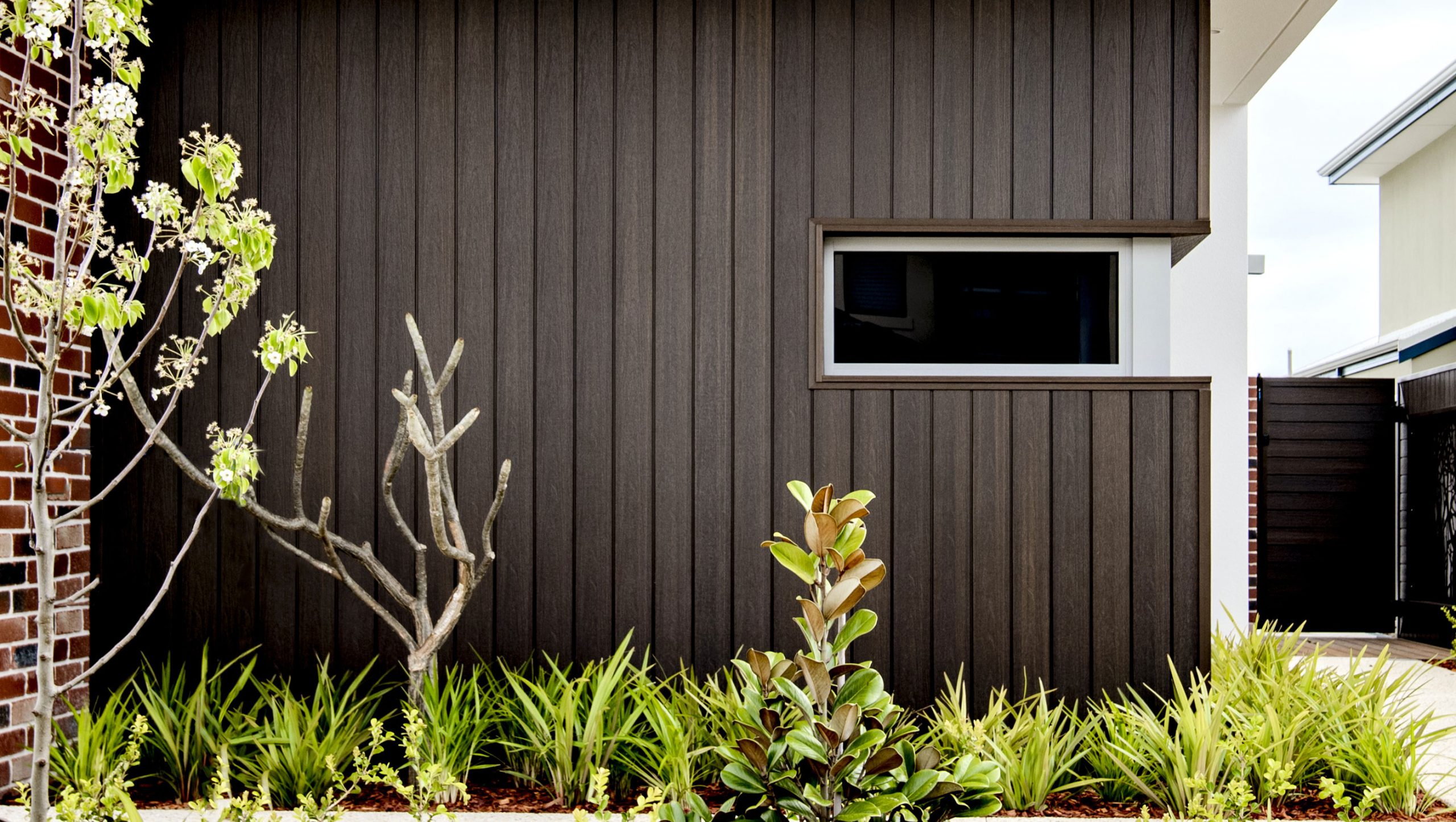 ---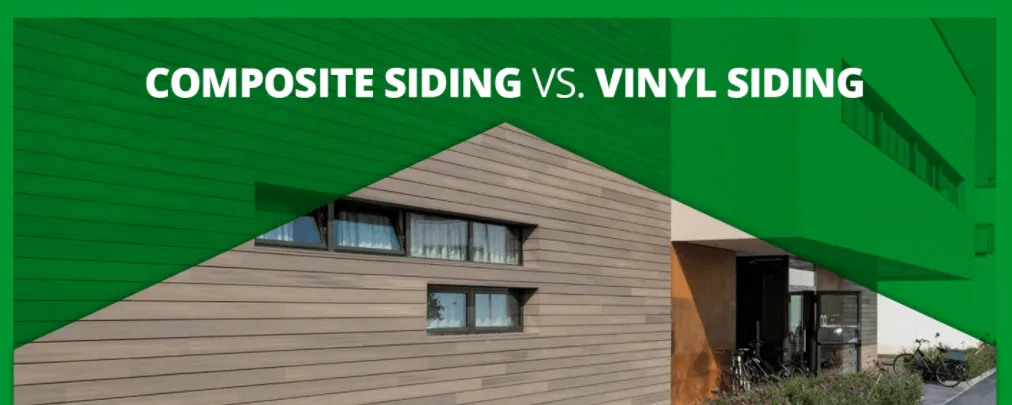 The exterior of a home can reveal a lot about who lives inside — and whether you're a homeowner looking to boost the curb appeal of your house, or a contractor searching for innovative materials, your first step is to compare and contrast your options.
Composite wood siding and vinyl siding both bring different values to the table. It's vital to consider aspects such as cost, protection, installation, style, longevity, quality, maintenance and aesthetics to determine which will bring you the highest value.
NewTechWood America Inc. is an expert in exterior siding solutions. We will help you select the type of composite siding that delivers the most long-term benefits if you're building a new home or making a few updates. Our composite siding can increase the value, appearance and protection of your home. But what are the differences between composite and vinyl siding?
Composite Siding Vs. Vinyl Siding
The purpose of siding is to protect and insulate a house — but is composite siding or vinyl siding the best solution for you? Let's start by distinguishing the general differences between the two.
1. Composite Characteristics
Composite wood is an exterior siding made of scrap wood that's compressed and bonded together with resins. Treated with chemical treatments to ward of fungi and insects, composite often comes pre-primed and ready to paint. It's also available already finished with one of many styles we offer that mimic real wood.
Our products provide exceptional protection against the elements such as water, wind, heat and debris. Composite siding can enhance the style of a home and present smooth or embossed textures that are accessible in an array of colors and styles. Composites can last up to 30 years and need repainting every five to 10 years.
2. Vinyl Characteristics
Made from plastic resin, also known as polyvinyl chloride (PVC), vinyl is a human-made material combining fibers, fillers, binders and other materials. The manufacturing process heats and compresses the elements to form siding boards.
While vinyl siding options lack in providing proper insulation, they are easy to maintain and are resistant to wear as well as damage from insects. Known for its versatility, vinyl can retain its look for many years and is available in a range of colors, patterns and textures such as shakes, fish scales and lap. If you need better insulating properties, you can opt for insulating vinyl instead of the standard option, but it will raise the overall cost by about 15%.
Advantages of Composite Wood Siding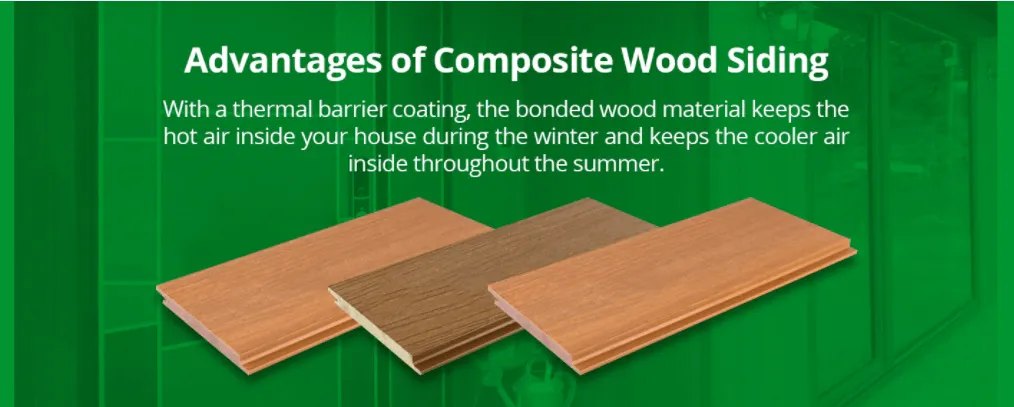 Composite siding is a cost-effective alternative to vinyl siding that offers incredible benefits to any homeowner making improvements or architects creating new designs. Composite wood for exterior purposes delivers great insulating characteristics. With a thermal barrier coating, the bonded wood material keeps the hot air inside your house during the winter and keeps the cooler air inside throughout the summer. It doesn't require a layer of insulation like vinyl.
Compared to other materials like wood, metal and vinyl, composite siding doesn't expand or rot when exposed to moisture. It also doesn't expand or contract with various weather conditions like vinyl does. It's a cost-effective solution that's sustainable and eco-friendly.
Other bonuses of composites include:
Easy maintenance by cleaning with soap and warm water
Great aesthetics
Inviting styles
Lighter and easier to install than real wood
Authentic appearance
Cost-effective
Durable
Customizable
At NewTechWood, our composite wood exterior siding has a 25-year warranty. Because we have control over the entire manufacturing process of our products, we can deliver consistent color and quality. It also allows us to manage our material costs for product availability and stable pricing. We also continue to innovate our siding. From creating different colors to creating our new European style composite siding.
Additionally, we offer UltraShield® wall cladding as an impeccable solution for exterior walls. Our engineers created a design that combines the longevity and toughness of capped wood plastic composites. UltraShield® provides cladding with remarkable advantages such as:
Great textures and colors
UV resistance
Low-maintenance
Long-term value
Superior protection and insulation
More affordable than natural wood
Our compatible AW08 cladding clip can hold US09 boards. It connects boards and raises them away from joists to enable air circulation between joists and cladding, keeping the inside dry. The clips isolate the area from any water on the outside, too. The AW08 allows expansion and contraction of the boards during different weather patterns, and with the addition of a screw, it can control the direction of the contraction and expansion.
When you look more into the logistics of installation, you have two options when it comes to composite wood cladding — vertical and horizontal.
The vertical design is where the composite exterior panels run vertically. Because characteristics of the composite siding resemble natural wood, it gives an incredible richness. The vertical installation draws the eye upward and emphasizes the height of a home.
The only distinction and difference between vertical and horizontal panels is the orientation. The position of the siding can make a major difference in the look of your house. Horizontal highlights width, giving a broader look. The width of the boards you select can also affect the appearance.
UltraShield® colors range from Brazilian IPE and English Oak to California Redwood and Caribbean Blue. With each of our UltraShield® products, we conduct tests with conventional options. We test how the material reacts to stains, scratches, abrasions, UV light and hot environments to ensure incredible solutions.
With our technology comes the advantage of not needing to paint or oil the siding, as well as further gains such as:
Stain and mold resistant
Splitting resistant
Fade resistant
Benefits of composite wood siding continue with a look into NewTechWood's sustainability commitment.
How Our Composite Siding is Sustainable
Now more than ever, society realizes the harmful effects of humanity on the environment. At NewTechWood, we believe working with recycled material and promoting sustainability are crucial for the future of Mother Nature. Our developmental team creates green designs for our reprocessed siding boards made of recycled materials.
We strive to uphold three philosophies:
Economic development
Environmental protection
Social development
Through media and word-of-mouth, we have listened and reacted to the public's concern for environmental sustainability — which is why we generated innovative building materials through a sustainable process to make your home greener.
Our green solutions include products engineered with 95% recycled materials such as plastic bottles and reclaimed wood fibers. We also have a third party conduct yearly audits to ensure we're complying with environmental, safety and health regulations. For us to reduce our carbon footprint, we focus on waste reduction, energy conservation and the implementation of the most optimum process.
Each month we save more than 12,000,000 pounds of plastic, keeping it out of landfills, the ocean and even your backyard. NewTechWood controls the entire manufacturing process from proper washing and material sorting to screening for impurities and knowing what's going into our composites. Our green initiative is in effect to benefit you and the environment.
Benefits of Vinyl Siding
Exterior vinyl siding is almost a maintenance-free solution that you can clean with soap and warm water, or a power washer, if recommended. As it requires the least amount of regular maintenance, vinyl also has a vast range of available colors, enhancing the aesthetics of your home. It is cost-effective compared to other sidings like stone and wood and doesn't need yearly paint jobs.

Vinyl can last up to 40 years because it's not susceptible to rot or insect damage. Other advantages include:
Durability
Resistance to color fading
Simple installation
With its versatile collection of colors, textures and patterns, homeowners can manifest their dream design. Vinyl does well against the elements, like rain, wind, heat, cold and even hail. It won't rot or corrode over time and will keep its original quality throughout the years. However, moisture can get between the siding and the house, encouraging rot and insects on interior supports.
Insulated vinyl prevents heat loss and keeps a house cool in the summer, helping to keep utility costs low. It's considered more "green" than stone or brick siding. The PVC material resists dents and is a beautiful choice as well as a practical solution.
Vinyl gives off realistic textures, and with its fade-resistant finishing, it will keep fresh during each season. It's also a light-weight material that complies with requirements from the National Fire Protection Association.
Cost Comparison of Vinyl and Composite Siding
When it comes to initial costs and longevity, composite and vinyl materials are closely similar. If you plan to choose based on price or are looking to bargain shop, there may not be enough of a difference on which to base your decision.
Typically, both composite and vinyl sidings cost anywhere from $7,000 to $13,000 or more for installation. Higher quality products may be more expensive, but comparable varieties will still remain within the same price range.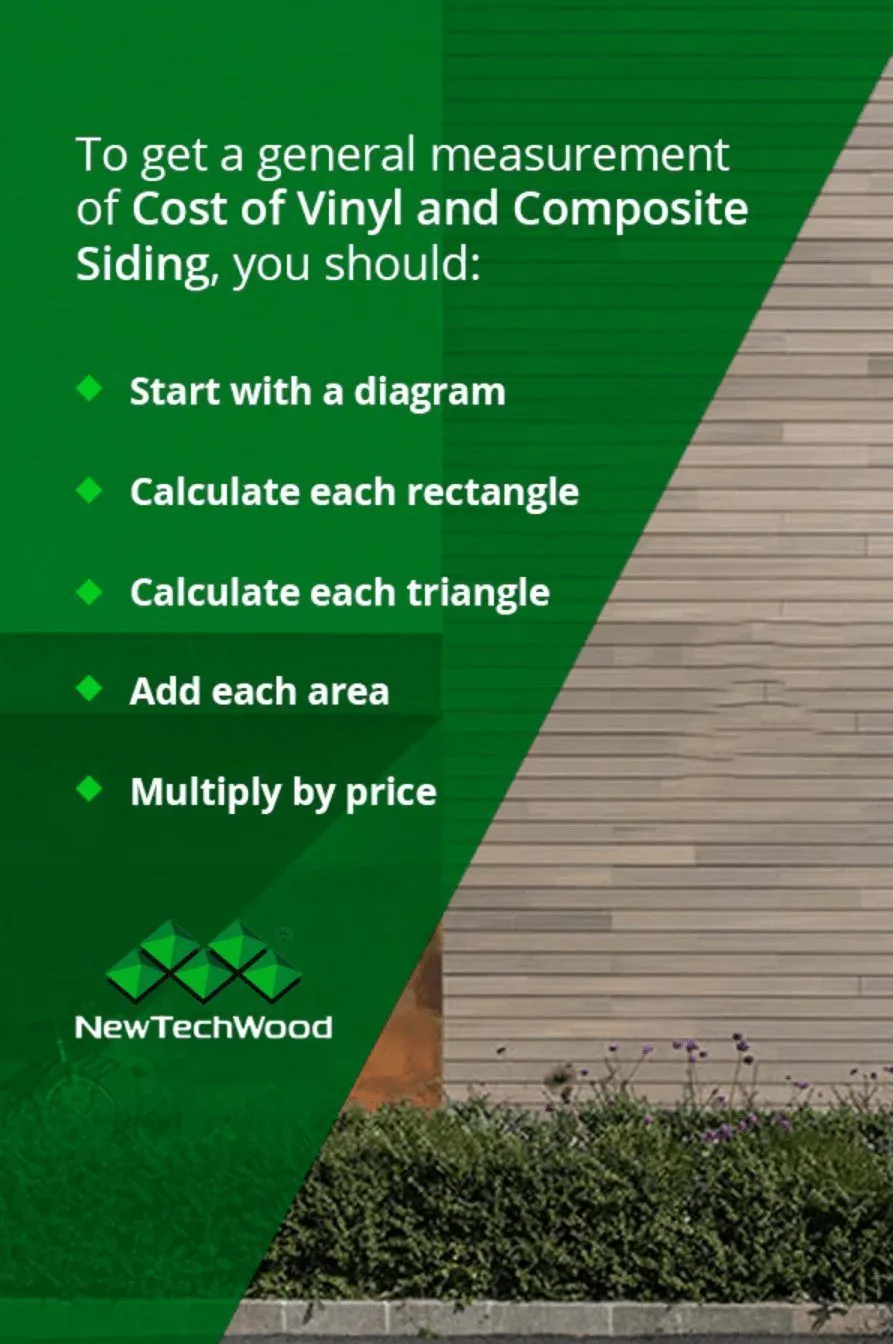 If you want a thorough price comparison, you can calculate a rough estimate for your siding project. You'll need to find the total exterior surface area of the spaces where you intend to install new siding. To get a general measurement, you should:
Start with a diagram: First, draw a general diagram detailing the triangle and rectangle shapes of the outside of the building, or any area that needs siding installed.
Calculate each rectangle: Find the height and width measurements for each rectangle in feet and multiply them to get their surface areas.
Calculate each triangle: Find the base and height for each triangle, multiply their measurements, then multiply that product by .5 to get their surface areas.
Add each area: Once you've found the general surface areas for each individual shape, add them together to get the total exterior square footage. Since this is a general calculation, you can overlook any door and window cutouts.
Multiply by price: Find the price per square foot of the vinyl and composite sidings you want to compare. Multiply each price by your exterior square footage.
This process will help you calculate a ballpark estimate of specific products and installation. Since vinyl and composite materials are so close in price, it may still show that there isn't much of a difference between your options. It will likely benefit you more to simply choose whichever style you prefer based on appearance or aesthetics.
Quality Comparison of Vinyl and Composite Siding
Advantages and disadvantages are inevitable with any product you're looking to use. Comparing the level of quality between vinyl and composite siding gives you a clear idea of how the latter delivers a higher value.
Vinyl doesn't dent or scratch and won't need repainting. The color doesn't fade easily because the pigments reach through the plastic material. It's more or less a maintenance-free solution unless you want to spruce it up with a fresh clean.
However, the quality of vinyl illustrates how it can expand when exposed to long-term environments with moisture, which, in turn, can affect your home's stability. Vinyl can crack under extreme temperatures, and high winds can damage the material, making it not ideal for locations that are prone to high winds and inclement weather.
Vinyl siding is not waterproof. Sometimes water can leak between the siding and surface of a home which can lead to mold, infestation and rot. Always check your gutters to ensure water isn't traveling down the siding where it can get trapped. When it comes to installation, vinyl siding panels often overlap, creating a seam. It doesn't form a unified look, which may not be what you're looking for.
The quality of composite siding differs from that of vinyl exteriors. Our all-weather composite siding solutions can withstand cold and freezing temperatures. It's also resistant to rot, mold, swelling and boring insects thanks to its makeup of chemical compounds. You don't have to worry about regular repainting, and it maintains the stability of your home with a timeless and classic look. The composite exterior also forms a seamless finish because each piece connects together at the edges with clips.
NewTechWood uses UltraShield® co-extruded capping to provide exceptional resistance to damage and protect the composite core materials. During the manufacturing process, heat fuses this external layer to the core, creating an impenetrable shield without using any harmful chemicals. It locks out moisture and insects from every side, protecting the structural integrity of the building.
Learn More About Composite Wood Siding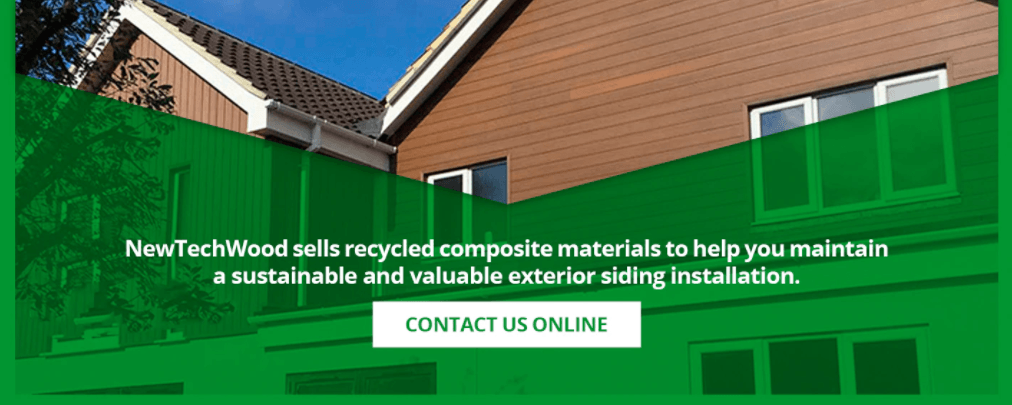 NewTechWood sells recycled composite materials to help you maintain a sustainable and valuable exterior siding installation. Composites are evolving into a more affordable and long-term alternative compared to wood and vinyl solutions. With realistic wood colors that are co-extruded on all four sides, our siding will give any home a fresh new look with many benefits.
We strive to be more innovative and eco-friendly with each development. We even conduct ICC testing and have internal testing on all our new products for quality. We offer a 25-year limited transferable warranty on all our products ranging from siding, decking, composite deck tiles, railing and several others. The 25-year warranty covers replacement labor costs if it doesn't perform up to our standards.
With each new expansion we manifest, we commit ourselves to designing stunning, dependable and useful exterior siding panels to enrich your living space. We have a worldwide reputation for our high-quality and inventive solutions. We listen to homebuilders, homeowners, contractors and architects to make visions of beautiful homes and sustainable buildings authentic.
Since 2004, we have become a pioneer in manufacturing and developing composite solutions with our cutting-edge technology. We bring beauty to your home as well as practicality to spaces around the world.
Reach Out to NewTechWood
We are a leader in the composite industry with our advanced products as well as our abundance of knowledge. To learn more about our composite wood siding, contact us online or call a NewTechWood representative toll-free at 1-866-728-5273 or 281-570-6450.