PLANTER KITS
Take your backyard patio, deck, porch or landscaping design to a whole new level with our amazing composite deck planter boxes. These outdoor planter boxes can be just the thing to give your homes exterior the distinctive look you have been searching for.
Our composite planter boxes are designed to be extremely versatile. They are suitable for a variety of applications. Fill one layer with sand and use it as a composite sandbox for your kids or include our aerated sheets, add soil and plant flowers inside for a mini-garden anywhere. You might also try adding larger plants or trees to help create a complete landscaping effect.
BENEFITS OF COMPOSITE PLANTER KITS
Our composite planter kits will enhance your outdoor living space and allow you to take part in our green initiative. Since we were founded in 2004, NewTechWood has focused on designing and manufacturing our products sustainability with recycled materials. We have been a leader in wood-plastic composite technology through the creation of our UltraShield® decking material.
We are proud that the materials we use feature 95% recycled materials. These materials, which include milk jugs, reclaimed wood fiber and plastic bottles, create products that are strong, reliable and long-lasting. Because of the materials' durability, our composite planter kits are more affordable compared to other alternatives. We even back our products with a 25-year limited transferable warranty for extra confidence while elevating the look of your outdoor spaces with our recycled decking products.
Our attractive composite planter kits come in a variety of colors, so you can turn your outdoor dreams into a reality while experiencing a greener home.
WHAT OPTIONS CAN YOU CHOOSE FROM?
At NewTechWood, our line of raised composite garden beds comes in a variety of options. You can easily match our products to your home's existing architecture and style or create any kind of look you'd like with our different colors, patterns and sizes.
Our synthetic materials come in tropical colors, such as cedar and teak, and look just as rich and realistic as real hardwoods. This means that your new composite raised garden can deliver an exotic wood look for a more affordable price. If you want to truly make your outdoor space your own, ask us about our custom color options for decking materials.
Depending on your yard space and what you'd like to use your planter for, we have different sizes you can choose from such as:
1×3 planter
2×3 planter
3×3 planter
These composite flower boxes are designed to interact with our Deck Tiles composite decking and other products. You can have a beautiful garden planter box as an integrated part of your deck, surround our planter boxes with our artificial grass or synthetic stone tiles or put it anywhere as a standalone piece.
Best of all, our composite plant pots are made with materials similar to our composite wood decking. That means you get all the benefits of wood without all the maintenance requirements. These composite planters will not rot or fade and are stain, scratch, crack, fungus and generally weather-resistant.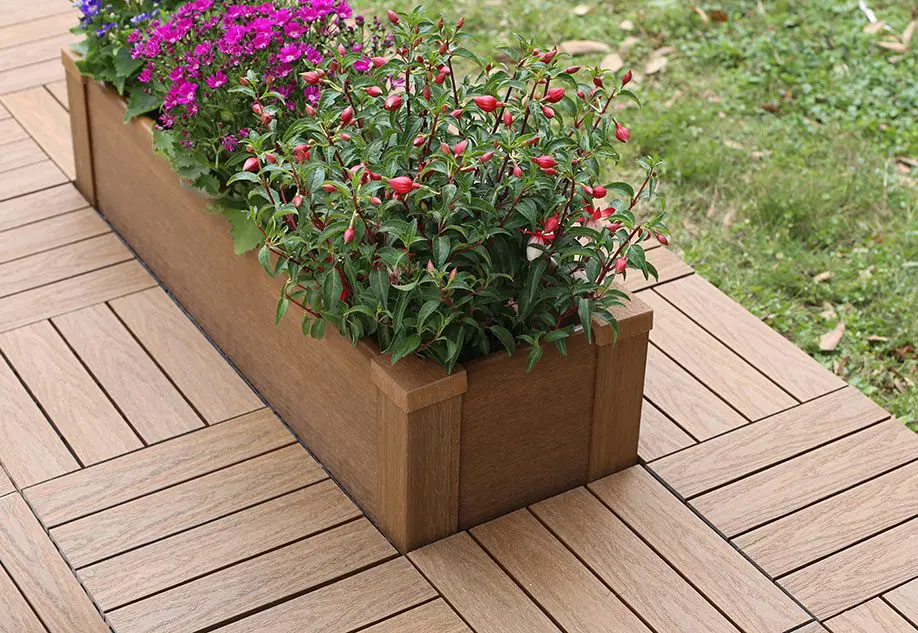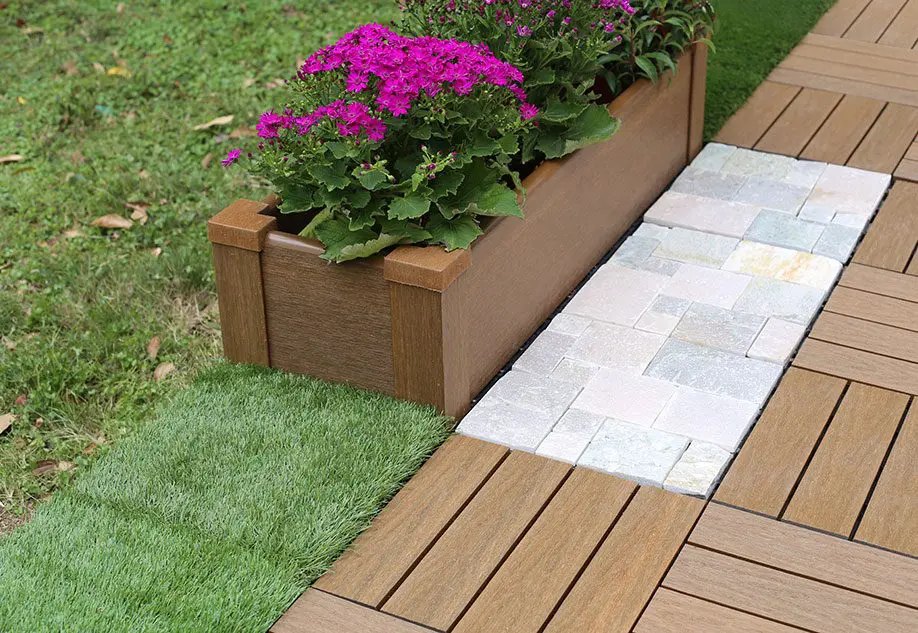 ULTRASHIELD® MATERIAL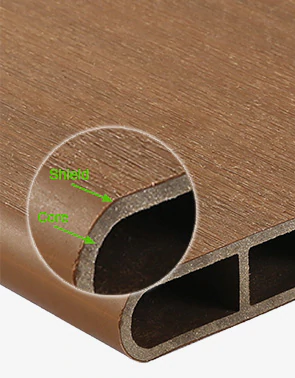 The boards of our outdoor raised planter kit are made of UltraShield capped composite material. The Shield wrapped the core 360 degrees. It is an engineering grade polymer, with water absorption rate as low as 0.2%, so, unlike traditional wood decking materials, it gives Ultra Protection against:
Stains – Easy cleaning
Scratches – Maintain a beautiful outer look
Rot – Durable with a longer lifespan
Splitting – Safe for all family members
Fungus – Keeps plants healthy
No need to paint – Save time & money
You do not have to worry about taking your planter or sandbox inside in the winter or covering it when it rains, thanks to our UltraShield® capping technology. You can leave your planter out all year and never think about it unless you want to move it or change the contents. If you need to clean it, you can just wash it or wipe it off, and it is good as new. These planter kits are the perfect complement to a quality capped composite wood deck from NewTechWood.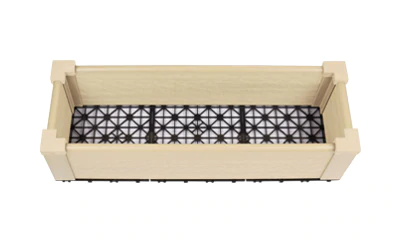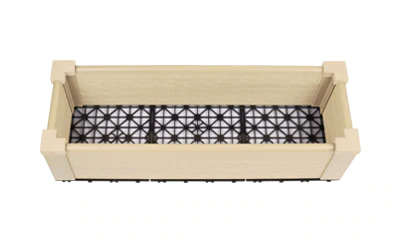 PB 1×3 Cedar Planter
Size: 36″ x 12-1/16″ x 8-3/4″
Size(mm): 915 x 307 x 222 mm
Covers: 3.23 sqft
Covers: 0.3 sqm
Weight: 15 lbs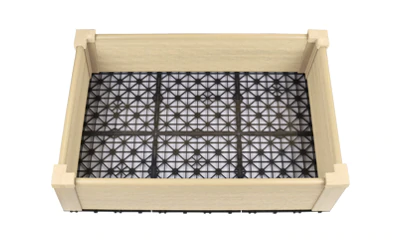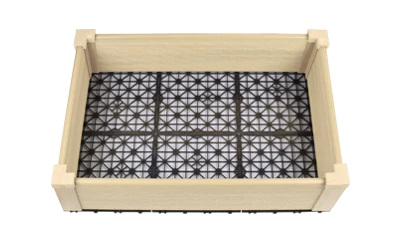 PB 2×3 Cedar Planter
Size: 36″ x 24-1/16″ x 8-3/4″
Size(mm): 915 x 611 x 222 mm
Covers: 5.38 sqft
Covers: 0.5 sqm
Weight: 20 lbs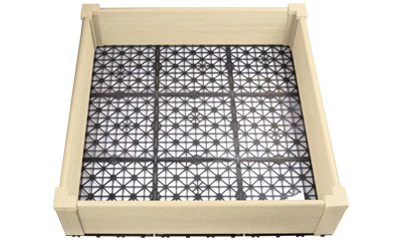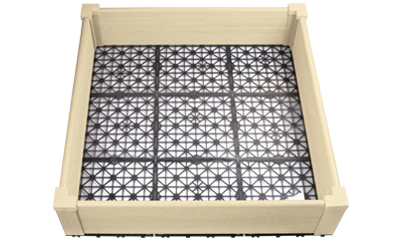 PB 3×3 Cedar Planter
Size: 36″ x 36″ x 8-3/4″
Size(mm): 915 x 915 x 222 mm
Covers: 8.61 sqft
Covers: 0.8 sqm
Weight: 24 lbs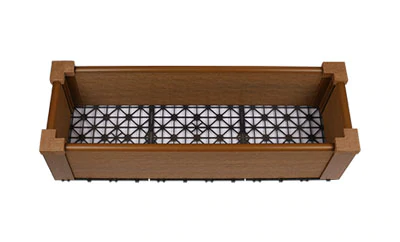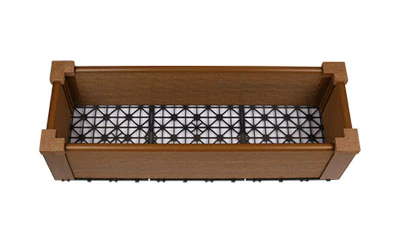 PB 1×3 Teak Planter
Size: 36″ x 12-1/16″ x 8-3/4″
Size(mm): 915 x 307 x 222 mm
Covers: 3.23 sqft
Covers: 0.3 sqm
Weight: 15 lbs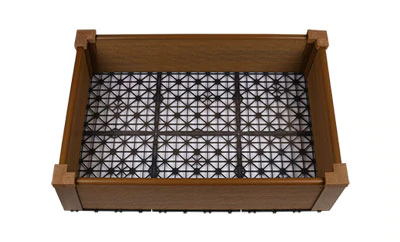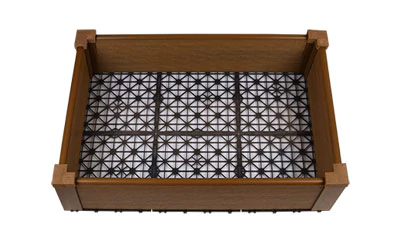 PB 2×3 Teak Planter
Size: 36″ x 24-1/16″ x 8-3/4″
Size(mm): 915 x 611 x 222 mm
Covers: 5.38 sqft
Covers: 0.5 sqm
Weight: 20 lbs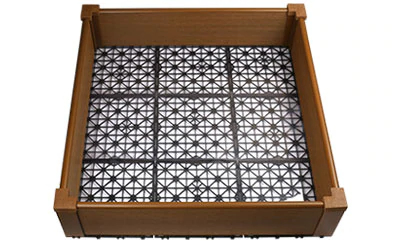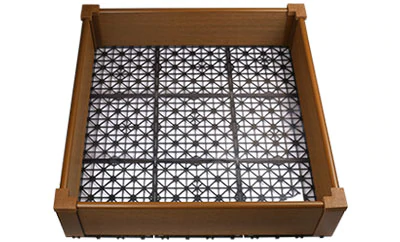 PB 3×3 Teak Planter
Size: 36″ x 36″ x 8-3/4″
Size(mm): 915 x 915 x 222 mm
Covers: 8.61 sqft
Covers: 0.8 sqm
Weight: 24 lbs
Installation Video
HOW TO INSTALL A RAISED PLANTER KIT
You can install all of our raised garden bed kits the same way — the only difference will be the size of the boards and the perforated sheets. We have designed the entire process to be as quick and easy as possible. You won't even need to worry about using tools or fasteners. Regardless of which kit you choose, you can turn assembling your new planter into a fun family weekend project.
Keep in mind that if your planter kit is part of a larger backyard deck project, it is always best to check your local area's building codes. Occasionally, you may need to follow certain restrictions or requirements if you're doing a major home renovation. If everything is good to go, you can begin installing your new kit from NewTechWood.
For all planter sizes, make sure you find a clean and flat surface for assembly. This will help make the process easier for you. Even though you aren't using power tools, it's still a good idea to have the proper protection when assembling our kits. Gloves, for example, can protect your hands and provide grip when putting together the grids, posts and caps.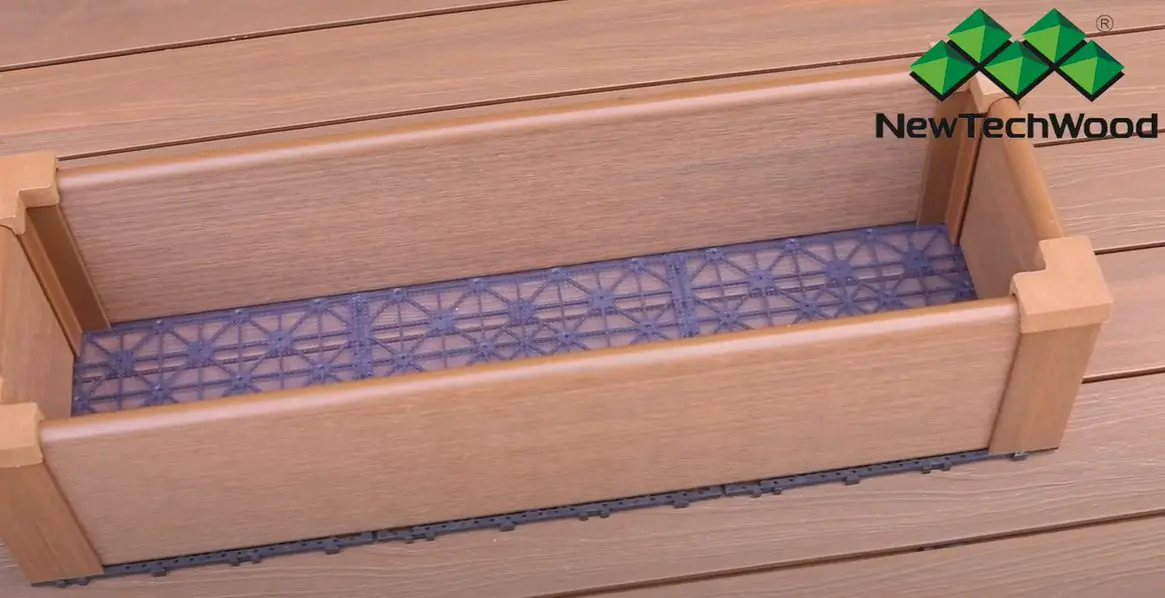 Lay & connect the grids on a flat surface

Insert the posts on the 4 corners
Make sure the side with the arc of the post legs faces toward the inside

Lay the perforated sheet on the grids

Insert the posts into the post legs
Make sure the groove side is not facing toward the inside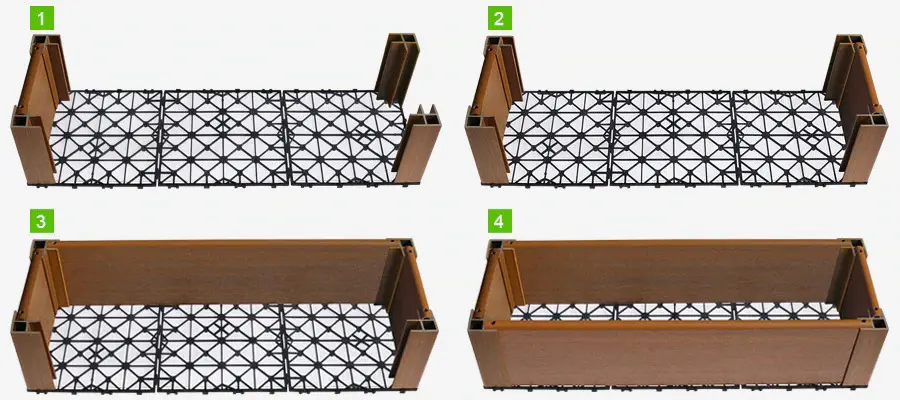 Insert the boards between the posts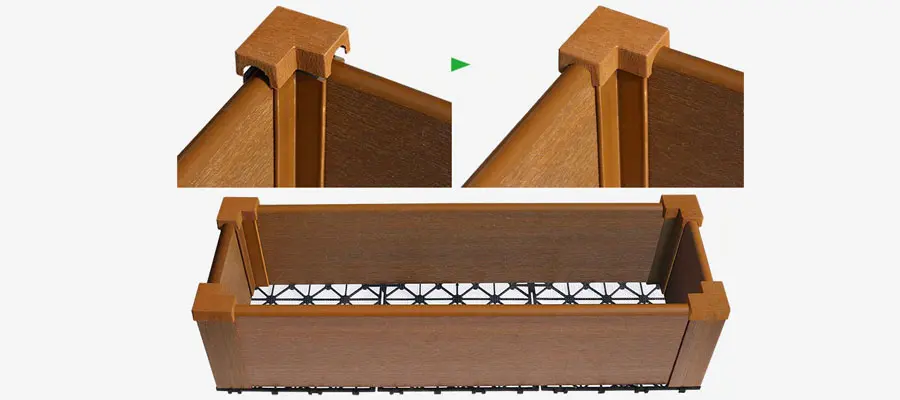 Press down to fix the post caps & you are done!
Downloads
Installation Guides
CREATE A COHESIVE BACKYARD SPACE WITH OUR OTHER DECKING PRODUCTS
When your raised garden bed is complete, you can keep it as a standalone piece in your backyard. Or, you can place our deck tiles around it for an eye-catching finish. Just like our large composite planters, our deck tiles are easy to install and will give your entire outdoor space a cohesive look with your choice of matching or complementing color options. The tiles easily snap together and can create different patterns — get as creative as you'd like with their four-way interlocking capabilities.
You can also create a beautiful space by surrounding our planter boxes with artificial grass or synthetic stone tiles. Both of these additions also snap into place. With these simple assembly processes, even your kids can help you create your new backyard design.
The stone tiles have a natural look and are easy to walk on while our artificial grass looks just like Zoysia grass. We paid close attention to detail when creating both of these products so that, just like our synthetic wood, they would look realistic and blend in with the rest of your backyard design. Our stone tiles feature a blend of colors, and artificial grass has the same blade width, height and color as real Zoysia grass.
LEARN MORE ABOUT OUR DURABLE COMPOSITE OUTDOOR PLANTER BOXES NOW
While it is technically correct to call these artificial planter boxes, we think you'll agree there is nothing artificial about them. These composite deck planter boxes fully resemble the look of whichever of our wood-look choices you opt for. You may even find the wood color to be even richer than you would expect from a natural wood planter, and without all the hassle.
Have any questions about which color of planter box to choose, how to assemble them, how to use them for different applications, where to place them or what else to add with them? Call us now toll-free at 866-728-5273. We love to talk to our customers and potential customers and introduce them to the fabulous world of composite decking and composite decking accessories like these amazing planter boxes.
We are also happy to help you find a provider of NewTechWood planter boxes and decking products near you. Just have a look through our convenient online distributors list. If you are a distributor of decking products yourself or would like to be, we'd love to hear from you, too. Contact us online today for information about how to add our planter kits to your inventory.