WE WERE "GREEN" BEFORE "GREEN" WAS FASHIONABLE
We believe sustainability and recycled materials are essential for the future of our environment — right down to the products used in your backyard or outdoor space. That's exactly why, at NewTechWood, we help you make green design choices through our recycled composite decking and other products made from recycled materials.
Investing in eco-friendly decking, such as our recycled decking boards, not only gives you a durable product, but also is a responsible choice for the current environmental crisis. When you buy from NewTechWood, you can feel confident your purchase will lead to a greener, more sustainable home.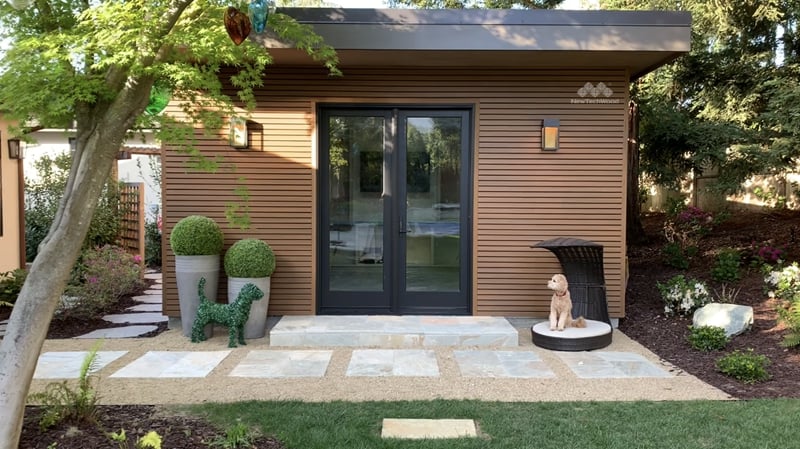 AN ENVIRONMENTAL CRISIS
Sustainability, or green living, is not just a buzzword. It is a way of life that is important for the future health of the environment. The philosophy includes three main pillars:
Environmental protection
Social development
Economic development
NewTechWood reacted to the growing public concern for environmental sustainability by providing consumers with innovative building materials from a sustainable process. You can make your home greener with our recycled plastic composite decking boards made from different recycled materials. This contributes to the environmental protection portion of sustainability, as it allows you to start using resources from the environment instead of options that destroy the environment.
A GREEN FOUNDATION
NewTechWood's foundation was built upon the following green principles and values:
Products are made from 95% recycled materials, including plastic bottles and reclaimed wood fibers
Yearly third-party audits to comply with environmental, health, and safety guidelines and regulations
Reducing our carbon footprint through waste reduction, energy conservation, and utilizing an optimum process
Our parent company has been recycling plastic materials for almost 30 years. Every month we save over 12,000,000 pounds of plastic from being buried in our landfills forever. Since we control the entire recycling process, including the proper washing, sorting and screening for impurities, we know exactly what material is going into our products.
Whenever you purchase our recycled decking material, you get to take part in our green initiative. Green composite decking not only helps the environment, but it also comes with a 25-year limited warranty. Unlike other decking options that rot or fade over time, our recycled decking takes your outdoor space to the next level and continues to perform well for years to come.
ENVIRONMENTALLY FRIENDLY DECKING MATERIAL
Total vertical integration of our manufacturing process allows us complete control, for consistent quality, and color. It also allows us to manage our material costs for stable pricing and dependable product availability. We create these products using recycled material:
Composite Deck Tiles: Our UltraShield composite deck tiles are 100 percent eco-friendly and made from natural wood grains. They are easy to install and will not bend, split or crack.
Composite Deck Boards: NewTechWood composite deck boards are made from recycled material and come in exclusive colors and patterns. Perfect for residential and commercial applications, the boards will work for years to come. UltraShield™ offers 25 years limited warranty.
Deck Railings: Composite railings from NewTechWood are a combination of aluminum and composite, creating a sleek and modern look. Their natural weather-resistant finish keeps them looking like new for years after you install them.
Planter Boxes: Dress up your deck with our planter boxes also made from recycled materials. You do not need any tools, screws or nails when you purchase our planter box kit, making it easy for all family members to take part in building them.
Bird Feeders: Even our bird feeders are made up of environmentally-friendly, recycled materials. Build one along with a planter box to create a backyard oasis.
Deck Fasteners: Hidden fasteners are an important part of installing your green composite decking. Our clips work better than others while still promoting our identity as a green company.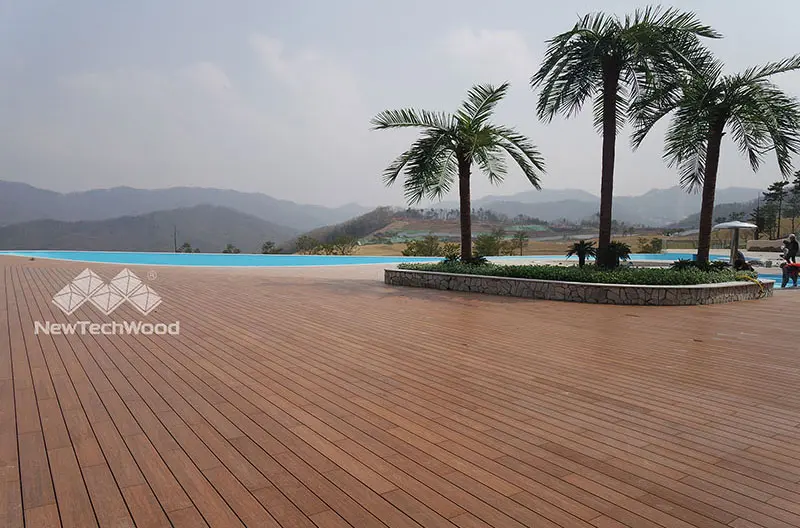 CONTACT NEWTECHWOOD TODAY
When it is time to renovate your deck or build one for the first time, choose NewTechWood — the composite decking manufacturer known around the world for high-quality and innovative products. Our beautiful, durable, reliable decking options, from eco-friendly deck tiles to modern boards, make installation simple and provide a space you and your family can enjoy for years to come. In addition to deck tiles and boards, we offer railings, garden products and more.
Whatever you need, we're so confident in the quality of our products, we offer a comprehensive 25-year limited transferable warranty. Plus, our extensive colors and patterns allow you to match your deck to the rest of your home's style. All of our products include UltraShield technology, a coating to protect against fading, rotting, staining and scratching.
Contact us today if you are a distributor who would like to start carrying NewTechWood products. You can also find where to buy our products here to get started on your next project.