What makes Newtechwood siding be a true rain screen system and protective to your building.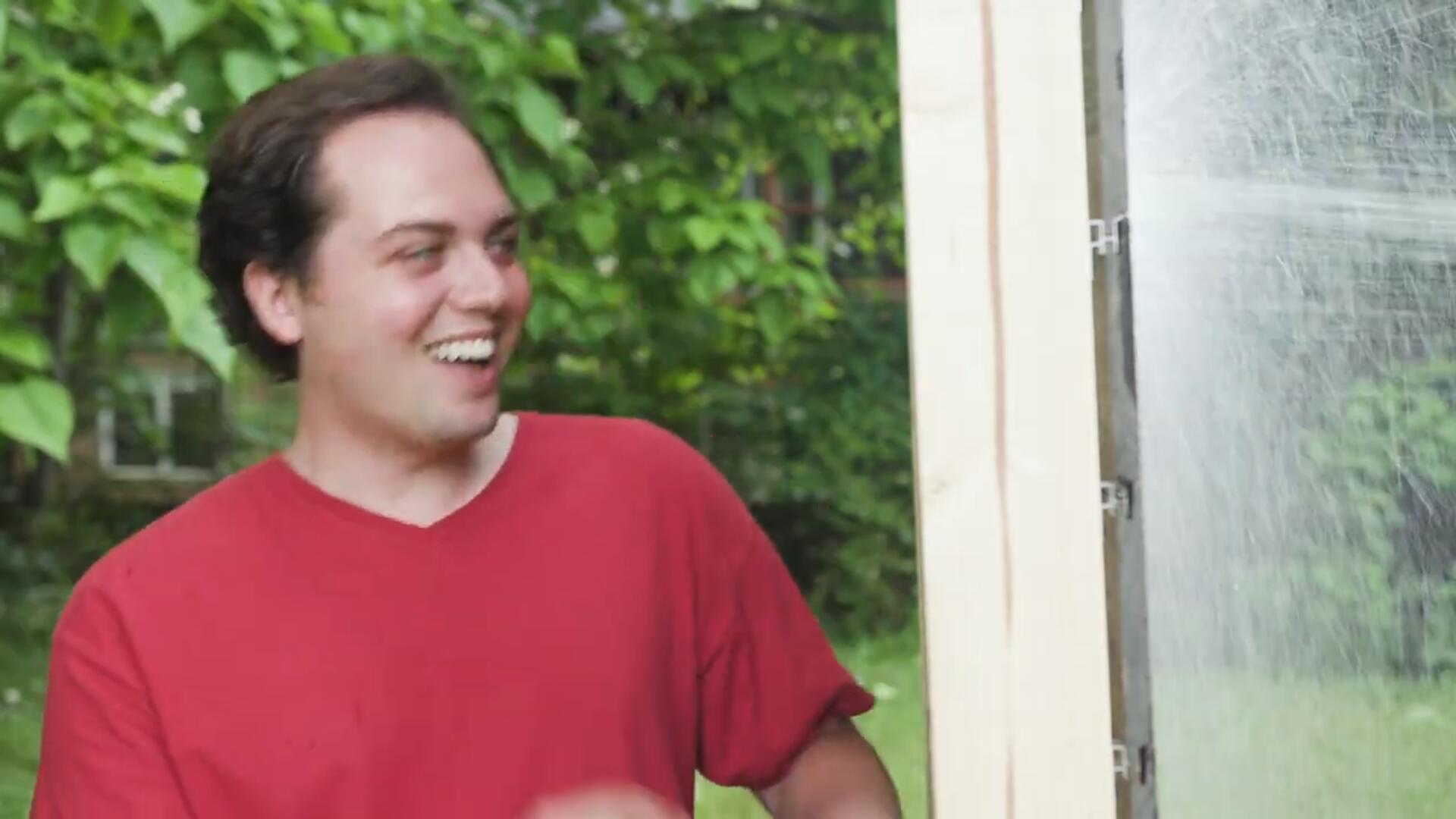 Profile
NewTechWood US09 tongue and groove siding can be installed both horizontally and vertically. For detailed instructions, review the information in the Installation section.
Features
UltraShield® wall cladding is the ultimate solution for exterior walls because it combines the toughness and longevity of a capped wood plastic composite with an engineered design. The shield gives the composite exterior wall panels unbeatable colors and textures, with highly stain and UV resistance, making it long-lasting and ultra-low maintenance.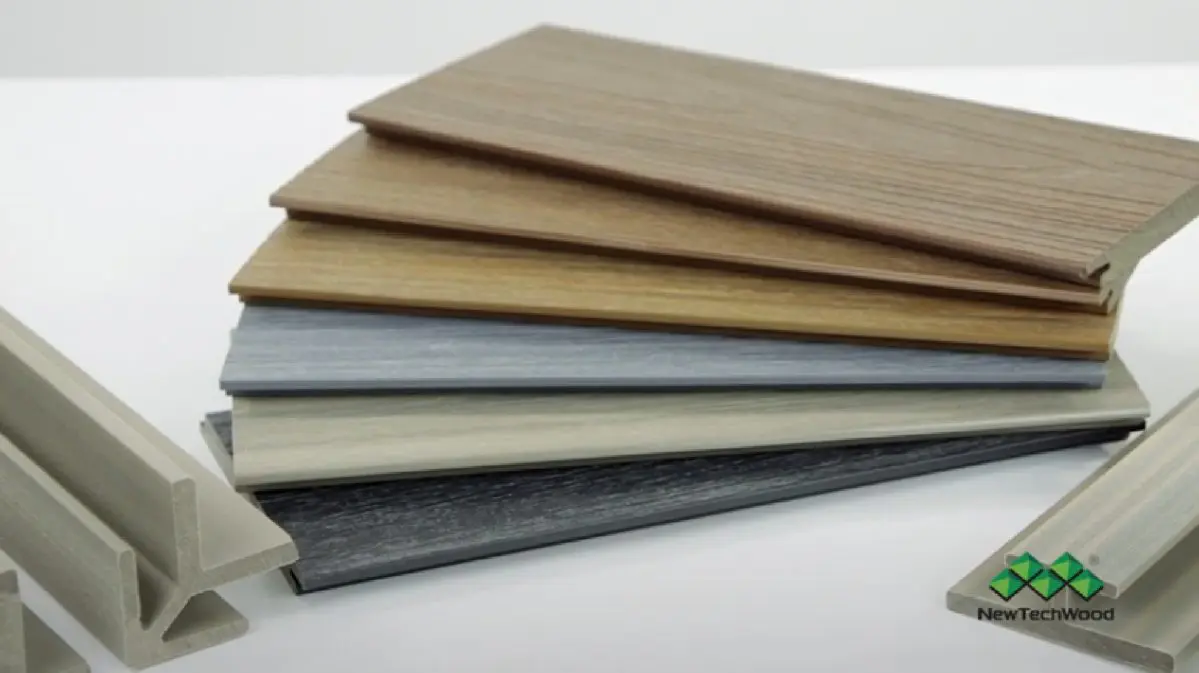 BENEFITS OF COMPOSITE WOOD SIDING
We believe our UltraShield composite siding is the best choice for anyone wanting to upgrade their exterior wall cladding. Here are our reasons:
Our UltraShield Technology Provides Superior Protection
UltraShield technology offers many benefits and has revolutionized the composite board industry. NewTechWood became a pioneer in this technology back in 2010 when it set out to develop a deck board material that was more attractive, more durable and longer-lasting than any other composite decking material on the market.
After years of designing and testing, NewTechWood invented a product that surpassed all others in both performance and appearance. The strength, durability and beauty of UltraShield products can be explained by their composition, which consists of two main parts:
Co-extruded cap: The cap, which protects all sides of the board, is an impenetrable layer that can withstand staining, fading, scratching, cupping, swelling, mold and mildew. During the manufacturing process, NewTechWood uses high temperatures to fuse the core and shield together simultaneously. This means that no harmful adhesives or chemicals are released into the air.
Composite core: The core of UltraShield products is made by mixing high-quality recycled materials with dense hardwood and softwood fibers, which provides the product with impressive strength and durability. These products are all 100% recyclable.
This cutting-edge technology provides many benefits, including:
Fade resistance: The unique formulations of the shield guarantees that it will retain its vibrant, high-quality colors for much longer than regular composite decking products with poorer UV-resistance.
Splitting resistance: The impenetrable layer of the cap also prevents the surface from splitting, which increases the longevity of the product.
Stain resistance: If you spill something on your UltraShield composite siding — even wine, coffee or oil — it will not stain. Thanks to their protective shield, these composite siding boards will never absorb liquids, so you can easily clean up any mess.
Mold resistance: The shield also offers protection from mold and mildew, both of which are known to eat away at wooden boards.
Fire resistance: Unlike traditional wooden boards, UltraShield composite cladding is fire-resistant.
Pest resistance: Many insects, including termites, carpenter ants and carpenter bees, like to burrow into wood siding, which can be disastrous. Luckily, Ultrashield also protects against these invaders.
Low maintenance: Your shield contains multi-chromatic colors, so you won't ever have to sand, oil or paint it.
While our composite cladding is similar in composition to our decking and other Ultrashield products, our cladding is not just deck boards turned sideways — they feature a water seal that was specifically designed to prolong the longevity of your building.
Our Green Manufacturing Techniques
If you're a homeowner, you must consider the environmental impact that your installation will have. Since you're concerned about environmental sustainability, you'll be glad to know that we're committed to making our products with the most eco-friendly production methods available. And we're not just following recent trends — our company went green long before it was fashionable.
At NewTechWood, we follow the three main pillars of green living — environmental protection, social development and economic development. Our production methods reflect this philosophy, which include:
Recycled materials: Our products consist of 95% recycled materials, including plastic bottles and reclaimed wood fibers. Our parent company has been dedicated to this practice for almost three decades. By doing this, every month we save over 12 million pounds of plastic from going into a landfill. And we don't recycle just any material — we have control over the entire recycling process and select only the highest-quality materials, so we always know exactly what goes into our products.
Adherence to regulations: We have third-party organizations perform yearly audits to make sure we comply with safety, environmental and health regulations.
Reduced carbon emissions: We are committed to reducing our carbon footprint by minimizing our waste, conserving energy and making use of the most efficient production processes.
By choosing NewTechWood products, which are made from recycled materials by a company committed to eco-friendly practices, you are taking part in this green initiative. The resources you'll be using will help the environment instead of harming it.
Ideal for Smart Homes
If you have or are planning to buy a smart home, NewTechWood's UltraShield siding is a great choice.
A smart home can be defined as a house that provides comfort, security, convenience and energy efficiency by using sophisticated technology and materials. Its benefits generally include:
Green energy: Smart homes tend to be wind- or solar-powered and use the shade of trees to reduce cooling costs. Their windows, doors and siding are also placed in a way that helps the inside stay comfortable regardless of the weather outside.
Automated lighting: Smart homes generally have lights that turn on and off automatically as you enter or leave a room.
Radiant heating: This type of heating warms homes by heating mass instead of air, which is a cost-effective way to stay comfortable when the weather is exceptionally cold or hot.
Geothermal heating: With this type of heating, deep core thermal systems get energy from the earth to provide cooling and heating to homes.
Although smart homes have higher upfront prices, these costs can be quickly recovered through cheaper energy bills. However, for smart homes to use less energy, they must be equipped with high-quality siding. It won't make sense to spend extra on energy-efficient cooling and heating if the heated or cooled air can escape easily through your walls.
Choice of Styles
At NewTechWood, you can choose between two styles of composite siding options — the All-Weather System and the European-style.
The All-Weather system features 5.5"-wide composite siding boards while the European boards are 4.8" wide with three raised sections to give it an especially narrow appearance.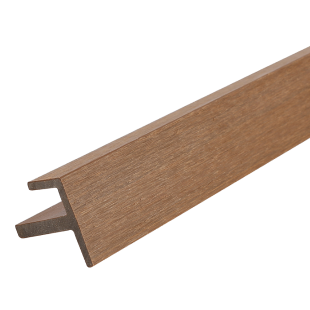 1-7/8″ x 1-3/4″ (47 x 44 mm)
Weight: 0.53 lb/ft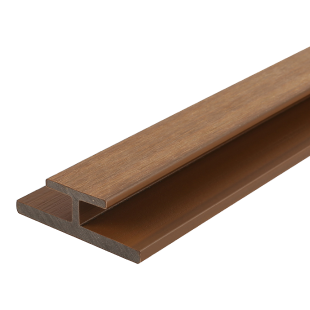 3-1/8″ x 1″ (79 x 27 mm)
Weight: 0.71 lb/ft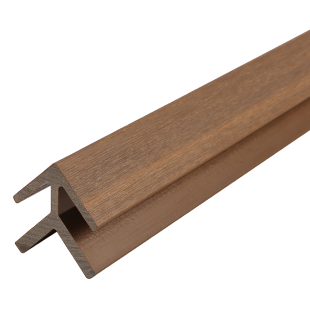 2-5/16″ x 2-5/16″ (59 x 59 mm)
Weight: 0.85 lb/ft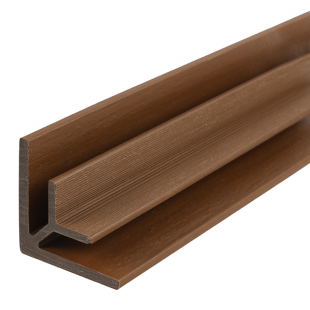 2-13/16″ x 2-13/16″ (72 x 72 mm)
Weight: 1.13 lb/ft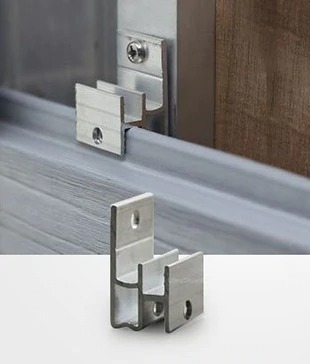 Siding Clips AW08
Material: Aluminum
Size: 1-1/8″ x 9/16″ x 13/16″ (28 x 14.5 x 20 mm)
Installed on the joists and used as the connection between each US09 board.
Rubber Stopper T-7
Material: Rubber
Size: Ø11/16″ x H5/16″ (Ø18 x H8 mm)
Installed on the joists to support the US09 when installing the last board.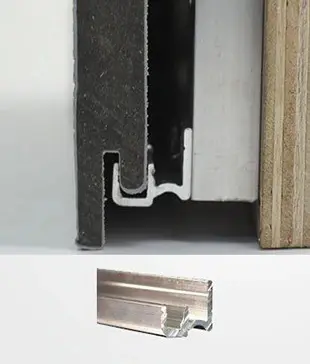 Starter Strip AW02
Material: Aluminum
Size: 11/16″ x 9/16″ (15 x 14.5 mm)
Designed to fix the first cladding on the joist.
Cladding Clips
Our wall cladding is held together with our AW-08 cladding clips, which serve an important additional function — they keep the siding separate from the joists that support it, allowing air to circulate between the cladding and the joists. This keeps the interior area dry by isolating water from the outside. Our cladding clips also allow the composite boards to expand and contract with the temperature and, simply by securing a clip with a screw, it can serve as a locking clip, which lets you control the direction in which you'd like the board to contract and expand.
Downloads
Installation Guides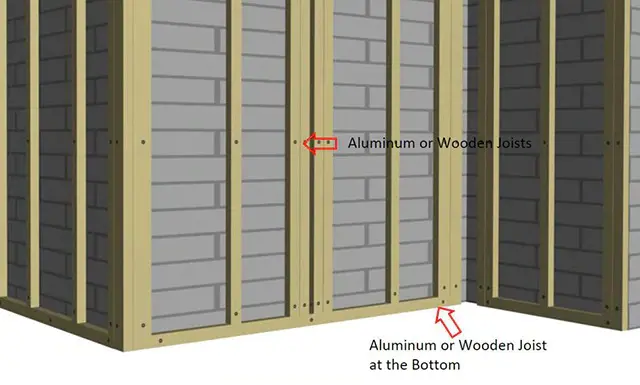 Step 1
Install Aluminum or Wooden Joists
*Note: Install an aluminum or a wooden joist at the bottom to prevent insects from crawling up.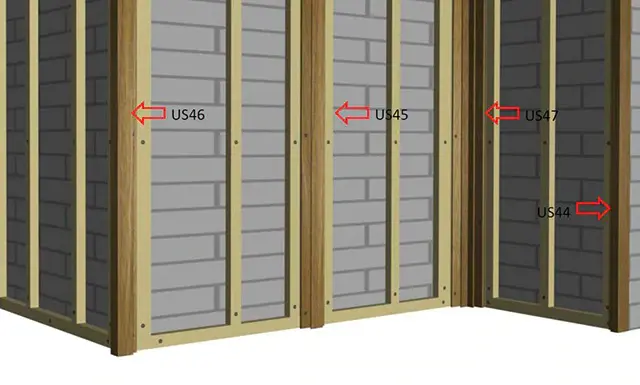 Step 2
Install End Trim US44, Joist Trim US45, Outer Corner Trim US46, Inner Corner Trim US47
*Note: The distance of 500 mm between screws for US44,US45,US46 and US47 is recommended.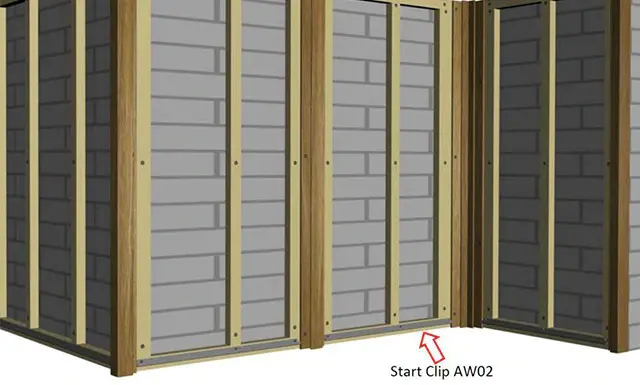 Step 3
Step 4
Install Wall Cladding Boards (US09)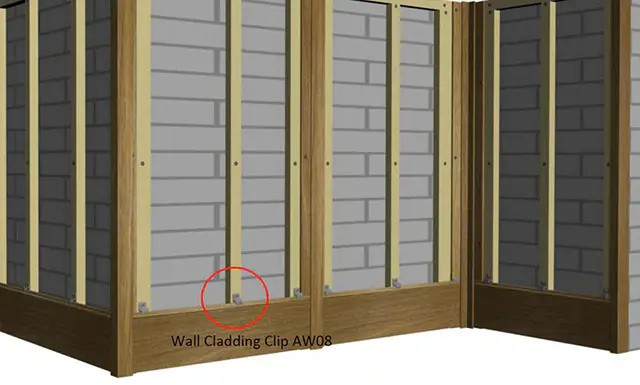 Step 5
Australian Red Cedar
Installing Wall Cladding Clip AW08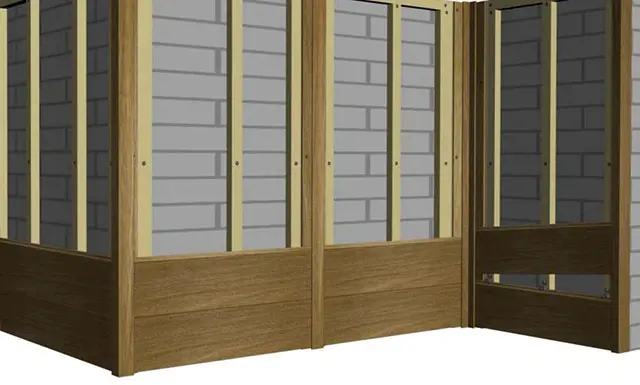 Step 6
Continue Installing Wall Cladding Boards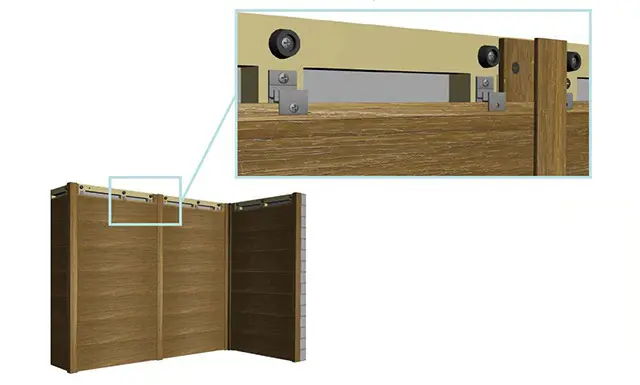 Step 7
Install Gaskets at the Top of the Joists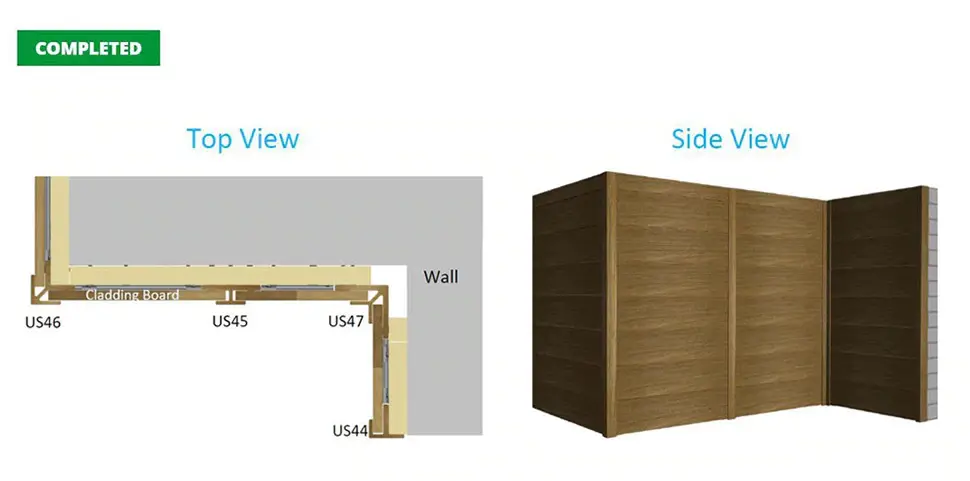 Completed
COMPOSITE SIDING INSTALLATION
To install UltraShield composite cladding, you will need to gather some tools, research some topics and perform a few tasks. These include:
Familiarizing yourself with local building codes: Before you start installing the cladding, we advise that you research the building codes in your area and find out whether there are any requirements or restrictions for siding.
Making safety a priority: When handling, cutting or installing our products, make sure to wear appropriate safety gear to minimize the risk of injury. The safety gear that we recommended includes — although is not limited to — pants, gloves, long sleeves, safety glasses and respiratory protection.
Using suitable tools: Standard woodworking tools are appropriate for this installation, although when cutting, we recommend that you use blades that are carbide-tipped. We also suggest that you use stainless steel screws or properly coated deck screws to achieve the best-looking results.
Storing the products on a flat surface: If you need to store our product before beginning your installation, you must do so on a smooth, flat surface. Under no circumstances should you place the product on a surface that isn't flat.
Drawing up a site plan: To make sure the cladding you have is the best option for your application, plan your layout. Generally speaking, building codes and zoning regulations are applicable to all permanent structures, which are considered to be anything fixed to the ground or attached to your home. This means that practically every siding type will need to be inspected by your area's building department. We recommended that you make a site plan and submit it to your local building department before you begin your installation.
Using the siding as it was intended: Our UltraShield siding was not meant to bear loads, which means you cannot use it for beams, columns, support posts, joist stringers or any other component that supports the weight. You can only use a code-compliant structure to support a NewTechWood product. Although our products work superbly with retrofits, you cannot install it over existing siding.
Minimizing static: In higher-elevation areas, where humidity tends to be lower, static is more common. If your home is at a high altitude, avoid using metal railings, chairs or other conductive objects near the siding — this may increase the chance of shocks. One method for reducing static is to lay down an anti-static mat by the doorway.
Allowing for ventilation: The composite siding cannot be installed directly on a flat surface. Instead, it must be attached to a substructure that will allow for completely unobstructed airflow, which will help prevent the absorption of water. You must leave at least an inch of free area under the siding's surface so air can properly circulate.
Being aware of Low-E glass and its effects: Energy-efficient windows that have low-emissivity (Low-E) glass are meant to reflect incoming sunlight, which may lead to excessive buildup of heat on the surface of NewTechWood's siding products. Low-E windows are designed to reduce the heat gain in buildings and houses and can cause an undesirable amount of built-up heat on exterior walls. This heat can lead to sagging, melting, warping, accelerated weathering and discoloring of our products. If your windows contain Low-E glass and you're planning to install our composite cladding, talk with your window manufacturer to see if there's any way to minimize the damaging effects of reflected sunlight.
Installing your fasteners at a right angle: When fastening products from NewTechWood, the face-fastened screws should be driven at exactly 90 degrees to the siding's surface. Our products should never be toe-nailed. If you can't manage to drive the screw in at an exact 90-degree angle, you will need to add an extra joist. All fasteners should be on independent joists, and on joists where the ends of two composite boards meet, a sister joist must be added. The end of every board must have a joist of its own.
Using white chalk lines only: Using a chalk color other than white will lead to our products being stained permanently, so we strongly encourage you to avoid them.
Using screws and nails made of stainless steel: Our siding products were meant to be used only with stainless steel nails and screws. With certain screw types, bulging or mushrooming may occur when face-fixing them. To avoid these undesirable blemishes, we advise that you use a rubber mallet to pat them down. When shopping for your nails or screws, ask local home centers and hardware stores if they have screws that are specifically meant to be used with composite wood. They are guaranteed to be compatible with our siding products and will lead to an attractive final product. If you use nails or screws that aren't recommended for most composite siding options, they may actually do damage. If you're unsure about which nail or screw type to use, feel free to contact us for advice.
As mentioned above, your composite cladding cannot simply be installed on a flat surface. You must install it on joists to allow for proper ventilation. This structure is known as the "under construction." Before installing this structure, keep these tips in mind:
Build with appropriate materials: We recommended using aluminum joists or pressure-treated wood for your under construction.
Space the joists correctly: They should be no farther apart than 1.64′ on center.
Add a vapor barrier and insulation: Your vapor barrier needs to be breathable and installed behind your joists, which will allow air to flow properly.
Before you install the under construction, we recommend you speak with a licensed professional.
OUR WARRANTY
We have so much confidence in the quality and longevity of our products that we offer them with a transferable limited warranty of 25 years.
VALUES FOR CONTRACTION AND EXPANSION
Warmer temperatures will cause your siding boards to expand, and cold temperatures will cause them to contract. For this reason, it is necessary to leave a gap between boards during your installation — and you must know how much of a gap to leave. For instance, if you're installing an 8′ board when it's just 32 F, you must leave a 2/16″ gap. If it's 68 F, you only have to leave a 1/16″ gap. You can see the full chart in our siding installation manual.
ENHANCE THE BEAUTY AND LIFESPAN OF YOUR STRUCTURE WITH NEWTECHWOOD'S COMPOSITE WOOD SIDING
NewTechWood has been a dominant force in the composite wood industry ever since its beginnings 15 years ago. It has become known around the world for its advanced, attractive and reliable composite wood products.
As leading composite siding manufacturers, we attribute our success to our philosophy — we are committed to listening closely to homeowners, homebuilders, architects and contractors and work hard to carry out their requests and bring their visions to life. We believe our ability to realize our customers' needs is in part due to our products' wide range of colors and patterns, which allows us to find a look that works perfectly for every project.
Apart from our siding, we also offer a number of other composite wood products that can enhance your outdoor living experience, such as:
If you'd like to learn more about our products, we'd be happy to speak with you! You can reach us by calling 281-570-6450 or by filling out our online form. If you're ready to install one of our products, you can locate a nearby distributor that sells our products.