DECK FINISHERS
UltraShield® has the following composite decking accessories available: colored head stainless steel screws, starter clips, hidden fastener systems, end caps for hollow profiles, and fascia boards in various dimensions for different applications. From composite deck screws to joist tape, we provide what you need to perfectly finish your decking.
DECK FASCIA
Composite deck fascia boards provide the perfect finishing touch and create a smooth, streamlined look for your composite wood deck. Composite fascia board creates a band of wood bordering the deck just below the surface line to hide the joists underneath and elevate the overall appearance of the deck.
JOIST TAPE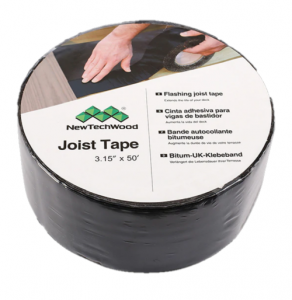 Joist tape is a self-adhesive waterproof tape designed to shield joists, beams, ledger boards and cut ends from moisture, stop decay and wood rot. It is made of a rubberized asphalt mastic adhesive.
ADVANTAGES
Protects the joist from water infiltrations
Noiseproofing / Reduces impact sound transmission
Joist Tape
3.15 x 50 in
(80 x 1524 mm)
END CAPS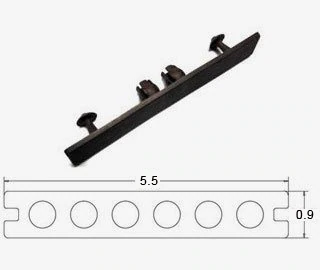 NewTechWood composite wood decking boards have 360-degree capping to completely seal and protect your boards from environmental hazards, moisture and decay, but this still leaves the end cut areas to consider. Fortunately, we offer a choice of moisture seals and composite decking end caps that work perfectly with our products, fitting in seamlessly with the board of the deck and offering your end cut areas ultimate protection.
Board: UH02 | End Cap: EC-UH02
5.5 x 0.9 in
(138 x 22.5mm)

MORE ABOUT END CAPS
Moisture can penetrate to the core in the end-cut area and could cause swelling, cupping and cracking at the edge area. All NewTechWood® composite deck board end caps are made of TPO Plastic which is durable and has high impact resistance under harsh weather conditions and extreme low temperature of – 40°C.
RECOMMENDATION
Solid Board: Moisture seal should be applied at the end-cut
Hollow Board: End-Cap should be installed at the end-cut
Tools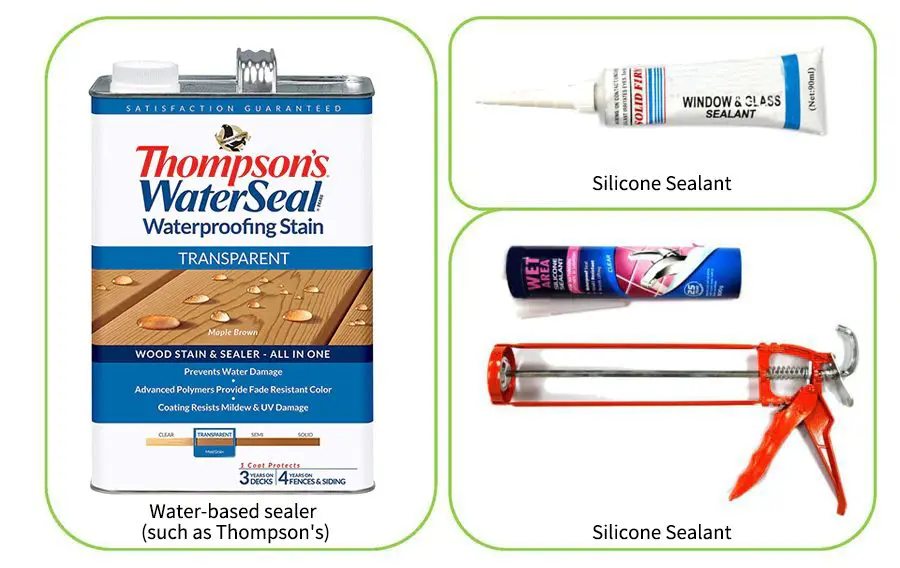 Application
SOLID BOARD:
Apply the Water-based Sealer at the edges using brush: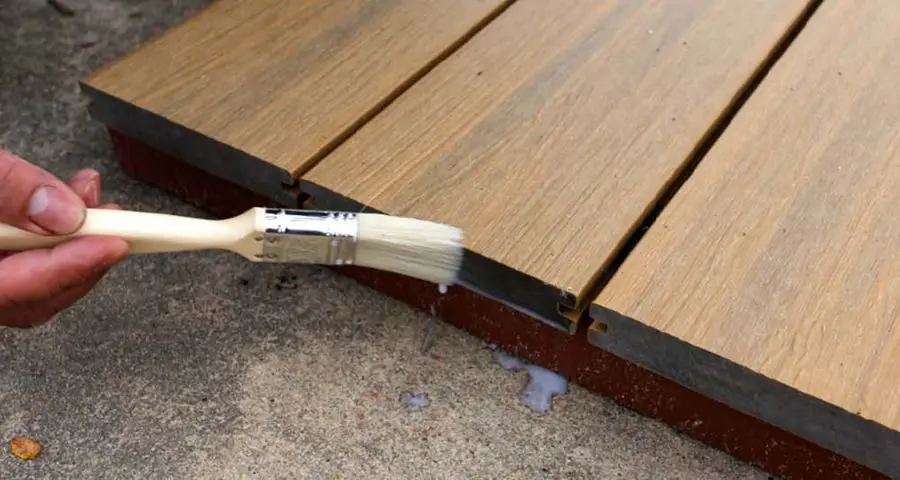 HOLLOW BOARD: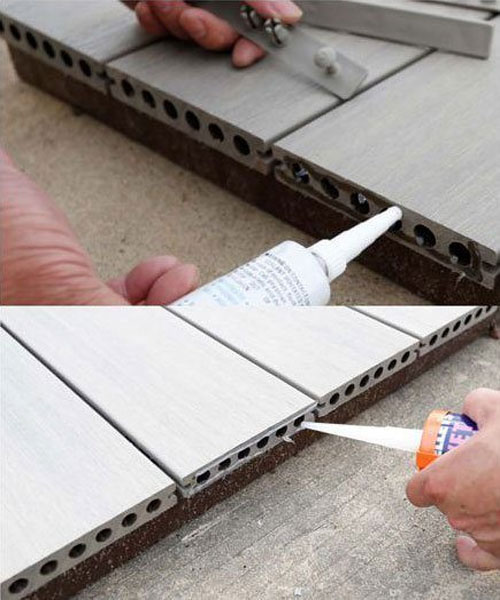 Step 1: Apply the silicone sealant to the edges of the board.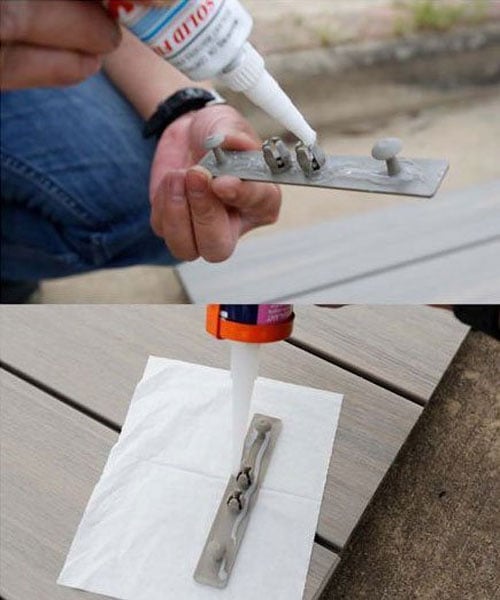 Step 2: You can also apply the sealant directly to the end cap.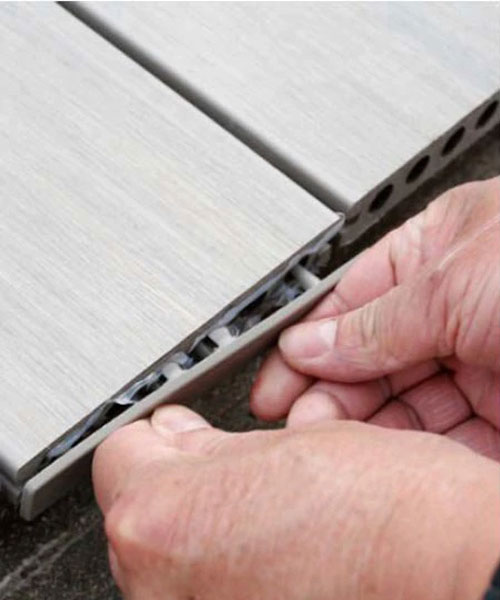 Step 3: Insert the end cap into the hollow board.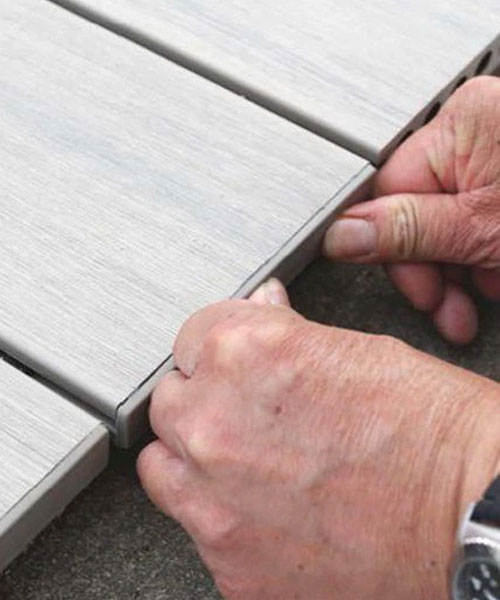 Step 4: Make sure the end cap is pressed firmly into place.
WAX PEN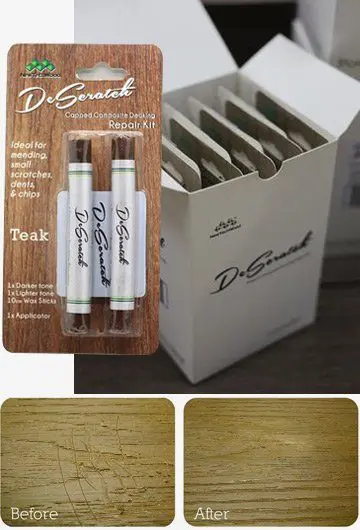 If you somehow sustain tiny scratches, holes or chips to your composite deck, all is not lost. We have just the product to have your deck looking as good as new.
NewTechWood DeScratch Repair Kit for mending small scratches, splits, nail holes, chips, gouges & damaged edges in capped composite or natural timber.
Remove any high points using the applicator
Rub the wax over the damaged area until level
Remove any excess wax using the applicator
Each pack contains: 0.4 x 0.39 in Darker tone Wax Stick, 0.039 x 0.39 in Lighter tone Wax Stick, 1 x pcs Applicator (*Charcoal color has 2 same tone sticks)
W 3.5 x H 6.3 x D 0.6 in (W 8 x H 16 x D 2 cm)
Standard colours: Peruvian Teak, Brazilian Ipe, Westminister Gray, Hawaiian Charcoal, Spanish Walnut, Roman Antique