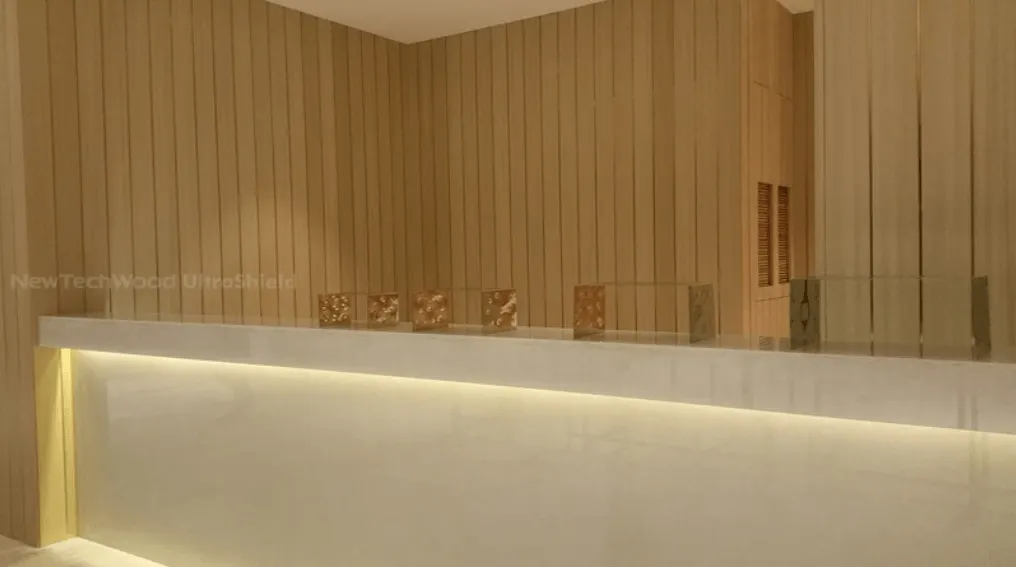 ---
Located at the beautiful Jindi Bay in Xunliao National Sightseeing District, the hotel is situated right in the middle of this southern coastal stretch. Accor Hotels Group is Pullman Huizhou Xunliao Bay Resort is opening in August 2016.
The hotel has applied a brand new application of UltraShield capped composite cladding material: build in interior wall panel using UltraShield Naturale in Sand Color, H6 Pattern, UH02 by NewTechWood. The wall panel is widely covering the lobby, reception, restrooms and elevator areas.The UltraShield Naturale wooden finish, the sand color, and the matching sunshine gold groove inserts have totally extended the bay breathe to hotel is interior and lift up the elegancy of the whole resort.
UltraShield Composite Wood material is very low maintenance & carefree material. It used the latest co-extruded capped composite technology and gives 360 degree full protection. It has various profiles & systems to create unlimited possibly either indoor or outdoor. Not to mention we now have 20 lovely colors available from 2015 Summer.