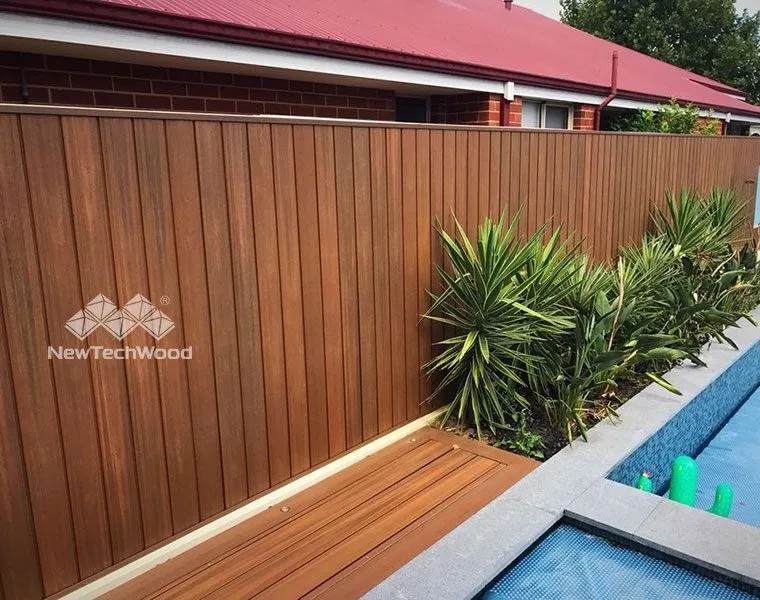 ---

The backyard deck is a symbol of good times and relaxation. Envision spending a quiet evening at home lounging on a patio chair, relaxing in a hot tub or grilling for your friends or family — all from the comfort of your backyard deck. Homeowners with properties of all sizes and shapes can create backyard decks perfect for the way they want their homes and lifestyles to be.
Backyard decks used to be made of just one common material — wood. They looked good, but over time they would warp or rot and require constant maintenance. You needed to treat them and stain them, or else face the unpleasant prospect of having to worry about splinters every time you went out on your deck in your bare feet.
In the 1990s, however, a new material came along — composite decking material. These decks were constructed using boards made of composite materials — a mixture of recycled plastic and recycled wood manufactured to look like wood. In the first few years, these new materials offered mixed results. They came in limited colors — and really didn't look much like wood. But in the past three decades, technologies and manufacturing processes have improved. At NewTechWood, we create composite deck boards that look better, last longer and are more cost-efficient.
Why Are More People Choosing Composite Deck Boards Over Wood?

Now you can get composite deck boards in a variety of colors, and they look much more like wood. Plus they are more durable and stronger than at any time in the past. Here are a few other good reasons:
1. Durability
When you build your deck with composite deck boards, your deck can last much longer than one made with wood. While some rotting is possible with composite deck boards — after all, it is partially made of wood — it is a much-reduced risk. A deck built with wood will experience problems with rotting and warping much sooner than a deck built with composite deck boards. Composite deck boards are also much more weather resistant than wood.
While the lifespan of a deck built of wood usually depends on the kind of wood you use — more expensive woods tend to last longer — a composite wood deck can last at least 25 years with minimal maintenance. And if you carefully follow the manufacturer's instructions, it can last longer. And you'll never have to replace damaged or rotted boards or warped sections of your deck.
2. Maintenance
A deck built with wood requires much more maintenance. Wood decks need to be sanded regularly to avoid the splinter problem mentioned above, and they need to be restained and resealed annually in many cases. You will have none of these issues with composition deck boards. Besides being resistant to rot and termites, they won't give you splinters, and you don't need to stain them or paint them or reseal them ever. In many cases, all you need to do is give them a good wash a couple of times a year and make sure you clean up all stains and spills right away. There is no need for you to put aside a weekend or two every year for deck maintenance.
3. Price
While composite deck boards do have a higher initial cost than building a deck with wood, the increased durability and lower maintenance mean you'll spend a lot less money on your deck over time.
4. Protecting the Environment
All the materials we use at NewTechWood to manufacture our composite decking is composed of recycled plastics and wood. We make our composite decking using 95% recycled materials such as plastic bottles and recycled wood. Every year we conduct third-party audits to make sure we are complying with health, environmental and safety guidelines. We work hard to reduce our carbon footprint. Our aim is to reduce waste, conserve energy and use manufacturing processes that are helpful to the environment. As a result, we prevent ov
er 12 million pounds of plastics a month from being taken to landfills.
What Are The Different Types of Composite Decking?

There are two types of composite decking available — solid and hollow.
Solid Composite Board: Heavier but looks more like wood.
Hollow Composite Board: Lighter, and expands and contracts less than solid boards.
Most composite deck board manufacturers in the U.S. offer only solid core boards. The main reason is due to the speed and ease in manufacturing those boards vs. hollow boards. It can be much easier and faster to extrude solid composite boards than it is hollow. Most manufacturers don't want to deal with the difficulty or expend the extra time to manufacture hollow boards.
Hollow Composite Deck Boards Versus Solid Core Composite Deck Boards

Let's take a closer look at each type of board.
What Is Solid Board Composite Decking?
Some characteristics of solid composite deck boards:
They closely resemble real wood: If you want a deck that looks like real wood as much as possible without the headaches of real wood, choose solid core composite decking.
It's quiet: Solid composite deck boards absorb the sound of walking or running much better than hollow composite deck boards.
They don't need plugs on the ends: Many people who want to use hollow composite deck boards don't like the open look at the end of the board, and so these boards require plugs or fascia board. It's also a good idea to use plugs on hollow composite deck boards to avoid water retention. Solid composite deck boards don't need plugs or fascia boards.
Solid composite boards are strong and durable: While hollow composite deck boards can last a long time, solid composite deck boards are also durable.
Some of the cons of solid composite boards include their weight and their tendency to expand, contract or warp in extreme weather conditions, which can loosen fasteners around the joists. Because solid boards are heavy, it's also challenging to build a deck on your own if you're using solid composite boards.
What Is Hollow Board Composite Decking?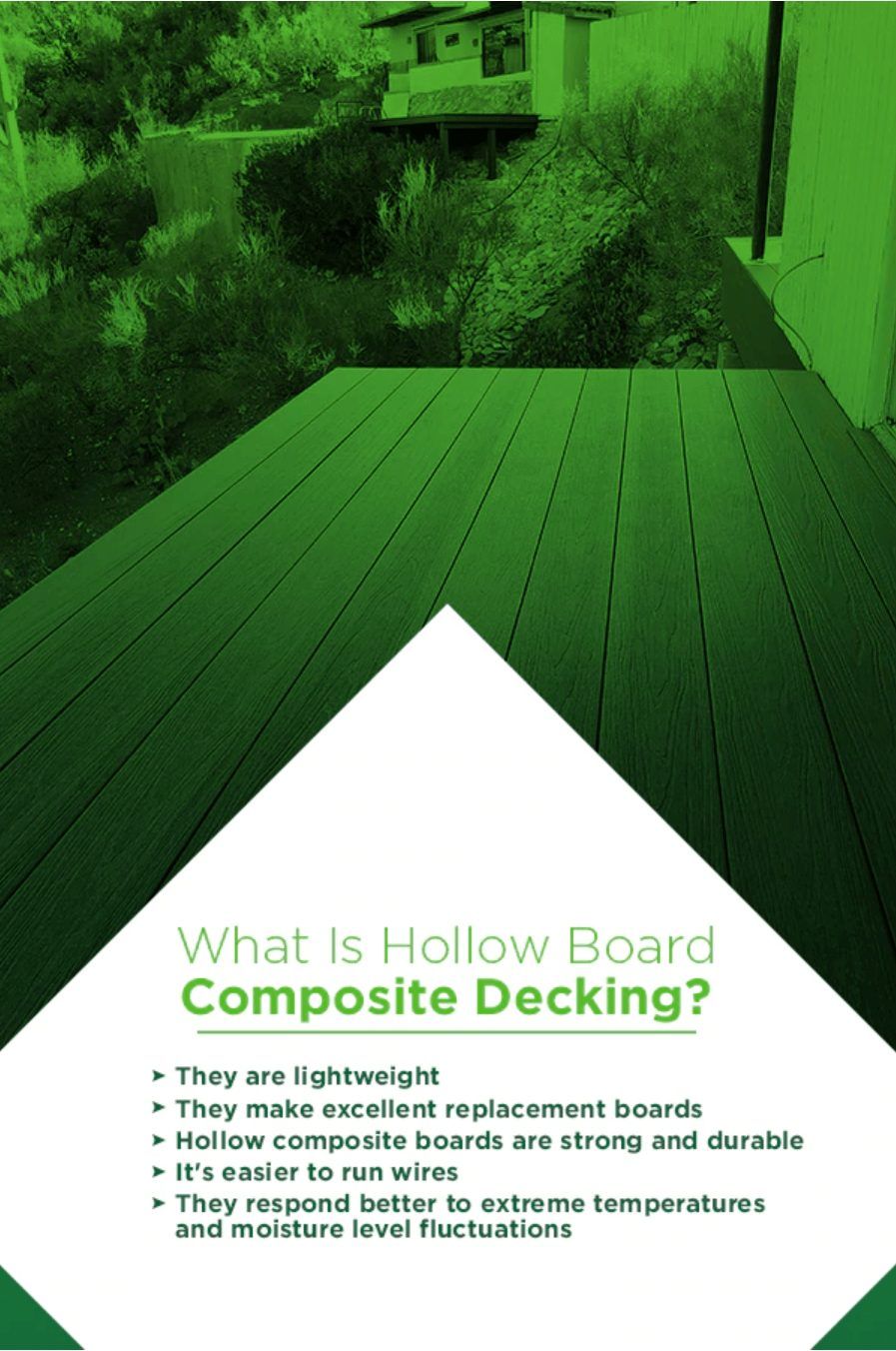 Hollow composite boards offer several benefits:
They are lightweight: A 16-foot hollow composite board could weigh as much as a third less than a solid board. As a result, it's much easier for either yourself or a professional to work with hollow composite boards alone.
They make excellent replacement boards: If you have an older deck that you originally built with wood, and you know the foundation is still in good shape, but you want to replace the older decking, then hollow composite boards are an excellent choice because of their weight.
They respond better to extreme temperatures and moisture level fluctuations: While solid composite boards are a bit more durable than hollow composite boards, they are also much more likely to be affected by extreme variations in temperature or moisture levels. If you live in an area that can get extremely cold in the winter and extremely hot in the summer, solid core boards will expand or contract more than hollow boards over time. As we mentioned above, this can result in loose fasteners and warping of the boards. Hollow composite decking is less affected by these factors and as a result, will last longer in areas that experience these conditions. If you live in a beach town where moisture levels can be high or in a city that experiences these temperature fluctuations, hollow composite boards are your best choice.
Hollow composite boards are strong and durable: Many people have the mistaken idea that a hollow composite board means it will be weaker than a solid composite board. But hollow boards, also known as engineered boards, aren't entirely hollow — they have ribbed centers. Think of the internal structure of a hollow composite board as being like a honeycomb. NewTechWood UltraShield hollow composite decking resembles a honeycomb structure, which allows it to achieve incredible sturdiness and strength while maintaining a light weight. In a NewTechWood UltraShield hollow, the arch structure in the voids compensates for the lack of the amount of composite material that you would find in a solid board.
It's easier to run wires: Many people enjoy having music outside or installing great lighting. It's much easier to achieve these goals and run wires for speakers or lights with hollow composite deck boards because you can quite easily run the wires through the boards.
Hollow composite boards can be less resistant to impacts — so if you drop a heavy object on a hollow composite board, it may dent more easily. Hollow boards also look a little less like wood and require caps or fascia boards on the ends — which can hold water if plugs are not attached properly and result in decomposition.
While composite boards require less maintenance than wood, they still need some maintenance. So if you want to make sure the boards on your deck last as long as possible while maintaining an attractive look, pay close attention to the manufacturer's instructions about how to protect a deck made of composite boards from the environment.
So, Why Does NewTechWood Offer a Hollow Composite Board?

NewTechWood is one of the only companies in the U.S. that offers a hollow board, and we do so for a couple of reasons.
A 16′ hollow board is up to 32% lighter than a solid board. That's as much as 10 pounds. A lighter board is easier to work with. Additionally, if you're redoing replacing the surface boards of a deck with a solid foundation, hollow boards put less stress on an older substructure than heavier solid boards.
So whether you're building a new deck or retrofitting an old deck, using NewTechWood UltraShield hollow boards makes it much easier for you to accomplish the task on your own. Hollow composite decking is the perfect building material to use if you are a DIY enthusiast who enjoys doing things on your own.
Building or refitting a deck with wood, or even with solid composite boards, normally requires two or three people to accomplish the task. That's because these materials are so much heavier than hollow composite boards. You will need yourself and a friend to move solid composite boards or wood. You can also purchase hollow composite boards in longer lengths if you need them because of the weight factor. They are easier to transport from the store and put in the proper shape or position.
If you're not a DIY enthusiast and you want to hire a professional to build your deck for you, they'll accomplish the task much faster using hollow composite decking than with other materials.
By offering hollow composite boards, NewTechWood also recognizes that some people who may want to build a deck will keep an eye on their budget. As you'll see below, the price difference between hollow composite decking and solid core composite decking may make the difference between having a beautiful back deck and no deck at all.
What is the Difference in the Strength of the Hollow Composite Boards Compared to Solid Composite Boards?

People often think hollow boards are significantly weaker than solid boards because of their hollowness. This isn't true — the interior of our hollow board is made of arches that makes the boards just as strong as solid boards.
The International Code Council (ICC) sets the industry standards for construction through the International Building Code (IBC), International Residential Code (IRC), and International Existing Building Code (IEBC) — many regions of the U.S. as well as international communities have adopted these standards. This means that the accepted standard maximum span is 16″ on center, which means joists in the substructure cannot be more than 16″ from the center of one joist to the center of the next.
Many manufacturers' solid board installation guides specify a span of less than 16″ on center. The ICC rates NewTechWood's hollow boards at 16″ on center, so you can rest assured NewTechWood's hollow boards have been evaluated and stand up to these recommendations.
Since hollow composite boards are equal in strength to solid composite boards because of the way they are manufactured, you should never allow yourself to fall into thinking that you need to restrict what you place on your deck because you're worried about weight. You can have your hot tub, grill and deck furniture. Nor do you have to worry if you get one of those intense winter storms and you stare out the window at your deck wondering, "Can the deck hold all that snow?" It can and it will.
We also have solid core boards at NewTechWood. We recommend these for commercial installations and stairs as well as other situations where you aren't installing a fascia board and would rather not have the grooves for hidden fasteners be visible.
What is the Difference in Price?

NewTechWood UltraShield hollow boards often cost less than solid composite boards. The manufacturing process is different — hollow boards require less material during the production process, which means they aren't as costly to manufacture. Using hollow board instead of composite for your project could result in significant savings, as our goal is to create savings for you when you work with our products to create your dream deck project.
You'll also save money in other ways if you use hollow composite decking. It's easier to build the deck on your own rather than hiring a professional, which could result in hundreds of dollars of savings. If you do hire a professional builder, hollow composite decking is easier to transport and position, so the deck will be built much faster which means you'll be paying less in labor costs.
Whether you choose hollow or solid composite decking, you'll save compared to traditional wood decking. You'll have reduced maintenance costs without the need to annually sand and resurface or reseal your deck.
Using hollow composite boards will allow you to make the best use of your budget, giving you a great looking deck at a reduced cost.
Contact NewTechWood Today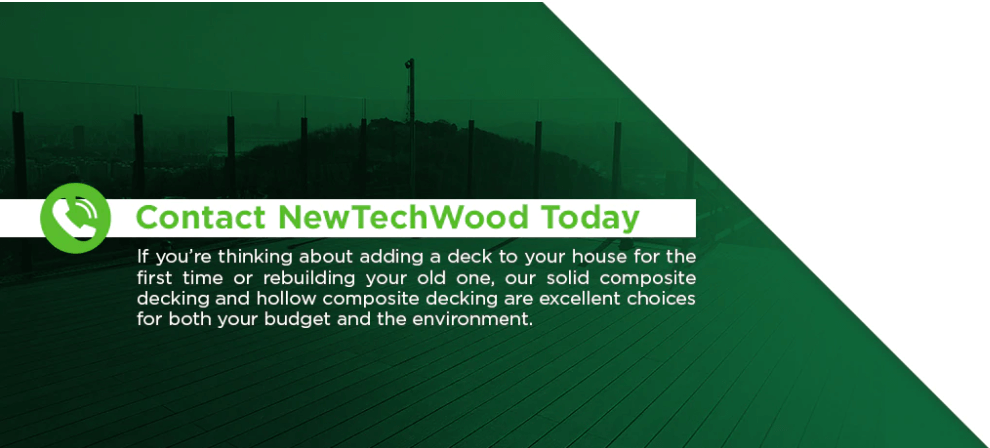 If you're thinking about adding a deck to your house for the first time or rebuilding your old one, our solid composite decking and hollow composite decking are excellent choices for both your budget and the environment.
Since 2004, we've been working hard to stay on the cutting edge of composite decking technology. It is our goal to offer you products that are attractive and will enable you and your family to enjoy the environment just outside your back door. Whether you're looking for composite siding, railing or deck tiles, we have what you need.
If you are a distributor who would like to carry some of our great line of products, or if you are homeowner who is interested in using our great line of products to build your deck and want to know where you can buy NewTechWood's products, visit our contact us page today, where you can leave us your contact information and let us know about your decking project needs. You can also call us toll-free at 1-866-728-5273. A member of our team will get back to you as soon as possible.