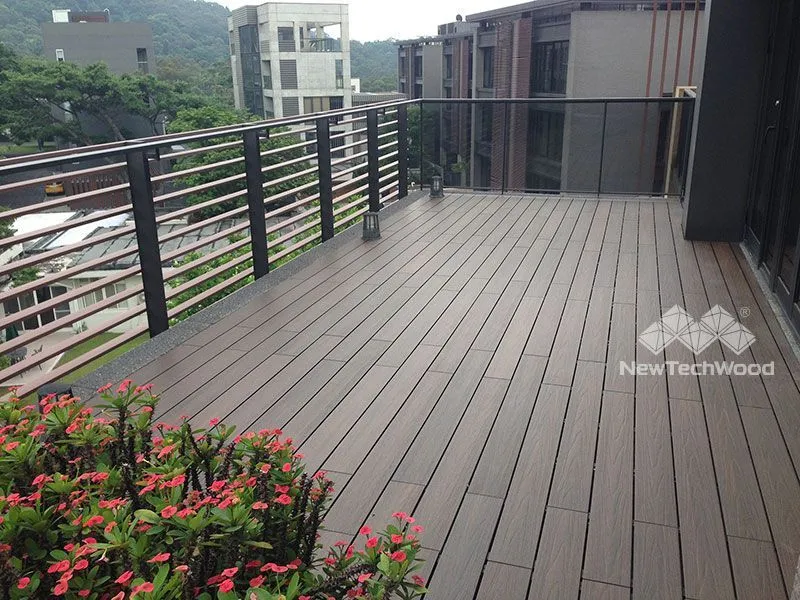 ---

There are many ways for a company to become more eco-friendly, with conserving water, going paperless and recycling being some of the most familiar practices. But one new, perhaps lesser-known way companies are going green is by investing in composite wood decking products.
By purchasing a composite decking or environmentally friendly siding product from NewTechWood, your company will not just have a beautiful, low-maintenance and long-lasting product. You can also take pride in owning a product made from recycled materials using sustainable, efficient manufacturing processes.
In this article, we'll discuss what going green means for a company. We'll also review how to do it in one of the most beneficial ways possible: by buying NewTechWood's innovative composite wood decking products.
In What Ways are Companies Going Green?

The paths companies can choose to go green are virtually endless, but some common methods include the following.
Energy audits: All manufacturing processes consume large amounts of energy. Though it is impossible to eliminate this need completely, companies can implement practices to reduce their energy use. But before adopting more energy-efficient practices, manufacturing companies must have a good idea of how much energy they're consuming. By conducting an energy audit, they will be able to identify where they are being wasteful and the areas where they can improve. During an energy audit of an industrial facility, the lighting, HVAC and production machinery must receive a thorough inspection. You can conduct inspections internally, or hire specialists to assist.
Renewable energy: Manufacturing units and factories use significant amounts of energy, and although companies can take steps to minimize consumption, they can only reduce it up to a certain point. However, tapping into renewable energy sources like wind and solar can make a facility even more eco-friendly. Some environmentally friendly companies use multiple sources to ensure that, even if one isn't working, the other sources can provide sufficient energy for the facility.

Reusing and recycling waste: Companies going green may also choose to recycle waste produced in their facility. If a company is not able to recycle cardboard or glass, they can send these materials to a recycling company. Companies that regularly produce lots of waste can invest in a recycling machine. Those with wood or aluminum byproducts can donate their sawdust to local farms, where farmers can repurpose it into animal bedding.
Conserving water: Implementing water-efficiency programs is also a wise idea for manufacturing facilities. It helps to conserve lots of water and leads to saving money on the purchase, heating, treatment and disposal of water. You can hire a water company in your area to perform an audit of your unit. Conserving water also helps companies minimize discharges to wastewater.
Lighting replacement: Manufacturing facilities often use considerable amounts of lighting. Replacing existing lighting with more energy-efficient models and controls can lower the consumption of energy and eliminate the possibility of mercury contamination. Eco-friendly lighting can also reduce energy costs and air pollution.
Evaluation of motors and drives: Electric motors also consume large amounts of energy, comprising on average 70% of the energy industrial facilities consume. Motors are excellent opportunities for serious energy conservation. By updating existing motors with more energy-efficient models, energy costs will plummet. Companies can also save energy by incorporating variable frequency drive systems, which can save on energy costs.
Going paperless: Many well-known manufacturers have gone paperless, including Tesla, Ametek Inc. and Haas Automation Inc., taking advantage of the systems that allow them to use visual work instructions to improve quality and boost productivity.

Monitoring usage: If a manufacturing company monitors its energy use and has an understanding of its electrical footprint, it can better track its progress toward an efficiency goal. Companies can now take advantage of systems that can monitor usage from multiple locations. Areas that are particularly essential to monitor are "energy thieves" like cooling and heating systems. Implementing control and drive systems can lower these costs significantly.
Environmental management solutions: Environmental management solutions (EMS) are practices or processes that minimize the environmental impact of an organization and boost its operating efficiency. EMS policies general focus on minimizing emissions and waste while improving productivity. Toyota's lean manufacturing is an example of an EMS policy that completely changed the manufacturing industry.
Digital environments: Many top manufacturing companies are already making use of digital environments to create virtual products and perfect their manufacturing methods before going ahead with actual investments. Companies that simulate their manufacturing processes in a virtual, digital factory can evaluate process designs before they invest in a prototype. This 3D environment ensures factories make product designs correctly the first time, and allows for more effective information-sharing in the factory.
Well-Known Companies Going Green
Why should a business go green? There are a variety of reasons, from reputation to cost savings. Eco-friendly companies are no longer in the minority, and many high-profile, successful corporations in a wide variety of industries have made news for implementing the following green practices.
Fast food: McDonald's is reducing energy consumption through the use of energy-efficient appliances, creating parking spots for hybrid vehicles and obtaining animal products while minimizing harm to animal habitats.
Computer technology: Dell is limiting its environmental impact by developing an efficient recycling program to dispose of its products safely. Dell lets its customers return any of its products for free, which encourages the safe disposal of computer equipment and reduces e-waste.
Internet: Google has shown a firm commitment to going green by greatly reducing energy consumption and adopting energy-efficient products. They've built the most energy-efficient data centers in the world, and have supported and funded eco-friendly projects by installing solar panels and windmills.

Banks: Within five years, Bank of America cut its paper requirements by nearly a third and recycles around 30,000 tons of paper annually — which equates to around 200,000 trees. The company also offers rewards to employees who switch to hybrid cars.
Retail: Walmart stores use completely renewable energy sources and fuel-efficient transportation systems. The retail giant also cut ties with suppliers whose manufacturing and distribution methods contributed significantly to carbon emissions.
Car manufacturers: Honda, which many consider as one of the most fuel-efficient carmakers, has invested many resources to produce energy-efficient vehicles. Their engineers are tirelessly trying to develop vehicles that run on hydrogen fuel cells. The company has also made a promise to reduce its CO2 emissions.
Airlines: United Airlines invested over $16 billion to replace all its planes with more fuel-efficient upgrades, aiming to reduce emissions by 5%. Since 2000, the airline has successfully reduced its nitrogen dioxide emissions by an impressive 75%.
Grocery stores: UK-based grocery chain Tesco has integrated many green elements into its operations. It offers savings to shoppers who return their shopping bags, powers its stores with wind power and is heavily committed to recycling.
Shoe manufacturers: Brooks joined the club of eco-friendly companies when it developed an entirely biodegradable running shoe. The company developed a manufacturing technique that ensures the shoe is just as durable as any other on the market and will only start to biodegrade when enclosed in a landfill. The time it takes these shoes to biodegrade is only 20 years, as opposed to traditional ones that take around 1,000 years. They estimate this method can save as much as 30 million pounds of landfill dumping within two decades.
Household product manufacturers: S.C. Johnson has committed to minimizing the impact of its products on the environment by reducing the number of volatile organic compounds and polyvinylidene chloride from its products and minimizing its use of coal for power.

Soft drink manufacturers: Coca-Cola has gone green by committing itself to three eco-friendly goals: water preservation, sustainable packaging and climate and energy protection. It is also involved in green packaging designs and community recycling programs.
Coffee shops: Starbucks is making extensive efforts to go green by enacting measures like the bean-to-cup approach and making tables out of recycled coffee grounds. They've also partnered with many environmental organizations, including Earthwatch Institute.
Aerospace manufacturers: Pratt & Whitney is also going green by reducing its use of raw materials, cutting back 90% of the metal used in manufacturing jet engine blades. This ingenious method has allowed the company to reduce the number of wasted ingots and its factory emissions.
Information technology: Hewlett-Packard has taken many steps to ensure its materials are completely recyclable, and has opened many e-waste recycling plants to dispose of its products. Hewlett-Packard also accepts computer equipment of any brand and uses renewable energy sources.
Go Green By Buying Eco-Friendly Decking
As mentioned above, one less obvious way many companies are going green is by investing in green decking materials. However, before buying products from a decking company, you must confirm their products are eco-friendly and that the company uses sustainable practices.
Clean manufacturing method: This approach means making decking products without using any toxic chemicals or creating any harmful byproducts.
Sustainable harvesting process: This method recognizes no resource is infinite, and involves responsibly harvesting any materials used in making the product.
Green maintenance: Owners should be able to maintain their decking material without using toxic chemicals or harming the environment in any way.
Longevity: As long lifespan is one of the most important aspects of being green, recycled decking materials should last as long as possible. The longer the lifespan of a product, the less it will negatively affect the environment, regardless of the number of chemicals or materials involved in its manufacture.
Recyclability: Eco-friendly decking materials should also be recyclable and made from recycled products.
At NewTechWood, we have dedicated ourselves to all of the above. Although many companies are now striving to be green, NewTechWood has been involved in the cause long before it was cool. We manufacture our products using recycled materials, so when you buy a NewTechWood product, you can be certain your purchase will make your business or home greener.

At NewTechWood, sustainability isn't a buzzword — it's a practice that is critical for the future health of our environment. A sustainable ecosystem, community or lifestyle is one that can support itself and its surroundings. We can define the philosophy of sustainability with three key concepts.
Environmental protection: Creating a sustainable ecosystem naturally involves a focus on protecting the environment. After all, interactions with the environment can only be "sustainable" if they don't ruin the environment and the resources it provides. Protecting the environment involves studying how our use of the environmental impacts it and figuring out how we can minimize harmful behaviors, while emphasizing those that positively affect the environment
Social development: People will only take an interest in environmental sustainability if they are well-informed about what it entails. The well-being of societies is fundamental to sustainability, and making sure humans can all have access to essential resources, health care and a good quality of life in a sustainable environment is vital
Economic development: As economic success is fairly subjective, this third concept is perhaps the most controversial. However, economic development is still critical for various reasons. First of all, it isn't possible to attain sustainability without economic development. Convincing people, communities and organizations to put their money and time into sustainability requires offering incentives beyond long-term advantages. Second of all, as mentioned above, social development is another critical aspect of sustainability, and social development requires economic resources.
The importance of sustainability, therefore, has a simple explanation: The quality of life we enjoy as human beings and the stunning diversity of life on our planet cannot continue to exist unless we conserve it. If we do not change our lifestyles, we will exhaust our supplies of natural resources like lumber and fossil fuels. Thousands — perhaps millions — of animal species will die out, and we will damage the atmosphere beyond repair.

NewTechWood's Sustainable Practices
At NewTechWood, our sustainable practices include the following.
Recycled materials: Our products are 95% recycled materials, including reclaimed wood fibers and plastic bottles. We've been recycling plastic materials for nearly three decades, and every month, we save over 12 million pounds of plastic from ending up in landfills. Because we are fully in control of the recycling process, which includes the correct washing, sorting and screening for impurities, we know exactly which materials are going into our products.
Third-party inspections: We annually undergo third-party audits to make sure we comply with health, environmental and safety regulations.
Reduction of waste: We have made our carbon footprint smaller by reducing waste, conserving energy and making use of optimum processes.
You'll notice our commitment to environmental sustainability reflected both in our products and our sustainable manufacturing processes. When you buy our decking products, made from recycled materials, you become part of our eco-friendly initiative.
NewTechWood's Green Products
At NewTechWood, we make all our products from recycled construction materials. Total vertical integration of our manufacturing process allows us to maintain consistent color and quality. It also lets us manage the costs of our materials for stable pricing. In this section, we'll discuss the applications and benefits of each of our sustainable decking products.
Our UltraShield Deck Tiles are 100% eco-friendly capped recycled composite decking made from natural wood grains. Their interlocking base allows quick and seamless installation. They're also practically maintenance-free and will not warp, bend, crack or split.

Our deck tiles also feature a raised, interlocking system that allows for better drainage and prevents pools from occurring during heavy rainfall. We designed these innovative interlocking deck tiles for everyone from first-time DIYers to experienced builders wanting an attractive, easy-to-install deck. These tiles snap together to make gorgeous outdoor patios compatible with contemporary architecture. Each tile features a grid attached on the bottom, which keeps the tile off the surface below to allow water to drain more readily.
If you are installing on the ground, we recommend putting down a layer of sand or crushed gravel first, then installing the tiles on top. Because our tiles have four-way interlocking abilities, you can turn them in any direction when you snap them together, which allows for more design possibilities.
We suggest beginning at the end of your deck and working your way toward the middle. Once you have finished, you can add various trim options to match your style. These capped deck tiles are ideal for those who want to tackle a day project by themselves instead of paying professionals to spend a few days building an entire deck.
Composite decking is a popular option for decking and a great choice, whether you're looking for patio decking options, railing materials, banister materials or other outdoor decking options. Although sometimes called imitation decking or fake decking, it is more accurate to call it engineered or manufactured decking. Composite decking products feature a mix of recycled wood fibers and recycled plastic, creating a product that resembles authentic wood. However, in many ways, these recycled composite materials are better than real wood.
Increased durability: Due to their high-quality materials, as well as our UltraShield capping, our decking products do not rot and are in general much more resistant to the elements than traditional wood decking materials. For this reason, composite deck materials tend to last much longer as well.
Less maintenance: Composite deck materials also require considerably less upkeep. One of the most significant reasons homeowners are hesitant to buy a deck is the maintenance traditional wood decks require. You must sand, seal and stain them to stand up against the elements, and sometimes homeowners find themselves having to replace boards or even rebuild the entire deck. NewTechWood's decking, which we protect with our UltraShield capping, requires almost no maintenance at all — all you have to do is spray it a few times with a regular household cleaner.
Extreme resistance to insects and mold: Insects will be unable and unwilling to penetrate your deck, and if any mildew or mold develops on your deck, it's usually easy to wash off.
Stain and fade resistance: The decking's capped composite materials are highly resistant to staining and fading, meaning you will be able to enjoy the rich color of your decking for many years to come.
Some owners even report their composite decking looks more like wood than real wood. NewTechWood can imitate the look of a wide variety of hardwoods, including some exotic species that probably wouldn't be available to you if you were building an authentic wood deck. There are also many patterns and colors available, meaning the design possibilities are virtually endless. Our most recent Naturale™ line features a new, unique treatment on the shield, making it feel more natural than ever before. The decking boards are available in hollow and solid profiles for both residential and commercial applications. You can install them with either regular screws or hidden fasteners. The protective shield wraps around boards entirely — including the grooves.
Composite deck railing can be a great addition to your deck for several reasons.
Local regulations: HOA or local codes may require railings. If you're planning to build a deck without railings, look into this before doing anything else.
Durability: Just like NewTechWood's other decking products, the railing features UltraShield coating, which creates a natural, long-lasting and weather-resistant finish.
Safety: This issue is the most significant consideration of all. Although railings are not usually necessary for decks with treads less than 30 inches above the ground, falls from these low heights can still lead to injuries. Decks without railings can be especially dangerous for children. Even if you don't have children, keep in mind you could in the future, or you might have guests with kids. For both your safety and that of your family and guests, we recommend you install railings on your deck.
Compatible colors: If you have NewTechWood's decking installed, you won't have to worry about finding railings that match — we offer railings in all the same colors as the decking products.
Aesthetics: Decks with railings have a more upscale, finished appearance you and your guests are sure to love.
With NewTechWood's planter boxes, you can take your deck, porch, patio or landscaping design to the next level. They might be just the touch you've been looking for to give your exterior that unique look. We designed our boxes to be versatile — you can stack them on top of one another for a variety of applications. For instance, you can fill one box with sand and make it into a sandbox for your children, or you could lay down aerated sheets and add some soil and flowers to make a miniature garden. You may also want to try adding larger trees or bushes to achieve a complete landscaping effect.

NewTechWood designed these plant boxes to be compatible with our composite decking, deck tiles and other products. You can use our boxes to form an integrated part of the deck, have a box surrounded by artificial grass tiles or stone tiles or place it anywhere on your property as a standalone piece.
We make our planter boxes using materials similar to those in our composite wood decking, which means you can enjoy all the benefits of authentic wood without all the maintenance. These boxes will not fade, rot, stain, crack or stain, and are highly resistant to fungus, mold and weather elements.
Thanks to the UltraShield capping, you'll never have to take your planter indoors when it rains. You can leave it outside year 'round and don't even have to think about it unless you'd like to move it or change its contents. If you'd like to clean it, washing or wiping will make it look as good as new. Assembling the planter requires no tools, nails or screws, meaning anyone can put it together.
Designing your exterior landscape is a great way to showcase your tastes and create a unique look for your home. One of the many ways to achieve a distinctive appearance is with bird feeders. The feeders and the birds they attract can make your yard more inviting, and are often a big hit with children.

Many people hesitate to buy bird feeders because they're vulnerable to the elements and can easily rot and fade due to sun, rain, moisture and other conditions. And when cold weather comes, you have to either bring them inside for protection or leave them exposed to the harsh winter elements. NewTechWood's bird feeders, however, solve all these problems. We make our composite bird feeders with similar materials to our other products and protect them with our UltraShield capping. That means it resembles natural wood, but is exceptionally durable in the face of weather conditions that quickly put an end to traditional wood bird feeders. Like our other products, our bird feeders are crack- and scratch-resistant, and will not decay or rot due to insect infestation or moisture. They also require virtually no maintenance — add the bird food and sit back to enjoy as your avian friends frolic around your yard. NewTechWood offers several choices of composite bird feeders.
Composite birdhouse feeder: This feeder is in the traditional birdhouse style, with a window and door so your winged friends can dine in privacy.
Composite suet feeder: Some species of birds, particularly those that eat insects, prefer to get their nutrition from suet, an animal fat-based substance. Birds that eat suet include chickadees, woodpeckers, cardinals, starlings, robins, orioles, mockingbirds and blue jays. All you have to do is place the suet in the feeder, and birds will enter from the bottom. If your region has insect-eating birds that don't migrate, this type of feeder is a humane idea, since these birds often have trouble finding sufficient nutrition during the colder months when insects are scarce. Because we build our suet feeders with the same green composite materials as our other products, they are highly resistant to the harsh winter elements, so as long as you place a suet cake in the feeder every week, you can rest assured the birds will have a reliable food source to get them through the winter.
Composite squirrel feeder: Often, birds aren't the only hungry visitors in your yard. Our squirrel feeder is a perfect place for your cute, fuzzy neighbors to grab a bite to eat.
Composite bird feeder: This feeder provides space for multiple birds to land on and eat together.
Our hidden deck fasteners are a component required for installing your environmentally friendly decking. Since boards don't stay together on their own, they need a fastening agent. Hidden fasteners don't only connect the boards, but do so discreetly, giving your deck a seamless appearance. To accommodate these hidden fasteners, the boards feature grooves on their bottom sides. These hidden fasteners provide excellent support, connecting your boards and giving the deck a smooth, clean look. Because boards in certain areas may experience a certain degree of expansion or contraction with the weather, NewTechWood also provides Control Expansion and Contraction Clips that prevent warping or distortion. These work by allowing the installer to control which direction the boards expand and contract. The other type of clips we offer, which secure the boards in place, are our Locking Clips. Consider the following decking accessories to finish your decking perfectly:
Starter clips
Hidden fasten systems
Fascia boards available in several dimensions for various applications
End caps for hollow profiles
Colored head stainless steel screws
The decking clips play a vital role in all composite decking installations, so you should be sure you fully understand their function before beginning any installation.
NewTechWood's UltraShield wall cladding is an excellent option for exterior walls. It has the longevity and durability of a capped wood plastic composite and the beautiful colors and textures of real wood. While many other companies use the decking boards as siding, this provides less protection than NewTechWood's composite siding. One feature that enhances the longevity of NewTechWood's siding is its lip, which provides extra protection from the elements.

Partner With Us to Use Our Green Construction Materials
By partnering with NewTechWood, you'll be going green in multiple ways. You'll be buying a high-quality product with a smaller carbon footprint, and you'll be supporting an environmentally friendly company with a commitment to sustainable manufacturing processes. Ever since we began in 2004, we have been leaders in wood plastic composite technology, and have become known for our attractive, innovative and eco-friendly products that bring practicality and beauty to homes and businesses around the world.