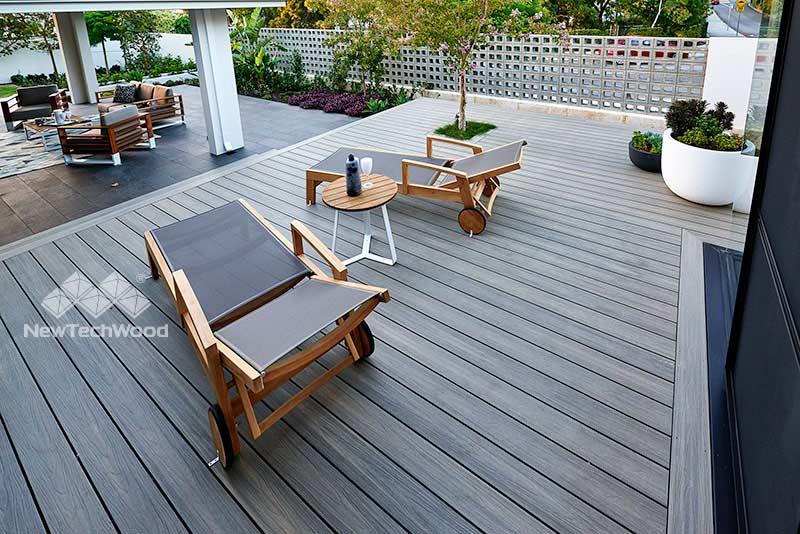 ---

Adding a deck to your home can create a beautiful space for outdoor living and hosting. They're perfect for anything from summer barbecues to casual evenings. But depending on where you live, what you desire and your available budget, the decking material that best suits your needs may differ.
The top two options are wood and composite materials. Both are viable choices for most people, each with their upsides and downsides. Until the recent growth in popularity of composite materials, using wood has been the standard. Now, both are competitive options in residential and commercial settings. So, which option is best for you? Our comprehensive comparison will help you decide whether wood or composite materials will make a better deck, based on the benefits, costs, appearance and quality of each type of decking.
The Basics of Composite and Wood Decking
While both materials serve the same purpose, they are each made differently and have varying properties. Composite is made from recycled wood or bamboo and plastic materials, ground and densely compacted into board shapes.
The wood is often sawdust or chips from lumber mills, and the plastics are from recycling centers, making composite decking up to 95% recycled material. After machinery compresses it into planks, the material is sealed, or capped, with a polymer coating, which protects the boards from warping, fading, splintering, rotting and destructive insects. Generally, it is easy and fast to put together — meaning you can enjoy your deck sooner — and will last for years with little maintenance or hassle.

Wood decking comes in many different varieties, in terms of quality and cost. The most common and least expensive option is pressure-treated pine, which is manufactured with chemicals to increase the softer wood's lifespan. Pine is followed by the middle options of redwood and cedar, then the most costly but highest quality choice, the tropical hardwood ipe. Known as the classic option, wood has a natural, traditional feel to it, and with the proper upkeep and treatment, can last a relatively long time. Some of the varieties perform better than others in terms of weather and rot resistance and are better suited to specific climates, so it's essential to research before deciding.
Benefits of Composite Decking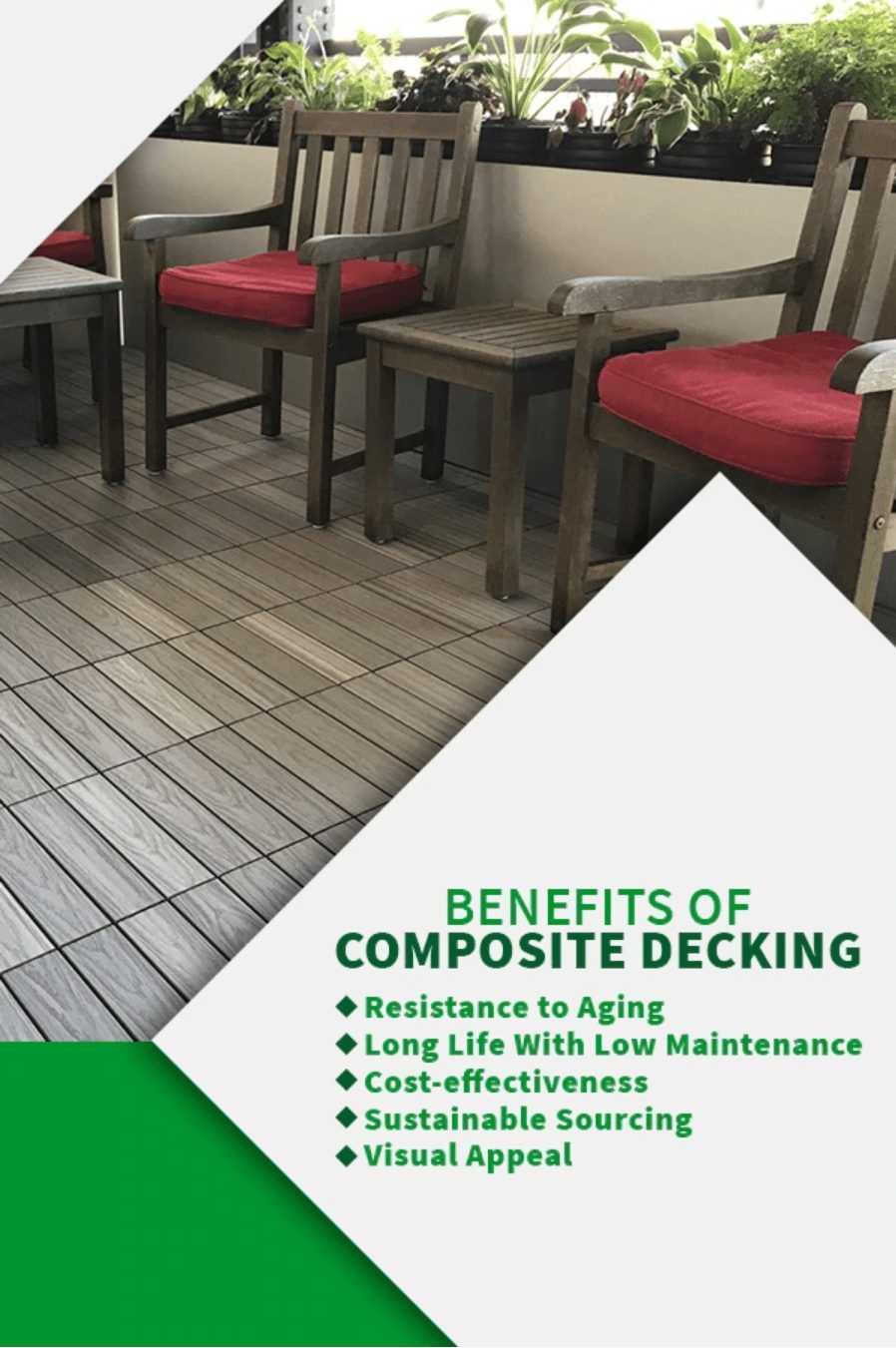 While it is a newer material, recycled composite decking has become a popular choice for outdoor decks — and with plenty of good reasons. Over time and with increasing popularity, the performance of composite materials has improved. Manufacturing processes changed to better respond to the issues of natural wood, all while maintaining its sustainability and appearance. Other benefits of using composite materials include:
1. Resistance to Aging
Despite being partially made of wood, composite materials stand up to sun exposure, weather and destructive insects far better than regular wood planks. The protective polymer seal coating every inch of the boards prevents any fading, rotting, splintering, cracking or structural damage from bugs, all of which are issues with natural wood. Using composite is safer for you, children and pets, so you can feel free to walk barefoot anytime.
2. Long Life With Low Maintenance
While many wood options require sanding, sealant and staining treatments on a yearly or bi-yearly basis, the most you'll ever have to do for composite decking is to give it a good scrub with some cleaner and water to be sure mold doesn't grow. If any accidental spills occur, all you have to do is wipe the spill up as you would on a kitchen floor. Spills won't stain or sink in, and composite decking is resistant even to red wine. Otherwise, you can rest easy knowing your deck will live on without weather damage.
3. Cost-effectiveness
The cost of composite decking may be higher than most wood alternatives, but the value of the product is better. You'll spend far less money and time on maintenance and your deck will still outlive those made from lumber. It may be more costly up front, but the longevity and convenience will make that extra money more than worth it. In the long run, you may actually end up saving money in comparison to installing a wood deck.
4. Sustainable Sourcing
Recycled from wood scraps and plastic, composite materials are sustainable and environmentally friendly. They prevent further deforestation and promote reclaiming and reusing materials, saving trees and keeping plastics and lumber out of landfills. Unlike wood, they also require no chemical treatment, keeping harmful toxins out of the environment.
5. Visual Appeal
In its early days, composite lumber looked much more like plastic than wood. Now, with new technologies and better manufacturing processes, the material appears much more natural, including different color finishes similar to a variety of wood types and grain patterns that mimic real ones. Some manufacturers are also working on making the capped composite physically feel more like natural wood. As time passes, composites will only get closer to matching the beauty of a real wood deck. With so many positives, it's easy to see why more and more people are choosing to build their new decks out of recycled composite decking. Between the quick installation time and little necessary maintenance, you'll be able to spend less time worrying and more time enjoying your favorite new spot for reading, sipping coffee or relaxing.
Benefits of Wood Decking

Many people consider natural wood to be the top — or only — option for their decks, and it isn't difficult to see why. Wood materials have been the long-time standard of deck builders and homeowners. The natural grain and finish of a brand new wood deck is classically beautiful and can provide a homey and warm feeling. There are also a few benefits to choosing natural wood materials, including:
1. Affordability
Of every option for decking material, pressure-treated pine is easily the most affordable. Cedar and redwood planks may also be less costly than composite materials, depending on the availability in the area where you live. For example, in California, redwood is an abundant source, so it is much cheaper than for someone on the east coast.
2. Customization
Wood requires stain and sealant protection, which can be a hassle, but also means you can customize the color of your deck each time it needs treatment. You have the freedom to try out different stain tints, or even paint it in bright, bold colors if you'd like. Additionally, you may also have more freedom of design and specialized sizing in the initial building process.
3. Weather Resistance
With proper treatment and maintenance, wood decks can last a long while. You can finish them to deter mold and insects, be less absorbent and resist fading from the sun. Using the right processes and chemicals for the wood you choose is critical, but as long as you have the right finishes and stains and reapply them every year or so, you'll get the most for your money.
4. Natural Beauty

Using wood is, for some people, the only option in terms of looks. A deck made entirely of redwood or imported ipe is durable and beautiful, and even the lower grade pressure treated options look more natural than composites and plastics. There's a reason wood is the classic decking material. As long as it is correctly maintained and finished, natural wood will mostly keep its luster throughout years of use. It's no surprise that some homeowners still prefer wood decks over a lower maintenance option. Some people may enjoy the necessary upkeep or see it as a way to freshen up their yard each year. Others may be attracted to the lower initial cost, more comfortable with spending money each year than dropping a larger amount at once. Either way, both wood and composites have distinct benefits, all of which are important to consider in designing a new deck or replacing an old one.
Cost Comparison of Wood and Composite Materials

Cost can be a huge factor in making a decision, especially when it varies for different qualities of materials. You want the best value for your money, but you also need something that will stand to the test of time. In initial cost, wood and composite decking materials stack up differently than they do in the long run. For the best possible comparison, you need to look into three major factors:
1. Short Term Cost
At first glance, natural wood decks often win in cost comparisons. Generally, they are cheaper to install than composite decks. But, while composite material prices are relatively fixed, mostly dependent on the brand you buy from, the cost of a wood deck varies far more, depending on the type of wood you choose and where you live. If you simplify it to cost averages per square foot installed, a pressure-treated wood deck costs $15 to $25, cedar or redwood costs $30 or more, ipe costs well over $50 and composite decking material ranges from $30 to $45, typically. Based on those ranges, for a full 16-by-20-foot deck, pressure-treated pine would cost about $4,800 to $8,000, cedar or redwood from $8,000 to $9,600 or more and composite runs about $9,600 to $14,400. Ipe would be far more expensive and is typically out of most peoples' price range. Adding in accents like benches and railings will put you on the higher end of these estimates, and the more features you need, the higher your budget should be.
2. Long Term Value
While the estimates factor in the immediate costs, they don't predict how those costs factor out over time. The life of a deck determines the overall value of the cost, meaning you may get more for your money by paying a higher price up front. Factoring in how long the materials last, without maintenance or repair, composite materials are known to last much longer than standard wood options — sometimes twice as long or more — without splintering or becoming an eyesore. Many brands come with a 20-year warranty. So, while you may pay up to twice as much for composite as you would for natural wood, the deck itself can easily outlast other alternatives, meaning you save money in the long run. And that's not even considering maintenance costs.
3. Maintenance and Repair Costs
While most people will make their decision based on initial cost and longevity, maintenance and repair costs are the third dimension any homeowner or business interested in building or replacing a deck should consider. Natural wood decks require sanding, treating and re-staining about every one to two years, depending on the climate. An annual treatment can cost about $400, potentially up to $1,000 for a quality stain.
In addition to labor costs or the time and rental costs you'd have to spend doing it yourself, upkeep on a low-end wood deck may require you to budget carefully. On the other hand, a composite deck requires very little maintenance at all — at the most, a good scrubbing once a year with water and cleanser. You can do this by hand or with a low-pressure power washer, and it is a relatively easy procedure. Since the boards are sealed before installation, they need no treatment, only cleansing for the removal of any mold spores or debris. In terms of repairs, it is cheaper to make small to moderate repairs on wood decks, but composite materials are far less likely to need fixing as long as you clean them annually.
Maintenance Comparison of Wood and Composite Decking

Whichever material you use, every kind of deck will require some form of maintenance to keep its appearance and allow for the longest lifespan possible. Not all wood decks are created equal. Pressure-treated lumber takes about half the annual care of natural wood, requiring a cleaning and stain or clear sealer refinishing. Since it is already chemically treated, there is less of a need for further solutions.
However, this wood is still the most prone to fading, cracking, warping and splintering, and will need repairs or replacement sooner than any alternative. Natural wood is the most expensive and most time consuming to maintain. It is installed unfinished, meaning it'll need an initial treatment as well as later upkeep. Because there are several steps you must perform a certain way at the right temperature, not everyone can maintain natural wood themselves. It can take days to prepare and finish, or high labor costs, depending on the size of the deck and the materials used. Before you can apply anything to the surface, the wood must be power washed, sanded down or both to ensure a fresh base.
Then, it needs to be sealed, waterproofed and stained, if the owner desires, for optimal protection. If you choose to hire a professional, labor may take up to 20 hours, meaning more expense. But the project will take longer and may not come out as well if you choose to do it yourself. Regardless of maintenance, all wood is prone to staining and fading, resulting in discoloration that will make a deck look drastically different than how it looked newly installed.
Treatment will help prevent this, but it's inevitable over time. Composite decks require very little maintenance. At most, you'll need to wash them once or twice per year with a cleanser, water and a scrub brush or power washer. It really is that easy. Composite lumber already has a sealing polymer layer before installation, so the finish is set and ready to go.
The capped lumber is automatically protected against UV rays that dry and fade decking, water that leeches in and promotes rot and insects that cause structural damage. It requires no sanding, staining or sealing at any point, meaning you can enjoy your deck sooner and longer and spend less time on maintenance.
Appearance Comparison of Wood and Composite Decking
While durability and expense are more practical deciding factors, you deserve to have a good-looking deck. You'll be the one spending time enjoying it, after all. Wood has always been the standard for appearance in decks, and man-made materials strive for that natural look. Redwood and cedar make a beautiful patio deck, and with the correct care and maintenance, you can enjoy it for longer.
Unfortunately, natural wood may still deteriorate, especially when it isn't cared for properly. It can split, warp and splinter, leaving your deck misshapen and dangerous for bare feet. Many types of wood will fade from their vibrant original color to an ashy grey, far different from what they begin looking like.
If left for too long, an attractive focal point can become a terrible eyesore. Pressure-treated lumber is even more prone to the same warping and splintering issues, but it also begins with an odd tint. Without any stain or paint, the wood is typically a brownish green, which may be relatively unattractive to some. A quality stain will improve the original color, but the treatment and natural wood will both fade over time, requiring repeat staining. It's the cheapest lumber, but expensive to keep looking nice.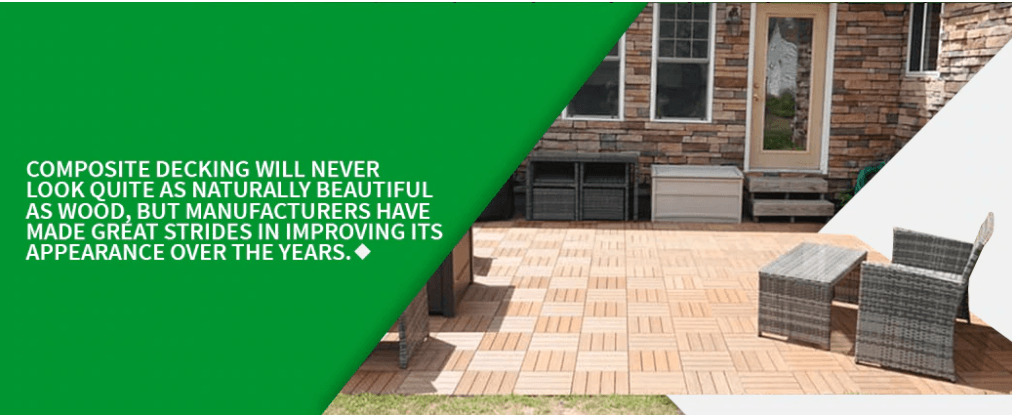 Composite decking will never look quite as naturally beautiful as wood, but manufacturers have made great strides in improving its appearance over the years. The boards are colored in gradients and textured like wood grain to make decks appear more like the natural alternative. It may not be perfect, but there are plenty of color and texture options. What it may lack in appearance, it makes up for in time-and-money-saving power. Composite materials don't need paint, stain or sealant to retain their color and, though they may fade slightly, they are affected much slower than their wood alternatives. You can rely on composites to have the same appearance for years, with no unsightly cracks or stains.
Quality Comparison of Wood and Composite Materials

Overall material quality is essential to building a long-lasting deck. After all, a whole is only as good as the sum of its parts. Unfortunately in terms of wood products, price increases with quality, so if you want a top-notch wood deck, you'll have to be willing to spend for the lumber, installation and maintenance. Generally speaking, the density of wood is what makes it higher quality.
With this logic, the best possible option is imported hardwoods like ipe. Ipe is so dense it sinks in water, rather than floating. It's naturally more suited to withstand weather conditions and aging but is very expensive to purchase in the large quantities needed to build a deck.
Mid-level wood types, like cedar and redwood, and the basic pressure-treated pine are of a lower quality, meaning they need more maintenance and will not withstand weathering nearly as well. Being less dense and softer, they're also more prone to denting and staining from dropping things and general use. Composite materials are stronger than most wood options.
The polymer capping makes them completely insect and weather resistant, and their density makes them harder to dent. Manufacturers offer longer-term warranties on composite decking because of its integrity. The only downside is the boards may need more support from closer joists to prevent any potential sagging. For the overall price, the long lifespan and the low-level maintenance requirements, composite materials may be the best value for any homeowner in any climate.
Get Started on Your Composite Deck Today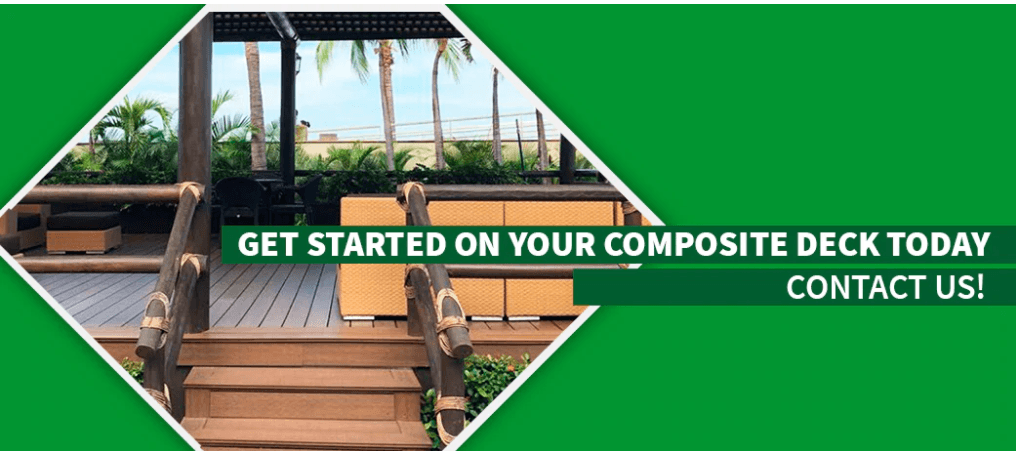 If you've decided that composite wood decking is the best option for your needs, look to the innovative solutions at NewTechWood. NewTechWood offers cutting-edge composite materials and kits for any homeowner looking to install a new deck. We offer the best in polymer-capped composites, available in multiple colors and custom board lengths to provide you with natural-looking and beautiful options. With products made from 95% recycled materials — processed, cleaned and repurposed on-site — we make a point of creating quality sustainable solutions that are perfect for your needs and helpful to the environment.
For your peace of mind and to show our confidence in our products, we also offer a 25-year limited warranty. Get started on your new deck dreams by
browsing our products
today, or
contact us
for more information.