COLORS
Our UltraShield® NaturaleTM color range includes an array of colors to suit any style. Take a look at the shades available to get inspiration for your next home or business project.
We also provide a custom color range, letting you fit composite decking into almost any existing style. Provide a photo of the color you'd like to match, and we'll work to make your dream a reality.
We also offer railing composite materials, banister composite materials and balcony composite materials to complete your deck or other home improvement project.
We offer different profiles of our UltraShield® NaturaleTM decking to suit any application or style. From hollow to solid boards, grooved or smooth varieties, our ranges of composite decking fulfill any installation need. Check out the options below to see what you need for your backyard deck materials.
Not sure which profile is right for you? Here's a quick guide to what works best in particular situations:
The Cortes series: The Cortes series is ideal for deck boards or stairs. You install it with screws.
The Magellan series: The Magellan series uses either hidden fasteners or screws.
The Voyager series: The Voyager series is ideal for deck boards and installs with hidden fasteners.
The Columbus series: The Columbus series is ideal for use as a bullnose on stairs or the board at the edge of the deck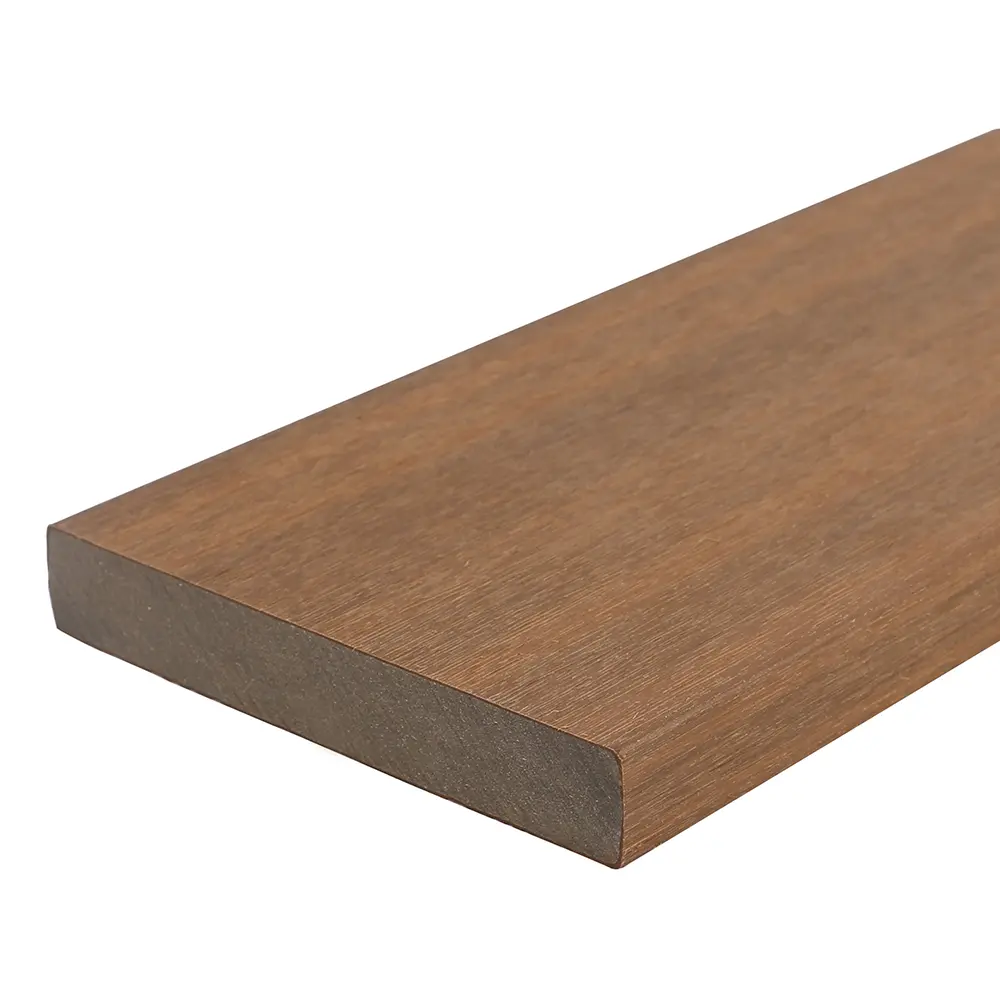 US07 - CORTES SERIES
SOLID DECK BOARD
5-7/16″ X 7/8″
(138 X 22.5 mm)
Length: 16′ & 8′
Weight: 2.49 lb/ft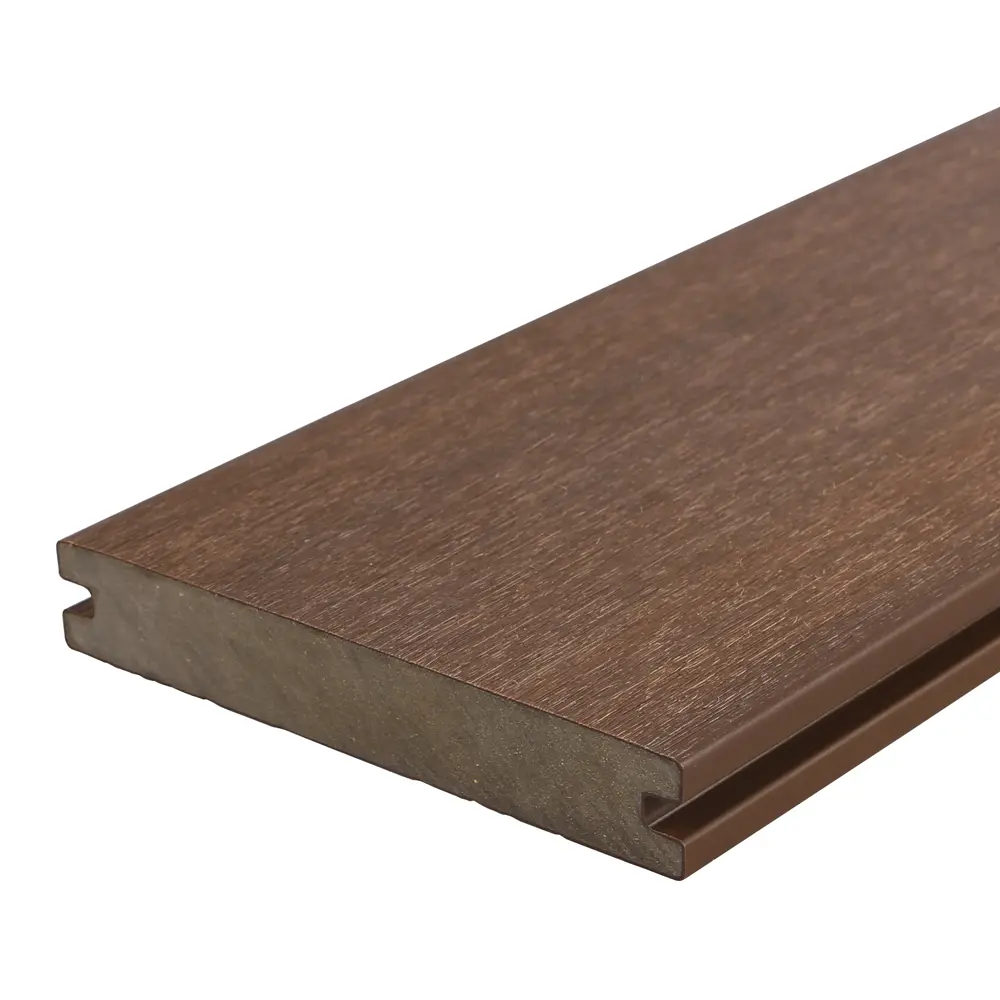 US01 - MAGELLAN SERIES
SOLID DECK BOARD WITH GROOVES
5-7/16″ X 7/8″
(138 X 22.5 mm)
Length: 16′ & 8′
Weight: 2.40 lb/ft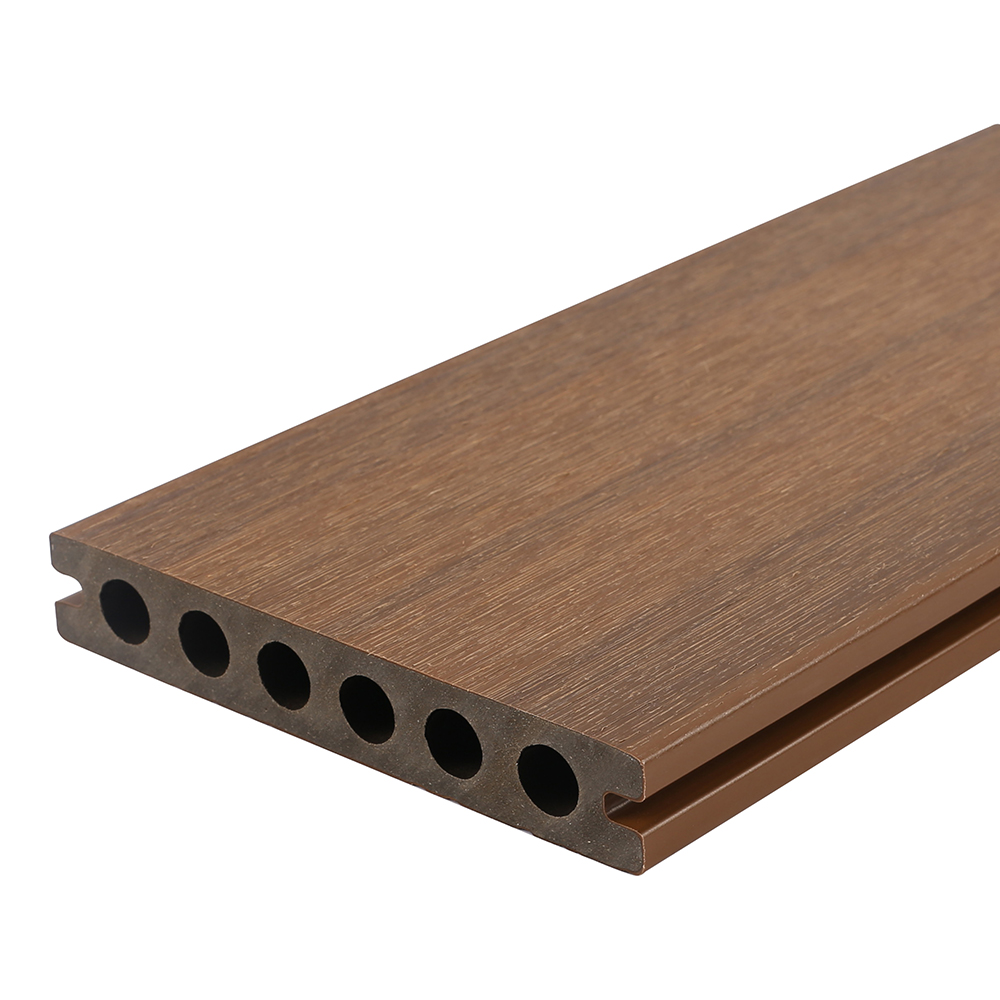 UH02 - VOYAGER SERIES
CIRCLE HOLLOW DECK BOARD WITH GROOVES
5-7/16″ X 7/8″
(138 X 22.5 mm)
Length: 16′ & 8′
Weight: 1.76 lb/ft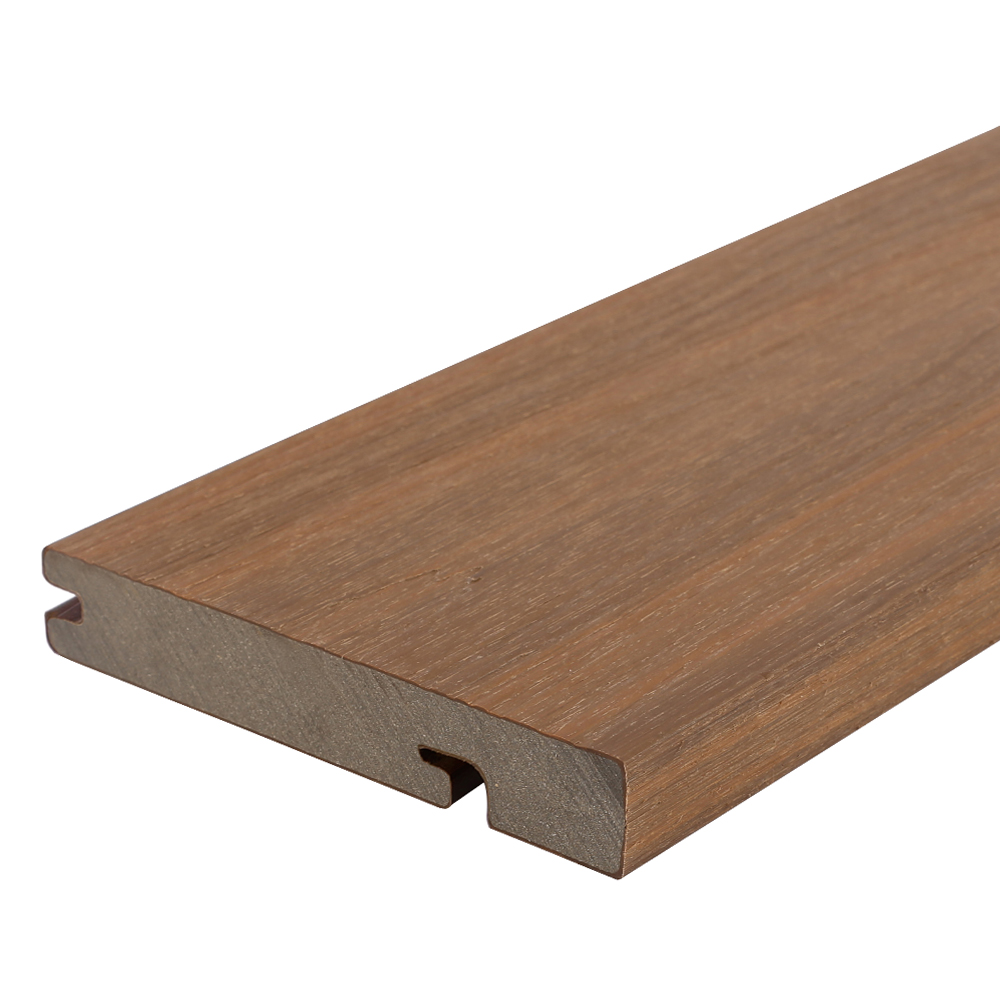 US33 - COLUMBUS SERIES
HYBRID BOARD
5-7/16″ X 7/8″
(138 X 22.5 mm)
Length: 16′ & 8′
Weight: 2.35 lb/ft
Our decking finishers and installation systems add an extra touch of professional style to your finished composite projects. Since we offer these products, we become a one-stop-shop for your backyard deck materials.
The result is a capped wood plastic composite protected on all four sides that is incredibly durable and easy-to-maintain as well as the most eco-friendly decking solution you are likely to find. The core and shield are extruded together under a high-temperature mold, which means we require no chemicals or adhesives that could release toxins into the environment. The material itself is all recycled and completely recyclable.
Some capped composite deck boards do not offer capping on all sides, but ours have 360-degree capping, which is really the only way to fully protect the core of the board from all potential hazards like ultraviolet radiation and mold. You can be sure decks made from our boards will look great all the way around.
PURCHASING COMPOSITE DECK MATERIALS
From backyard and front decks to pool decks and patios, there are plenty of structures to put around any part of your home. When it comes to material for these home improvement projects, you have a lot of options. If you want something modern with a classic feel and plenty of advantages, turn to composite decking.
At NewTechWood America, we provide composite lumber products for a range of jobs around your home. If you're trying to choose a material for patios, decking or other home improvement projects, composite decking might be the right option for you.
For any home improvement project, you need the right materials. When you choose composite, you're going with the best decking material, but you still have a lot of options out there in that category. One choice stands apart from the rest: UltraShield® Naturale™, which is the best deck flooring in the industry.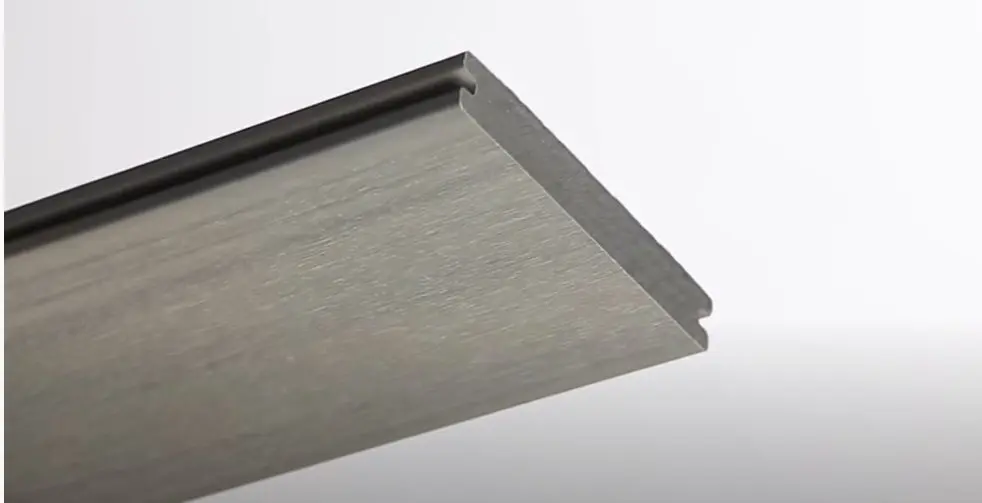 TOUCH AND FEEL THE MOST NATURAL CAPPED COMPOSITE DECKING BOARDS IN THE INDUSTRY.
UltraShield® composite decking board comes in solid & hollow profiles for both commercial and residential applications, with the flexibility to choose between common screws and hidden fasteners. All of them are wrapped 360 degrees, including the grooves. The shield provides ULTRA PROTECTION against moisture, mold, fade, and mildew.
WHAT IS COMPOSITE DECKING?
Synthetic decking products are an increasingly popular choice for outdoor projects. Whether you are seeking patio decking options, banister materials, railing materials or other outdoor decking options, you'll find it in composite. Although sometimes called fake decking or imitation decking, a more accurate name for composite decking is manufactured or engineered decking.
Composite decking products are human-made and consist of a mixture of recycled wood fiber and plastic. The products are manufactured to look like real wood. Engineered decking comes in a handful of varieties, all distinguishable by differences in their cap. The vast array of decking material options includes:
Non capped: Also known as first-generation, non capped composite decking has no cap or outer layer, so its core is left unprotected. These composite planks are known to crumble, fade, scratch and experience other damage.
Capped layer with wood powder: While this version is capped, its outer layer contains a mix of wood powder. The powder is exposed to the elements despite the product having a cap. Fake decking with wood powder in the capped layer is prone to the same problems as non capped varieties.
Capped halfway: Capped halfway composite decking features capping on the top half. While capped halfway decking has better resistance to stains, scratches and the sun, it has other problems. Half-capped exterior decking materials expose the lower half of the boards to humidity. As moisture enters the bottom and not the top, the boards will cup and twist, causing the top layer to crack. In extreme cases, the core will tear in half as a result.
Completely capped with routed groove: While this option is capped on the top and bottom, some manufacturers cut grooves without capping them. Moisture and other elements can then get inside the grooves, causing problems you'd see with the previous types of fake decking.
Capped 360 degrees: Manufacturers protect the top, bottom and grooves of this option. The 360 cap helps to protect the core from pests, moisture UV exposure. Be sure to use an end cap or seal the ends of this type of decking to protect it. With that precaution, you'll see that a 360-degree cap is the highest quality decking board.
NewTechWood offers decking material with 360-degree capping. We know you want your backyard patio composite wood materials to last, which is why we go the extra mile and fully cap our composite planks. Our NewTechWood UltraShield® consists of two high-quality parts:
Composite core: We carefully select dense, recycled hardwood and softwood fibers for our imitation decking. The high-quality materials give our decking more durability and strength. The materials we use in the core are also recyclable.
Co-extruded cap: We use a 360-degree cap over the composite core, giving four sides of our boards the ultimate protection. During manufacturing, we extrude the shield and core under a high-temperature mold. With this process, we don't use any harmful chemicals or adhesives to bind the cap to the core. As a result, your plastic-composite decking is better for the environment than other options.
NewTechWood America creates a robust composite decking material that is sure to look great on your next home improvement project. Don't just take our word for it, though. NewTechWood customers love the look and feel, among other factors, of our UltraShield® deck composite materials.
INSTALLATION VIDEO
While composite lumber products are easier to install than traditional materials, you still want to follow the installation guide. Following the guide will give you a safe, functional and stylish composite wood deck that looks like a pro installed it. We've created a video to walk you through the installation process. Watch the video to learn:
Basis of measuring
Accessories usage
First deck board installation
Last deck board installation
Fascia finishing
Watch the video to see how easy it is to install NewTechWood Ultrashield® Naturale™ composite decking board, or come back when you're ready to put together your engineered decking.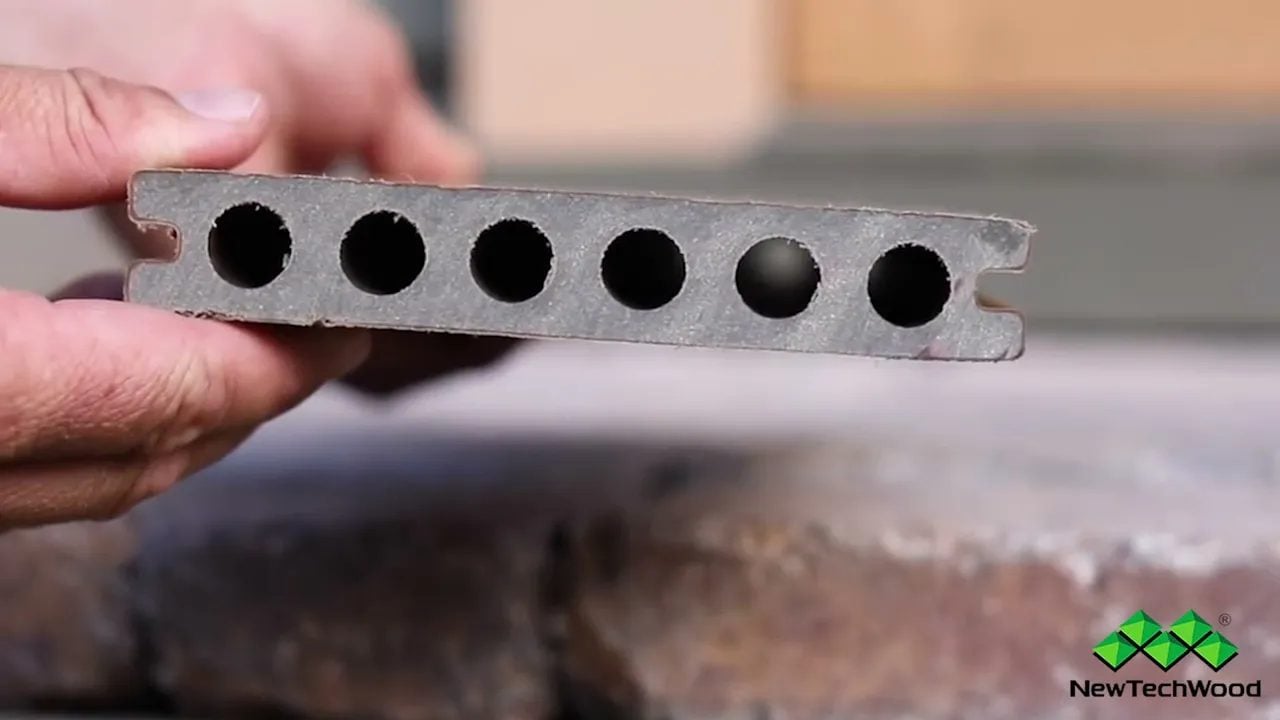 If you don't have time to watch the video, here's a quick step-by-step walkthrough to help you put together your deck:
Measure your joists: Measure 16 inches apart for residential decks, 12 inches for stair treads and commercial decks. Use these measurements when installing the decking perpendicular to the joists. If you're going at an angle, find the right joist spacing in the installation instructions on our site.
Check the joists: Make sure the joists and posts are structurally sound. Checking the joists is essential when you're remodeling an existing deck or structure. You should also ensure that there is one and a half inches minimum of support on the joists for the composite decking boards.
Allow boards to acclimate: Lay your composite wood decking boards on a flat surface for two days to acclimate them. Acclimating the boards before installation will prevent any dimension changes after you install the boards. It'll provide an even and professional look once you've installed the acclimated boards.
Seal the edges: Whether you cut the composite decking boards or install them as-is, you should seal the ends. Use a water-based sealant for the best results since that will ensure that every side of your decking boards is protected.
Test your screws: Use only composite decking screws, and test them on a scrap piece of composite decking. If the screw mushrooms, meaning it creates a bump in the board, you will want to pre-drill them to create a flush surface.
Measure your screw spacing: If you're only using screws and not hidden fasteners, have two screws at every joist. Keep screws at least one and a half inches from any of the board's edges.
Think about the last board: For the edge of your deck, you have a few options. You can cantilever the composite decking planks over the frame or a fascia, and in those cases, be sure not to cantilever the board more than five-eighths of an inch. You can also butt up the board against a fascia.
As you install your deck, remember to:
Follow building codes.
Use only white chalk lines.
Use the right hidden fastener clips in the correct location.
Use the width of the vinyl deck boards and the gaps to figure out the size of your deck.
Consider where your first board will go for proper installation.
With a simple installation process, you'll get to see the results of your plastic-composite decking systems in no time.
Downloads
Installation Guides
COMPANIES THAT HAVE USED NEWTECHWOOD
Businesses in the hospitality, food service and other industries trust NewTechWood to give them amazing composite products. No matter your industry, you'll find that composite decking adds the right touch of modern and classic style. Your customers and visitors will love the fresh appearance composite materials give your business, and you'll love how long the product lasts.
Check out the companies who have used NewTechWood and get ready to add your name to the list.

WHY CHOOSE ULTRASHIELD® DECKING NATURALE – COMPOSITE DECK MATERIALS?
Why choose UltraShield® patio composite materials? Quite simply because with UltraShield®, NewTechWood has taken everything great about composite and laminate decking and made it better.
UltraShield® is not the conventional wood and plastic hybrid you may have heard of or worked with before. NewTechWood UltraShield® is the culmination of years of engineering and field-testing to develop the most fade-resistant, durable, reliable and best-looking outside composite decking options the industry can offer.
We didn't just combine any recycled plastic with wood. We took high-density polyethylene plastic, mixed it with wood fibers and covered the whole thing with a polymer coating that seals the board in an impermeable scratch, stain and fade-resistant shell.
Unsealed fake decking is still prone to mold or mildew, just like traditional wood materials. Avoid the hassle of cleaning those less-durable varieties of engineered decking and choose NewTechWood UltraShield® instead. Our composite deck flooring is sure to stand up to wear and tear.
How do we know? We put our ranges of composite decking through rigorous tests, seeing how well they can stand up to:
Stains
Scratches
Abrasions
UV exposure
Boiling
In the tests, the materials subjected to the elements had minimal to no damage, looking the same as they did before testing began. Give our composite deck materials a try for yourself to see what makes UltraShield® so unique.

GREAT USES FOR COMPOSITE DECKING AND MATERIALS
You can use composite for more than just decking. The material has a wide range of uses. A few examples of projects where you can use composite are:
1. Pool decks: A traditional wood pool deck needs extra maintenance and care because it is exposed to a lot of moisture. Since composite decking is more resistant to moisture and rot, it has a longer life when used by a pool. Choose a textured variety to keep people from slipping on the deck.
2. Backyard patio: Build an oasis that will look stunning for a long time. Backyard deck composite materials make a great addition to your patio.
3. Siding: From European style composite siding to an all-weather system, you'll find it in composite materials. Composite siding transfers the durability and stylish appearance of composite lumber to your exterior walls.
4. Railings: Add composite board material railings to your deck for a safe structure. Whether your deck is up high or low, you'll want railings along the sides to keep people from falling off.
5. Balconies: When you search for balcony materials, consider composite. Think about using composite deck tiles or composite deck flooring on your balcony for an elegant look.
6. Garden products: Accent your home with products like composite planters, sandboxes and composite bird feeders. The construction of these products allows for water drainage when necessary, but the composite material itself will resist rot and not absorb the moisture your plants need.
Businesses can also use composite materials for siding, patios, railings and deck tiles.
BENEFITS OF COMPOSITE DECKING
Composite deck material offers several benefits to homeowners, making it an attractive option. One significant advantage for homeowners is the durability of human-made decking timber. The material's construction, combined with UltraShield® capping technology, makes it more rot-resistant and weather-resistant than ordinary wood decking material.
You will find that composite deck boards are much longer-lasting than traditional patio materials and that they need much less maintenance compared to wood decking. One of the reasons people are reluctant to have a deck in the first place is because of all the maintenance required.
If you install a standard wood deck, you need to sand it, seal it and stain it to protect it from the elements. Traditional wood boards also need to be replaced more frequently than composite boards. You might find that you need to redo an entire wood deck more often, too.
With our capped composite deck boards, all you need to do is spray it with a basic household cleaner a couple of times a year. You can sit back and enjoy it for the rest of the time. Capped composite decking is very resistant to mold, mildew and insects, as well.
You may find that composite patio decking material often makes a deck look more like wood than actual wood. We can duplicate the look of a wide range of hardwoods. You can enjoy the look of certain exotic wood species that might otherwise be out of your price range. Capped composite decking materials are extremely fade-resistant and stain-resistant. You can enjoy your deck's rich color for a long time to come.
Some additional benefits of installing UltraShield® are:
1. Versatility: You can use composite decking material for your deck's boards, railings, treads, posts and more. Our UltraShield® Naturale™ range includes all of the accessories you need, as well.
2. Safety: Composite materials can burn, but they require a much higher temperature than wood. Many varieties of composite meet the Wildland-Urban Interface Building Code in California. Along with improved fire safety, composite is safe to walk on barefoot because it won't splinter. NewTechWood's hidden fasteners also allow for minimal gaps, making less of a tripping hazard than other deck materials.
3. Longevity: Composite board material lasts longer than other decking materials for several reasons. It won't fade or rot, and it's more resistant to pests, scratches and mold than actual wood. The 360-degree capping NewTechWood uses helps UltraShield® Naturale™ will last even longer.
4. Reduced Maintenance Cost: Any home improvement project requires an investment at first, but over time, you'll find that wood-plastic composite practically pays for itself. Compare the benefits and minimal requirements of composite decking to all the maintenance that wood boards require. Traditional decks need upkeep and replacements, but composite decking is simple and cheap to maintain. Since UltraShield® Naturale™ is among the more cost-effective composite options, you'll see this benefit even sooner.
5. Sustainability: Many varieties of composite lumber are made of waste wood and recycled plastic. The waste wood often comes from ground-up remnants that furniture factories and mills produce. You'll also find recycled plastics from objects like plastic bags and milk jugs. Within every 10 square feet of composite material, there are 3,000 recycled bags and over 1,000 one-gallon jugs. At NewTechWood, we keep more than 12,000,000 pounds of plastic out of landfills every year.
With so many benefits, it's hard not to choose composite decking. Our UltraShield® Naturale™ composite decking products are an especially great choice for any home or business owner.
HOW TO KNOW IF COMPOSITE LUMBER IS RIGHT FOR YOU
If the advantages of composite materials haven't convinced you yet, you need to consider if engineered lumber is right for you. There are plenty of building materials out there, but you'll want to choose composite lumber if you want to:
Save time: Thanks to simple installation and simpler maintenance requirements, composite decking will save you time. Follow the manufacturer's instructions for a straightforward installation. All you need to clean your deck are conventional household cleaning products.
Save money: When you choose composite decking, you won't have to make frequent replacements or repairs, as you would with other materials. It's also more cost-effective to maintain composite decking since you won't need to use special cleaners or sealers.
Create an easily maintainable space: Whether you plan on using your deck every chance you get, or you need a bit of extra outdoor space, composite decking is for you. Traditional outdoor spaces are challenging to keep pristine, but composite materials make it easy to have a lovely deck or patio.
Get a natural look: Wood decking does provide a natural look, but you can get the same — if not better — look with composite. Composite lumber has a natural color and texture that mimics wood, meaning you won't have to compromise on style.
MAKE COMPOSITE DECKING WORK FOR YOU
The most challenging part of composite decking is choosing a style and variety for your needs. UltraShield®'s line is your best option, but when selecting a color from the range and other design aspects, you should consider:
Where it will go
Who will use it
What seasons it is for
If it will be covered or in the shade
What your style is
How much you need
Think about the above to determine what style of deck suits your needs. Where it will go and if it will be covered, for example, help decide whether or not you should select a dark or light color. If your decking will be exposed to direct sunlight for most of the day, it's best to choose a lighter color so you can comfortably walk on the surface. If you'd like a darker hue for your home, build your deck in a shady spot or add an awning or other covering above the deck.
Businesses won't need to worry as much about dark versus light colors because of who will use the decking. Unless your structure is near a pool, odds are visitors won't be stepping onto the deck barefoot. You won't need a light color deck in the sun. Select something dark or whatever goes with your style or industry.
You'll also want a textured surface if the decking goes anywhere where it may get wet, such as by a swimming pool. Keeping these factors in mind will help narrow down your selection and ultimately choose the decking type that meets your needs.