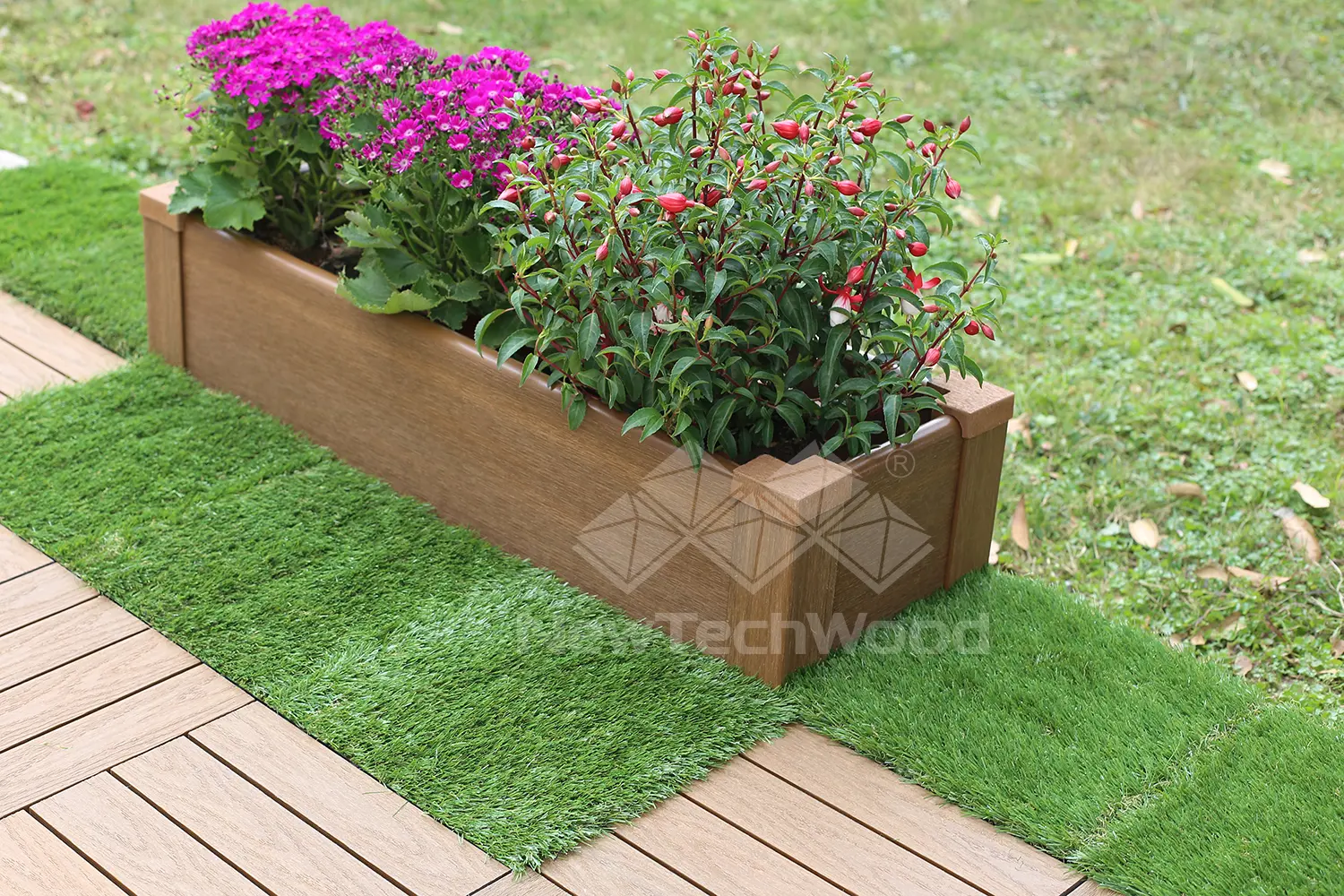 ---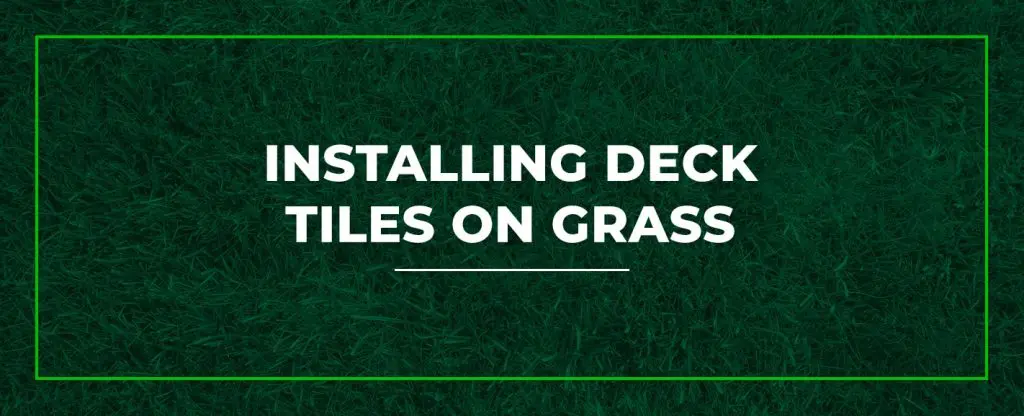 Installing Deck Tiles on Grass
If you have decided to install a new ground-level composite deck in your yard, you may be wondering if you can put deck tiles on grass or if it is safe to put deck tiles on grass. If so, NewTechWood® is here to help. In this guide, we'll discuss the process of installing deck tiles on grass — including why you should never do it and what you can do instead.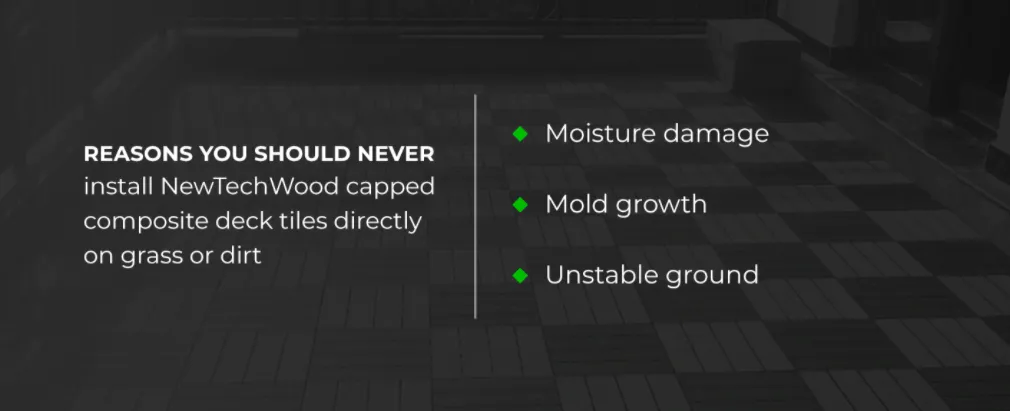 Moisture damage: Even in yards with excellent drainage systems in place, water and moisture can collect in your soil, particularly in snowy or rainy conditions. Ground moisture from direct contact with grass can damage your composite deck tiles over time.
Mold growth: When you lay decking tiles directly on the dirt, you eliminate airflow. Lack of proper airflow can lead to mold or bacterial growth on your composite tiles.
Unstable ground: Think about the last time you walked across your yard — did the grass move under your shoes? Was the dirt soft and flexible? Shifting, unstable ground can move your deck over time, which can lead to costly repairs or replacements.
Can You Lay Composite Decking on Grass?
Just as it is with deck tiles, you cannot lay composite decking directly on grass. You will face the same issues, including potential for mold growth and ground movement. Instead, place your NewTechWood UltraShield® Naturale™ on solid surfaces, such as:
Concrete sidewalks or other paved areas
A pre-existing patio
On top of compact sand or ground-up gravel
How to Create an Acceptable Area for Deck Tiles?
Should you put deck tiles on grass? The short answer is no. However, just because you shouldn't put deck tiles on grass, doesn't mean you're without options. If you want to know how to lay decking tiles on grass, the solution is to first properly prepare the section of your yard you wish to lay your composite decking on. To create an acceptable area for deck tiles, follow these tips:
Avoid excessively wet areas: As you choose the part of your yard on which you want to install composite decking, make sure you avoid overly wet areas, including deep depressions or places where standing water frequently gathers.
Watch out for tree roots: Although the exact distance varies depending on the type of tree, most established root systems extend several feet beyond the tree trunk. When placing your new deck, keep this in mind. Avoid laying your deck over a known root system, as this can damage your tree and may cause problems with your deck in the future.
Level the ground: Before you place your composite decking, you need to level the ground. If the area is small enough, you can do this by hand using a shovel, hoe and rake. For larger surface areas, you may need to use a tiller or heavy equipment.
Establish a firm base: Grass and dirt are unstable and can shift over time. To prevent this, you need to create a firm base on top of your newly leveled ground. Construct your base out of poured concrete, tightly compacted sand or grounded gravel. This base will act as a supportive, protective layer between your tiles and the ground beneath.
Ensure adequate airflow: Proper airflow beneath your composite deck tiles is crucial. If you are using NewTechWood composite decking, we recommend you leave a 250 to 300-millimeter clearance between your decking and the grass or dirt. For concrete or pavement, a 40 to 50-millimeter clearance is adequate.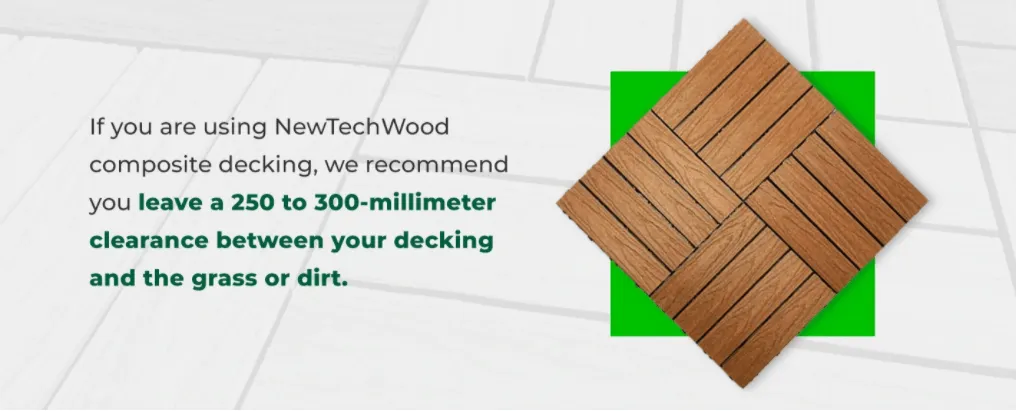 Benefits of Using Composite Deck Tiles
Composite decking is the ideal solution for homeowners who want all the benefits of a deck in their yard without the hassle of constant maintenance or frequent replacement, thanks to UltraShield Technology. Some of the benefits of using composite deck tiles include:
You can install it yourself: NewTechWood composite deck tiles are equipped with four-way interlocking capabilities, and the tiles snap together to form your new deck. This eliminates the need for a professional builder and leaves you with the satisfaction of a job well done.
Composite decking is easy to clean: To clean your composite decking, simply wipe or hose away any substance or debris. For homeowners who use their decks for entertaining, you will love how simple it is to clear away food spills.
Your deck will be low maintenance: Once you install your composite decking, you do not have to worry about painting, sanding or oiling it again. This puts more time and money back in your pocket.
Composite deck tiles are durable: UltraShield composite tiles are designed with an impenetrable layer that helps your deck resist splitting, warping or cracking.
Composite materials protect the core of the tiles: Our composite tiles are designed with a 360 cap, which protects the tile core from pests, moisture or sun damage.
Your composite decking will last a long time: Don't worry about having to replace or refinish your composite deck. Your decking is long-lasting and resists paint fade for longer than standard wooden decking.
Composite decking is eco-friendly: Our composite deck tiles are made from 95% recycled materials, including plastic bottles and reclaimed wood. Additionally, NewTechWood is committed to "thinking green" through recycling programs, yearly environmental safety audits, waste reduction, energy conservation and more.
Composite decking looks good: Composite deck tiles are available in several different colors and patterns, so there are endless possibilities when it comes to expressing your personality and adding a touch of style to your outdoor living space. Since composite deck tiles are resistant to paint fade, you can expect your deck to look as vibrant as the day you installed it.
Find High-Quality Composite Decking at NewTechWood
While you cannot put composite decking directly on your grass or dirt, you can easily prepare your yard for deck tiles. If you're in the market for a long-lasting, low-maintenance, attractive outdoor deck, look no further. We are so confident you will love our composite decking that — in addition to the numerous benefits that come with choosing a composite deck — NewTechWood UltraShield Technology is backed by a 25-year limited transferable warranty. By committing to the quality and lifespan of our products, we are committing to the environment and to you. If you're ready to experience the UltraShield advantage for yourself, locate a NewTechWood supplier near you.