---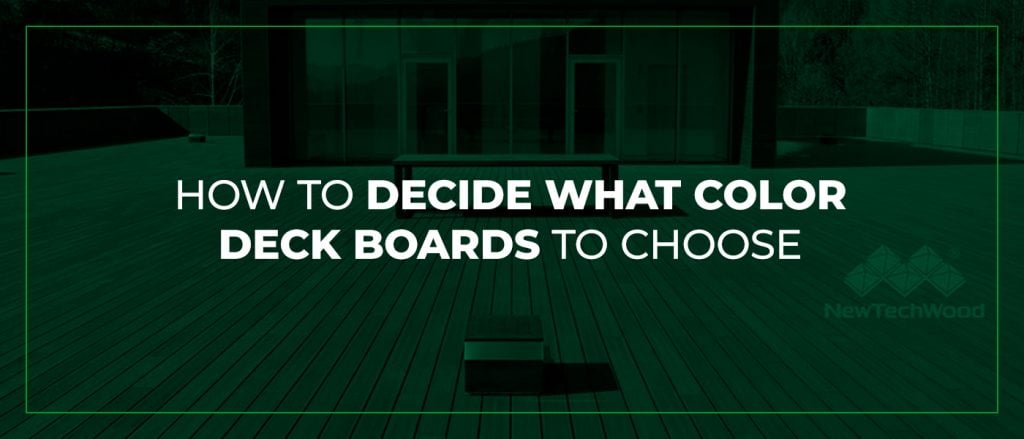 Well-chosen deck colors do more than just make your deck look fantastic — they can transform your surroundings and complement the look of your house. Conversely, the wrong decking color or material can clash with its surroundings.
Picking the best color for your deck requires you to consider several factors, such as your home's existing features and colors and how often you plan on using the space.
If you're wondering how to pick a deck color, you've come to the right place — in this comprehensive guide, we provide a wealth of tips on picking deck colors so you can choose the one that best suits your home and lifestyle.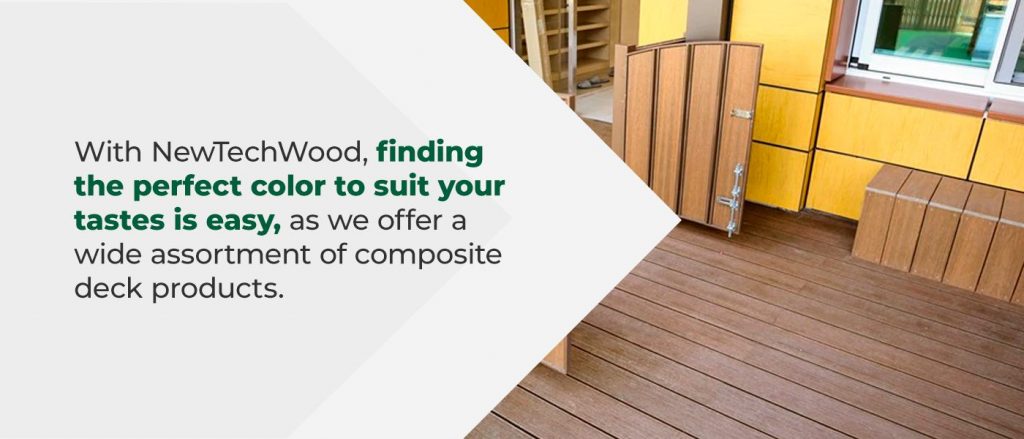 Composite Deck Color Options
When picking out a color for your composite deck, it's essential to choose a shade you'll enjoy for years to come. This is because composite decking is designed to last many years and contains color through the outer layer, not just on the surface, so you never need to refinish it. With NewTechWood, finding this perfect color to suit your tastes is easy, as we offer a wide assortment of composite deck products. Our popular standard colors, many of which closely match the look of natural wood, include:
Brazilian Ipe: This popular option is a somewhat dark brown that closely matches the appearance of the highly valued Ipe wood — but without the maintenance requirements of the real thing. Ipe wood is prized for its durability and longevity, and our composite Ipe is even more durable and longer-lasting.
Spanish Walnut: The darkest tone of brown we offer, our Spanish Walnut offers a natural rich wood appearance. Less common than other variations of walnut, Spanish Walnut is more highly prized. If you'd like a pricey look without having to pay high prices, Spanish Walnut is the color you want. And it's so realistic-looking that you may be the only one who knows it's not the real thing.
Westminster Gray: This medium gray tone is our customers' favorite shade of gray, and it's not hard to understand why — it has a contemporary look and goes well with many different surroundings. We particularly recommend this option if you're looking for a color that has a modern appearance but isn't overly vibrant.
Peruvian Teak: Another popular color of ours, the medium brown Peruvian Teak is designed to look like teak wood from South America, which is prized for its elegance and durability. If you want a classic South American style that's on the lighter side, this option should meet your needs.
Hawaiian Charcoal: Taking its inspiration from Hawaiian volcanic rocks, this dark gray tone is strong and fierce. One of our most modern-looking options, this obsidian-inspired hue is best used together with contemporary highlights, such as chrome. If you're thinking about making an artistic statement, Hawaiian Charcoal is a great choice.
Roman Antique: Our Roman Antique option, a gray-brown mix on the lighter side, harkens to ancient Roman temples and colosseums. If you like pillars, marble and gold highlights, Roman Antique will provide that imperial look for you. If you use it together with Roman and Greek lights, you might even feel like you're atop Mount Olympus.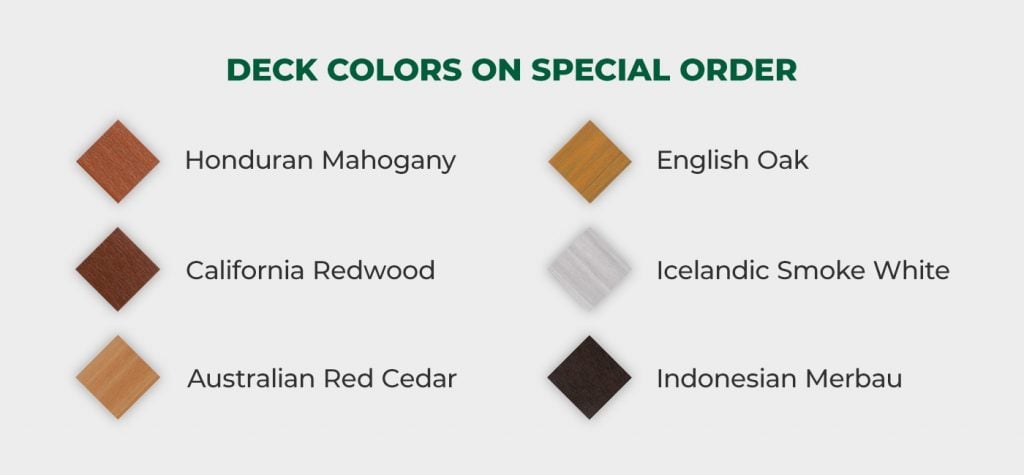 Deck Colors on Special Order
We also offer some more distinctive colors, which are great if you'd like to give your deck a little personality. Our special order options include:
Honduran Mahogany: A medium-dark brown color with reddish inflections, the Honduran Mahogany is a classy and elegant choice for your deck. However, in comparison with other kinds of mahogany, the Honduran Mahogany is mid-range. Cuban mahogany, on the other hand, is pricier due to its scarcity.
California Redwood: The elegant California Redwood is a medium brown tone featuring a beautiful red tinge. Actual California redwood is commonly used on the West Coast due to its wide availability, sturdiness and longevity. If you have a deck made of redwood already but have grown tired of maintaining it, this shade is an excellent replacement.
Australian Red Cedar: With Australian Red Cedar, you can enjoy a deck that greatly resembles cedar but lasts much longer and requires much less maintenance than the real thing. Australian red cedar, like Spanish Walnut, is exceptionally prized and greatly sought after. If you want a high-end look without spending a fortune, Australian Red Cedar is an option to consider.
English Oak: English Oak will give your deck a rustic and reliable appearance in your outdoor living area. This medium-brown features strong touches of yellow and is an excellent choice if you're into simple country living. Although it originated in England, English Oak was later on brought to the U.S., where it still thrives. It is especially widespread on the East Coast and Midwest, and if you live there, you've probably seen some oak trees.
Icelandic Smoke White: This color gets its inspiration from Iceland's snow and volcanic ash, which provides your deck with a light and cool aura. If you're looking for a modern, light style, this deck color may be the one for you. This color contrasts nicely with dark furniture or a darker house exterior.
Indonesian Merbau: Based on a well-known hardwood from Southeast Asia, the dark brown Indonesian Merbau is great if you want to make a bold statement. It's excellent if you're looking for a darker color that harmonizes well with Asian styles.
Good Colors for Positive Psychological Effects
We also offer several brighter colors that may positively affect your state of mind. These include: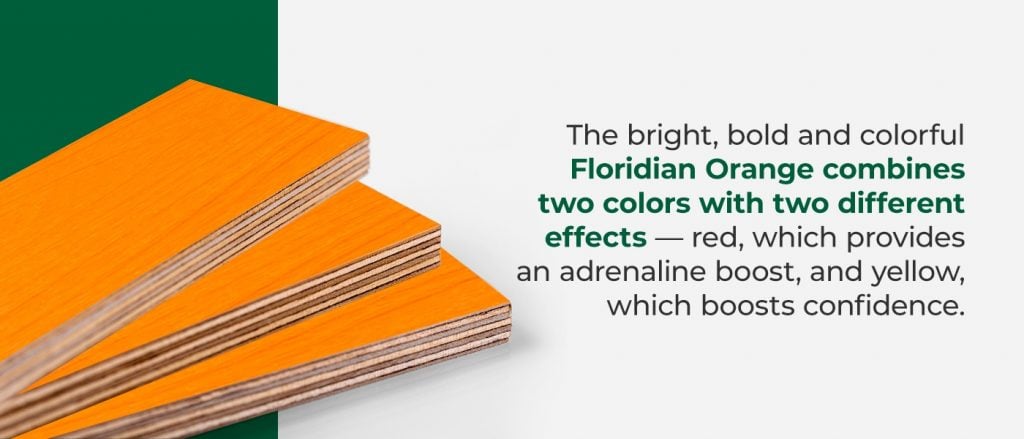 Floridian Orange: The bright, bold and colorful Floridian Orange combines two colors with two different effects — red, which provides an adrenaline boost, and yellow, which boosts confidence. Neutral colors like black, brown and white all harmonize well with orange and help balance out the orange's harshness.
Irish Green: Our fresh, exciting Irish Green color is a light-to-medium green that evokes feelings of spring. If you're going for a garden-of-life theme in your outdoor living space, this deck color is a perfect fit. Green has many positive psychological effects, including boosting your creativity and producing a calm sensation. Adding a pop of yellow, whether it be with lighting, plants or furniture, is a good way to boost confidence.
Caribbean Blue: The bright and fun Caribbean Blue is a medium blue color that evokes beautiful tropical waves. This is an exciting tone for decks with waterfront views, whether that water is the sea or a lake. Like other shades of blue, this hue also helps you focus, so if you plan on spending time on your deck reading or studying, choosing blue may help you avoid getting distracted.
Swedish Red: Swedish Red is an exciting bright, medium-red color that can boost adrenaline, making it a suitable color if you plan to do much physical activity on your deck. Combine it with blue to improve your focus or celebrate your American patriotism.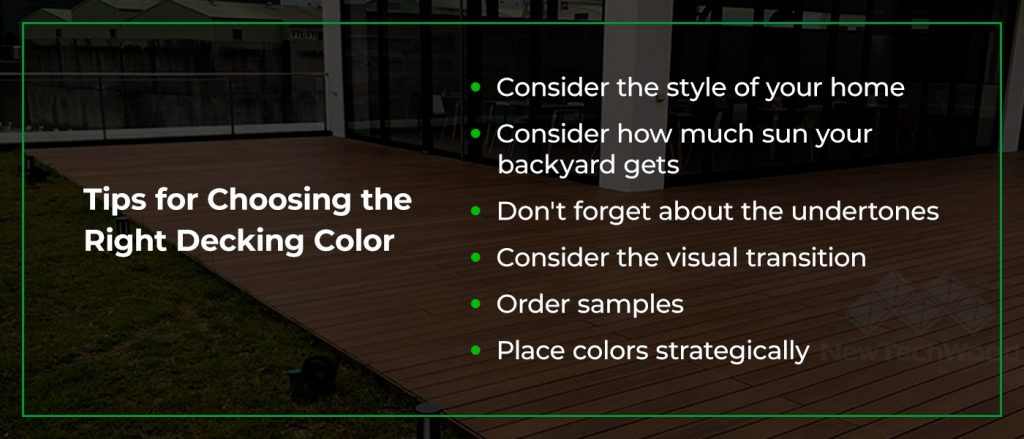 Tips for Choosing the Right Decking Color
Here are some useful tips to point you in the right direction when you're trying to pick a decking color:
Consider the style of your home: Your home's style is just as important as its color when it comes to choosing a deck color. For example, gray decks with blue undertones can look great in urban settings but also make you think of going to the beach. Gray colors tend to harmonize with homes that look more modern as well as homes in the Cape Cod style. Warm natural browns are the color family most commonly used, and it's not hard to understand the reason why, as they pair beautifully with most home styles. However, remember that darker shades of browns tend to make more dramatic statements, which make them more suitable for Mediterranean- or Craftsman-style houses. Red deck colors are classic but also distinctive. If your home exterior has some brick, consider trying a deck with a reddish-brown color to coordinate.
Consider how much sun your backyard gets: If a material stays out in the sun all day, it will get warm, and darker colors naturally get hotter than lighter colors in the same conditions. For example, if you spend a summer day outside wearing a black shirt, you'll feel considerably hotter than if you had worn a white shirt. Composite decking is no different. If your backyard is fully exposed to the sun throughout the day, it's probably best to choose a lighter color for your deck. If you're in a cooler region or are less exposed o the sun, you should be able to choose darker colors without worrying about overheating. If you want dark colors for your deck but receive lots of sun exposure, you can also consider adding a pergola or awning to provide some shade. This will also make your deck furniture and cushions more comfortable to sit on.
Don't forget about the undertones: Colors can have either warm or cool undertones. Red, orange and yellow undertones produce colors that are warmer. Violet, green and blue undertones result in cooler colors. Gray, although neutral, can have definite cool or warm undertones. To make sure your house and decking color harmonize with one another, ensure that both colors have either cool or warm undertones.
Consider the visual transition: When going out of your house and on to your deck, there is a visual transition, so consider choosing a board color that harmonizes with the color of your indoor flooring. Doing so will reduce or eliminate the visual disconnect between these two spaces, creating an appearance that is more upscale and harmonious. The use of hidden deck fasteners also helps to create a smooth physical and visual transition from your home to outside.
Order samples: Looking at a deck color on your computer — or even in a store — just isn't the same as looking at it in your backyard. Once you narrow down several decking colors, we recommend that you order samples of each, which will allow you to see how they look right outside your home. Make sure you view them both during the day and at night with the exterior lights turned on. How the color appears can be affected by the lighting, and it may influence your decision.
Place colors strategically: If you'd like your decking color to make more of a visual impact, consider using multiple board colors — just make sure your approach is strategic. For instance, choose one color for your interior deck boards and a contrasting color for your edges. This technique, which is known as picture-framing, is an effective way to make your deck look more interesting and custom. Furthermore, if you opt for grooved edge boards with hidden fasteners on your deck's main sections, using square-edge boards to frame your perimeter will make your deck look more polished.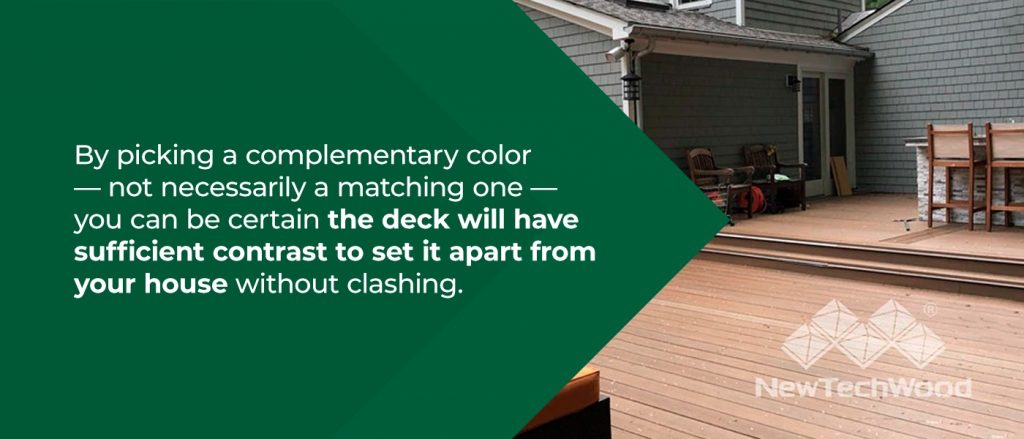 Should I Choose the Same Deck Color as the House?
Your house is by far the largest element in your backyard, so you'll want to find a deck color that goes well with your house color. By picking a complementary color — not necessarily a matching one — you can be certain the deck will have sufficient contrast to set it apart from your house without clashing.
If your house is brown, tan, beige or yellow, for instance, you can choose practically any brown or tan deck board — just pay attention to the contrast level and the undertones. If your house is blue, gray or red, you could pick these same shades or opt for a neutral deck. Reddish-brown decks harmonize with a broad range of house colors. They can even work with red bricks if the right contrast is achieved. They are also great at making your landscaping pop.
Here are some common colors for home exteriors and deck colors that best complement them:
White homes: If your home exterior is white, almost any deck color will work. You essentially have a blank canvas, which will help whatever color you choose really pop. An example of a bold color scheme is a redwood shade, whereas a coffee-colored, darker brown is more traditional.
Tan homes: Tan vinyl siding is one of the country's most popular looks, and it's easy to understand why — just like with white, a tan house goes well with almost any deck color. If you're looking for a more modern look, consider a gray deck. If you'd rather have a more traditional look, you can go with a rustic dark brown color.
Gray homes: Although you don't come across many gray homes in the United States, they bring a really interesting style profile. Of course, they make for an exciting deck color combination, also. The most appropriate color for your deck is largely dependent on the specific shade of gray on your house. If the siding on your home is a lighter gray, pairing it with a darker gray deck can look absolutely stunning. For homes with darker gray exteriors, consider opting for a lighter color such as tan or a light wood tone, as it is a truly unique look.
Blue homes: Although uncommon until recently, blue houses have become popular in recent years among more free-thinking homeowners. These unique homes tend to favor bold, modern deck colors, including dark mocha browns and dark grays.
Green homes: Green is one of the rarer home colors, but it makes for fascinating deck color schemes. One natural-looking pairing that we recommend for green homes is a light pecan-colored wood grain deck board. Whether your home is modern or traditional, this green-brown combination looks natural and inviting.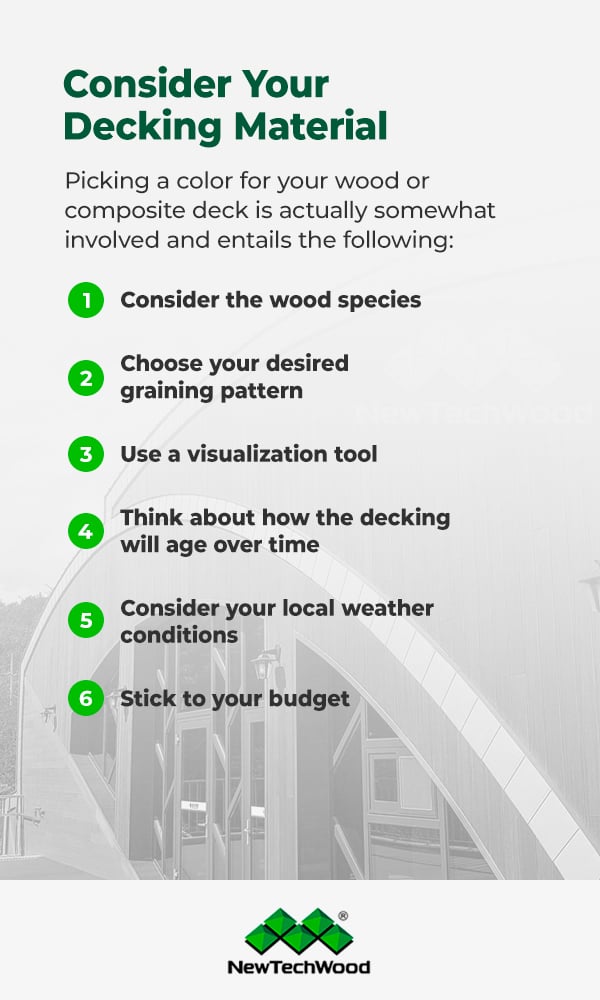 Consider Your Decking Material
How flexible you can be with your deck colors will depend on the deck material you choose. Wood or wood composite decking comes in various colors and textures to coordinate with the rest of your outdoor living area's design. Composite wood contains plastic and natural wood fibers, making it more durable and low maintenance than solid wood.
Picking a color for your wood or composite deck is actually somewhat involved and entails the following:
Consider the wood species: Each wood species that makes up your decking materials comes in a unique color and offers different strengths against harsh weather conditions. Think about which wood species would accommodate your local area's weather conditions besides enhancing your property's aesthetic. Keep in mind that composite wood decks mimic various wood species, and they're more resistant to weather damage than solid wood.
Choose your desired graining pattern: Wood decks have one-of-a-kind graining patterns that bring out different colors throughout the design. Since composite decking resembles natural wood, you can have a similar graining pattern on your deck. Think about whether you want a wood grain or a straight grain. Wood grain has a more authentic appearance, but straight grain looks cleaner and more uniform.
Use a visualization tool: If you're having trouble deciding what color and material would match your home's current design, you can compare your options with a decking visualizer. This tool helps you see how your desired wood species and color would look against your existing furniture. That way, you can have peace of mind in your composite wood decking choice.
Think about how the decking will age over time: Consider how much sun exposure your backyard gets throughout the year. Wood decks develop a natural patina over time as a result of sunlight exposure. If you'd prefer to have a more consistent look for your deck, consider composite wood decking. These durable decks resist fading and discoloration from outdoor conditions.
Consider your local weather conditions: If you live in a humid area or one that experiences fluctuating temperatures throughout the year, you'd need to stain and finish your wood deck to protect it from warping, cupping and cracking. Composite wood decking has long-lasting plastic fibers inside to protect it against wear and tear. As a result, you'll save time and money maintaining your deck so you can enjoy your outdoor living space.
Stick to your budget: As you design your deck, you'll need to think about how much you're willing to spend. Consider the cost of materials, installation and labor as you choose between wood and composite decking. Composite wood decks are convenient to install, so you can save money on hiring a professional contractor by doing it yourself. Since it lasts longer than natural wood, you can also save money on future replacements.
Wood decks are vulnerable to wear and tear from harsh weather conditions, insects and debris. If you have a wood deck, you have to paint or stain it regularly to maintain its appearance and durability over time. Although it can be much easier to choose a paint color than a stain color, you'll have to continue applying the paint or stain every couple of years.
If you have a composite deck, on the other hand, there is no need to paint it at all. At NewTechWood, we offer a wide selection of decking colors as well as a custom color option, making it easy to find a shade that matches your surroundings perfectly.
Think About the Long-Term Wear and Tear
If you opt for a wood deck, you should consider both the color and finish when picking out your deck color. On the other hand, if you choose composite decking, you will not need to choose a finish, as compositive decking features built-in resistance to fading, mold, and scratching. It also doesn't age in the same ways wood does, and won't warp, rot, splinter or crack. You also don't have to worry about stains from dropped food or leaky planter pots.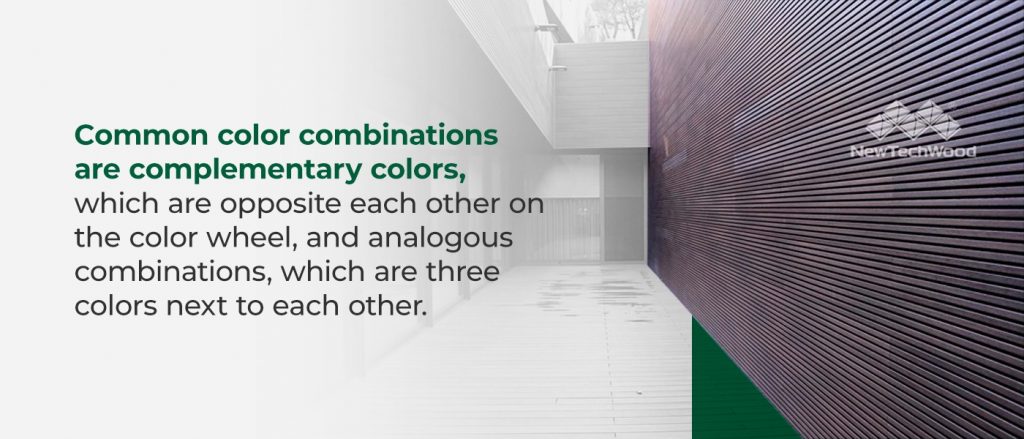 Using Color Wheel Rules
To achieve the ideal house and deck color combinations, think about schemes that consist of three shades:
Dominant color
Secondary color
Accent color
You can use these colors on existing or new siding, decking, doors, trim and outdoor furniture. When building an attractive palette, adhere to color wheel rules. Common color combinations are complementary colors, which are opposite each other on the color wheel, and analogous combinations, which are three colors next to each other. We recommend replicating this same setup for your design and deck colors, using a dominant shade for the main color and two extra colors playing supporting roles, such as with planters, outdoor pillows and various other accessories.
Matching the Surrounding Landscape
When making your deck color choices, you should also consider the landscape that surrounds it. If the landscape is primarily green, orange or red decking will complement that dominant color, whereas colorful surroundings might prompt you to choose more neutral colors like grays or browns. Also, if your deck is directly connected to your house, you can consider the color of your indoor flooring leading to your deck.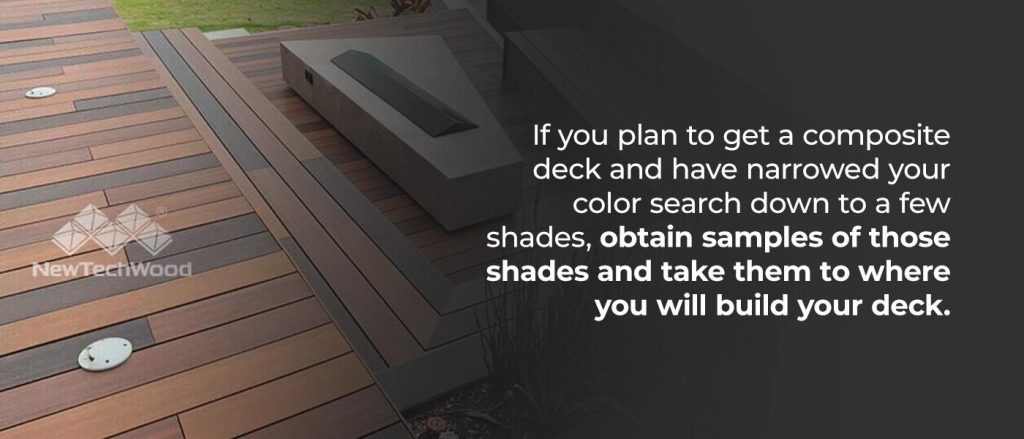 Test Different Colors First
If you have a wood deck, before you pick a stain, paint or other finish, try it out on your deck in a small, inconspicuous place. Then, take a few steps back and look at it from various perspectives and at different times of the day. Remember that different materials may impact the color of the deck. For example, wood decking occasionally features a tint that affects the look of some stains.
Stain can also look different depending on which shade and opacity you pick. A more opaque finish usually needs to be reapplied more frequently. On the other hand, a clear stain lets the natural color of the wood shine, and tinted stains bring just a little bit of color, so it may not be as noticeable when they start to fade. Semitransparent stains supply color and sometimes a more consistent finish. Solid stains let very little of the wood's color show through.
However, when it comes to composite decks, you don't have to worry about stains, finishes or how they affect the color of the deck. The color you choose is the color you'll get.
If you plan to get a composite deck and have narrowed your color search down to a few shades, obtain samples of those shades and take them to where you will build your deck. Look at how the decking goes with your landscaping's dominant color and the exterior of your home. Also, make sure to view it at different times of the day.
The Benefits of Composite Decking
As you learned above, composite decking offers advantages when it comes to color — you don't have to worry about applying a stain or what color will result when that stain is applied to the deck. Composite decking, unlike wood and many PVC decking materials, requires no paint or stain. This is because these high-performance wood alternatives resist scratching, fading and mold — and they won't rot, crack, splinter or warp, either. With traditional wood decking, you must periodically reseal them to protect them from these types of damage.
Other reasons you should consider using composite decking for your next outdoor living project include: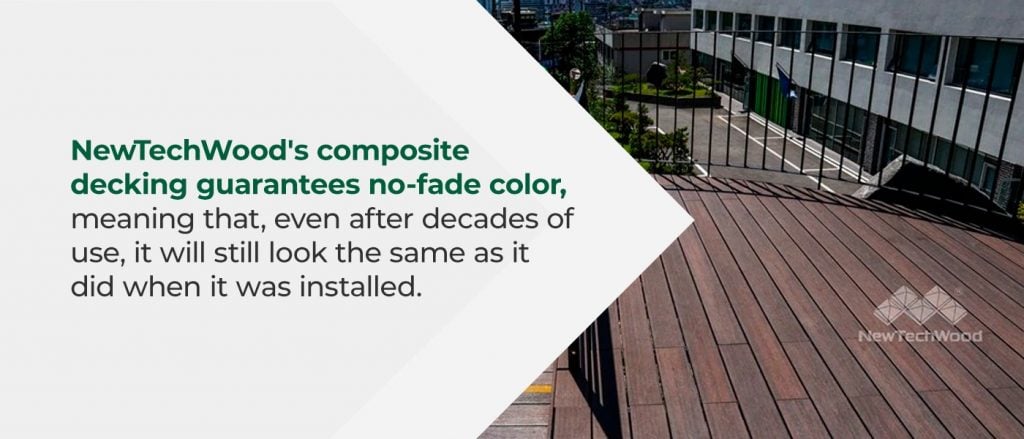 Minimal Upkeep
As we just mentioned, composite decking is exceptionally durable and resistant to many weather conditions, meaning that it requires significantly less maintenance than its real wood counterparts. If you have a wood deck, you must wash, stain and seal it — an involved process that will require several days of your time and possibly heavy tools like power washers. High-performance composite decking retains its attractiveness for many years with very little maintenance, which means you can spend more of your time enjoying your deck instead of maintaining it. You'll never have to remember to sand, stain or paint — just clean it two times per year with water and soap. NewTechWood's composite decking also guarantees no-fade color, meaning that, even after decades of use, it will still look the same as it did when it was installed.
Eco-Friendliness
Composite decking consists of recycled materials and contains no pesticides or other dangerous chemicals commonly used for creating and maintaining wood decks. Composite decking provides various eco-friendly and environmentally sustainable options, which means they're significantly less harmful to the planet.
Composite decking is made of a mix of recycled plastics, such as bottles, milk jugs and grocery bags, and waste wood fibers, like sawdust. This diverts a huge amount of plastics and wood from going to landfills. This type of decking also saves many trees from being harvested.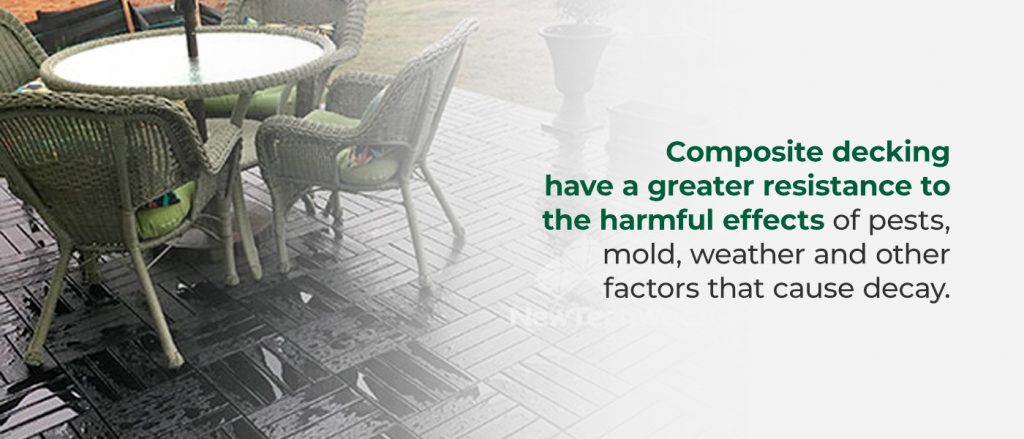 Resistance to Pests, Mold and Harsh Weather Conditions
Traditional wood decks are often made using harmful chemicals that protect against mold, insects and weather, which can make their way into the soil over time. Being exposed to these residues has been a safety and health concern for many years.
Composite decking, however, does not contain these chemicals, so it poses no health or safety risks. Also, since composite decking is infused with plastic rather than being made solely of wood, these decks have a greater resistance to the harmful effects of pests, mold, weather and other factors that cause decay.
Beauty
Composite decking from NewTechWood features beautiful wood grain patterns, rich colors and natural textures. You can select from a wide assortment of colors, from pristine grays to deep earth tones. Our composite decking products are sure to make your outdoor living space stunning and inviting. We also offer many composite accessories, including railings, deck tiles and garden products.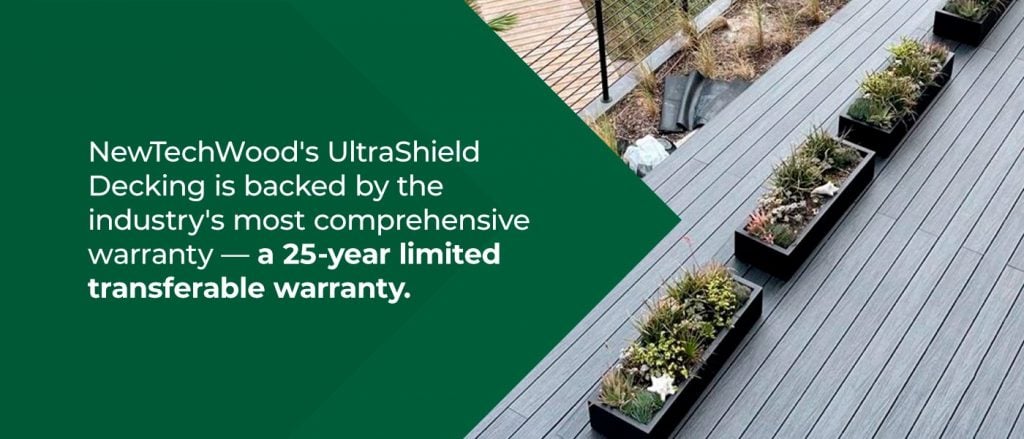 Excellent Warranties
The exceptional durability of composite decking means that manufacturers are often willing to offer strong warranties. NewTechWood's UltraShield Decking is backed by the industry's most comprehensive warranty — a 25-year limited transferable warranty.
What Are the Most Popular Deck Colors?
There is a lot of commonly used deck colors, but in this section, we will share with you five of the most popular: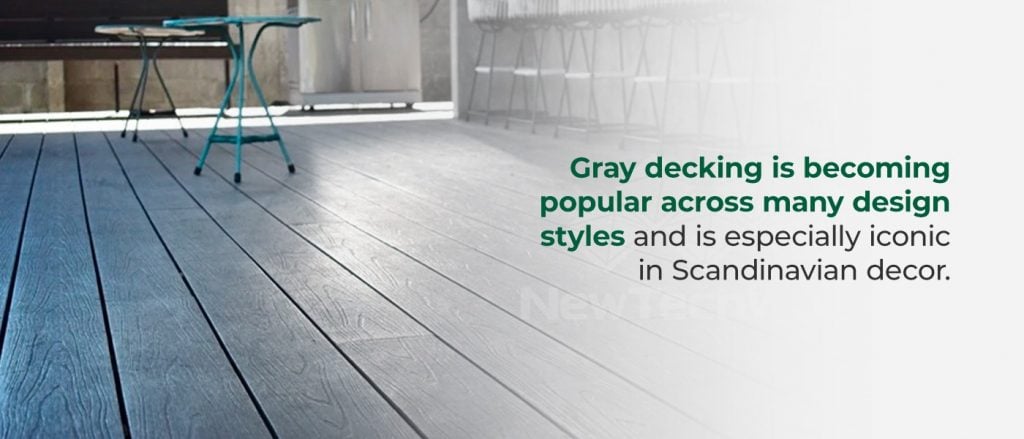 Slate Gray
If you're looking to give your deck a contemporary look, slate gray is a great color to consider.
Gray decking is becoming popular across many design styles and is especially iconic in Scandinavian decor. If you're a fan of the Scandinavian look or contemporary style in general, this shade might be the one for you.
Dark gray is another color to consider — for both its elegance and its practicality. It doesn't show dirt and doesn't reflect much glare, either. It can also contrast beautifully against lighter-colored walls and subtly blend in with darker walls.
Black
If you'd like an even bolder color than slate gray, you may want to consider black. It's a great color for making a strong statement or incorporating lots of contrast into the design scheme.
However, keep in mind that black is less forgiven than gray. To harmonize with this strong shade, you'll have to plan your outdoor furnishings carefully. You should also consider your home exterior's colors and make sure they'll go together well with your black deck.
Similar to gray, black is a practical color as well, as it helps reduce glare and hides dirt easily. However, don't forget that in areas that are uncovered, it will absorb heat and become quite hot on warm, sunny days. Depending on your region's climate, this could be a desirable or undesirable thing.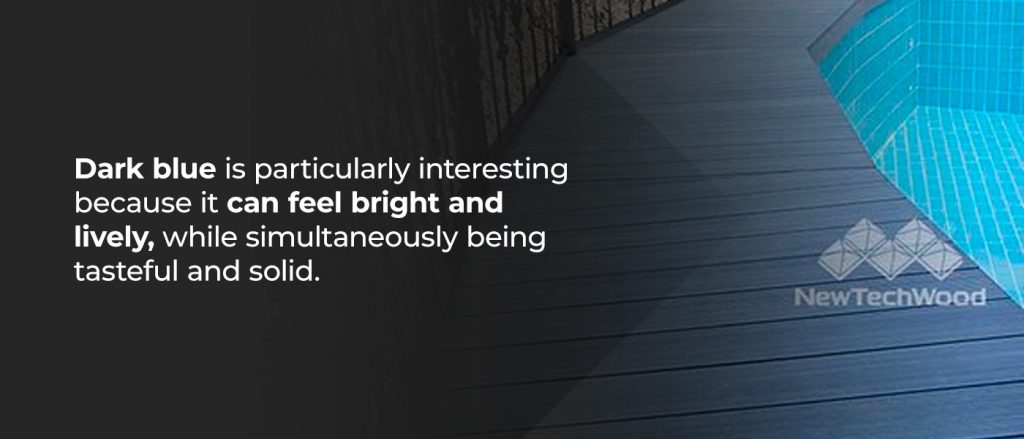 Dark Blue
Another attractive, practical deck color that's become popular is dark blue. This color is particularly interesting because it can feel bright and lively, while simultaneously being tasteful and solid. Dark blue is also nautical in character and is great for providing a beachy or Mediterranean aesthetic.
In terms of practical benefits, dark blue is another great color for concealing dirt and marks — but it's not dark enough to make an uncovered space too hot to walk on during warm, sunny weather.
Greige
Greige, a gray-beige combination, is a smooth, versatile color that achieves a balance between cool and warm. If you sometimes struggle to decide between beige and gray, this color may be the one for you.
This color is also a good choice if you want a deck that's a lighter color. Light decks bring more brightness into covered parts of your deck, and if there are windows between the deck and the interior of your home, it can reflect light into your house, as well.
Despite its lightness, greige is also good at hiding marks.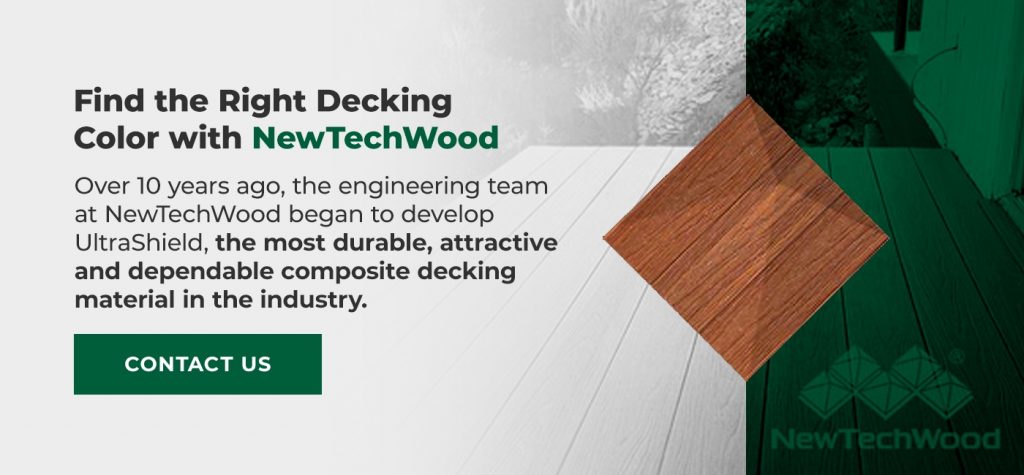 Find the Right Decking Color with NewTechWood
Over 10 years ago, the engineering team at NewTechWood began to develop UltraShield, the most durable, attractive and dependable composite decking material in the industry. After engineering for years and testing for many hours, the final result was an exceptional product that was unrivaled in performance and beauty.
The extraordinary strength of UltraShield products is due to its core of high-density polyethylene plastic and wood fibers and its outer shell of a polymer coating the whole board, making it impervious to scratching, fading and staining.
NewTechWood has earned a global reputation for its cutting-edge, premium products, and we believe our success is due to our willingness to listen to the homeowners, contractors, home builders and architects with whom we work. We are committed to taking their needs into account and realizing their visions.
If you have any questions about our selection of products, don't hesitate to reach us by phone at 281-570-6450 or by filling out our contact form.