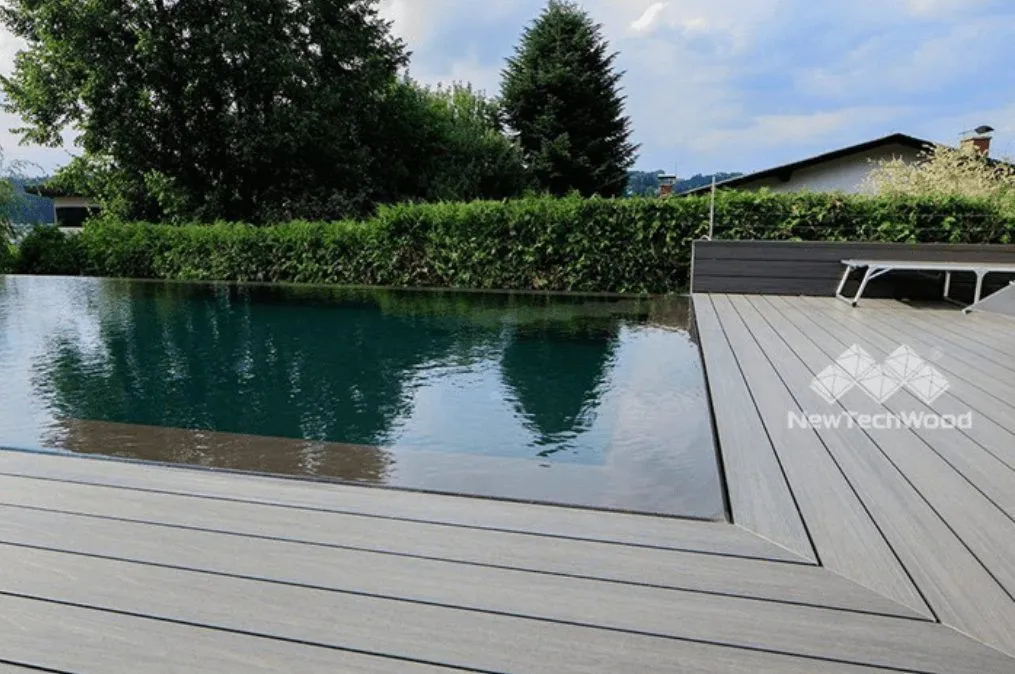 ---

Composite Pool Decking
Your pool is a hub for relaxation and fun. Whether you're enjoying some peaceful poolside solitude or hosting a neighborhood pool party, you need a pool deck you can trust. Effective pool decking should enhance your pool experience — not hinder it. That's why composite pool decking made from recycled plastic and wood may be an excellent choice for you and your family. A pool deck encompasses the large area surrounding your pool that can hold lounge chairs, tables and storage containers. The best deck option is one that caters to your safety, functionality and aesthetic needs. Many pool owners turn to composite decking to meet and exceed these needs due to its water-resistance and durability. If you're installing or redoing a pool deck, it's important to understand the different types of decking available for pools. Learn more about pool decking and things to consider when selecting the best material.

What are the Different Types of Decking for Pools?
There are a variety of materials available for residential pool decks. Each decking type has a unique appearance and differing levels poolside durability. Some common pool deck materials include:
Concrete: Public and residential pools often feature simple, poured-in-place concrete decks. Concrete can withstand a significant amount of water, which makes it a desirable deck material. Variations of poured-in-place concrete decks include concrete pavers, stones, bricks and tiles. Despite concrete's water tolerance, it may crack over time in cool temperatures and create an uneven deck surface.
Tile: Decks made of tile can range from intricate, small-tiled mosaics to larger tile compositions. Tiles come in a variety of different colors and designs that add texture and interest to a pool deck. But tile decks require a decent amount of maintenance. The grout used to secure tiles in place may collect dirt and require annual cleaning. Certain tiles can chip or crack if you drop something heavy on the deck.
Wood: For many, the appearance of a wood deck conveys style and luxury. Wood's smooth surface is well-suited in an area where most pool-goers walk around barefoot. To ensure a wooden pool deck doesn't sustain water or insect damage, you have to use sturdy materials like redwood, teak or ipe. These woods can become pricey in large quantities. Wooden decks also require yearly maintenance, including sanding, sealing, staining and refinishing.
Composite: Composite decking imitates the appearance of natural wood with a material that is longer-lasting and requires less maintenance. 360-degree capped composite decking protects against pests, UV exposure and moisture. This material typically has a higher initial cost than other pool deck materials, but its longevity and durability saves time and money long-term.
With so many deck material options, how can you determine what type of deck to use for your pool?
How to Choose the Right Deck for your Pool

There are several common elements present when you use your pool, including sunshine, water and bare feet. You can look at how a pool deck caters to each factor to measure its effectiveness. Each material's performance in these categories will make a noticeable difference to you and anyone who uses the pool so it's important to get it right. Here are some things to pay attention to when choosing swimming pool decking materials:
Heat Absorption: Perhaps the best time to use your pool is on a sweltering summer day. The water might feel cool, but what about your decking? The longer your pool deck is exposed to the sun, the greater chance it might become too warm for bare feet. Materials like concrete and tile can absorb and retain heat, making it uncomfortable to walk around without shoes. The best deck type for pools is one that allows you to move around without burning the soles of your bare feet.
Water Capacity: Between hopping in and out of the pool, having water fights and doing cannonballs off the diving board, your pool deck sees a lot of water. It's important for your pool deck material to withstand high volumes of water. Tile and wood decking are at a disadvantage in this category. If not installed properly, the tile grout may erode after extensive moisture exposure. If a wooden deck isn't sealed and refinished periodically, it may begin to rot and decay.
Barefoot Test: You're not thinking about shoes when you use your pool. In fact, many pool-goers want to be ready to jump in and out of the water at a moment's notice. That's why your pool deck material needs to be barefoot-friendly. Splinters, tripping hazards and protruding nails are all dangerous possibilities on a pool deck. The best type of decking for pools will protect against these issues and allow for carefree barefoot roaming.
Slip Resistance: "Don't run on the pool deck" is a rule at pretty much every public swimming pool. The same is true for your home pool, though it can be challenging to reinforce. Despite your best efforts, you may have pool-goers running around. For this reason, having a slip-resistant pool deck is a crucial preventative safety measure. A slightly textured surface can give grip and support, especially when wet. Smooth materials like tile and wood may become safety hazards when they surround a pool.
Why Should I Use Composite Decking for Pools?
Based on the heat, safety and durability requirements laid out, composite decking makes the perfect choice for a pool deck. It doesn't just check the four boxes, it surpasses them with added excellence and style. Some of the qualities of composite decking that may enhance your pool experience include:
Moisture & Rot Resistance: A 360-degree capped composite material is protected from moisture on the top, bottom and grooves. The comprehensive cap acts as a shield against pool water and the long-term damages it may cause in a weaker deck material. Composite materials eliminate any worry about slipping on or breaking through rotting chunks of decking.

Variety of Fastening Options: Composite materials offer both hidden and non-hidden fastening systems. You have the freedom to decide whether you'd like a completely screw-free board face as well as how close you'd like the gaps between boards. Some composite varieties install with the classic face-fixed screws. Using screws designed for composite decking means they'll blend in and bury themselves in the board.
Textured Options: A little texture in your decking material serves as a helpful grip for those walking without shoes. Composite decking comes in smooth and textured varieties, allowing you to select an option that makes your pool deck safer.
Long-Lasting: Composite decking won't wear out after one or two pool seasons. Even the heaviest pool traffic can't break down the durability and longevity composite offers. When you invest in a composite pool deck, the only time you'll need to think about it is when you admire it.

Less Maintenance: The pool is a relaxation zone, so why add extra stress? A standard wooden deck requires careful maintenance to extend its lifetime. This can quickly turn into a large undertaking, depending on the size of your pool deck. Composite decking requires zero sealing, sanding or staining. Simply spray it down with basic household cleaner a couple of times a year, and you're good to go!
It's difficult to deny the convenience composite decking offers. Another one of composite decking's strengths is the variety and versatility available within the different board profiles and styles.
What Pool Decking Options Does NewTEchWood Have?
NewTechWood offers four board profiles with different shapes, installation options and uses. One trait all four profiles share is their 360-degree cap protection. Older generations of composite boards were uncapped or featured insufficient cap levels. All NewTechWood decking materials feature the highest level of cap protection to ensure your pool deck is built to last.
Our board profiles include:
Cortes Series: The Cortes line features a solid board designed to be installed with deck screws. It is well-suited for use as deck or stair boards.
Magellan Series: The Magellan line features a solid board with small grooves on each side. The grooves allow you to choose between a hidden fastening system or face-fixed deck screws.
Voyager Series: The Voyager line features a hollow board with grooves on each side. Six hollow tubes run through the board, making it lighter than solid boards. The grooves and tubes make the board suitable for use with hidden fastening systems on decks.
Columbus Series: The Columbus line features a solid board with grooves on one side and a solid face on the other. The notch on the bottom of the board makes this profile ideal for use as a bullnose on stairs or as the edge board on a deck.
Regardless of its shape, each board is 5.5 inches wide and 0.9 inches tall. The Cortes, Magellan and Voyager boards each come with one smooth side and one wood grain side. You can choose to install either surface, but the wood grain texture may provide more grip for your pool deck when wet. In addition to board profile, you can choose between solid and hollow boards. Both solid and hollow boards incorporate the strong, durable elements of composite decking. Their differences serve to further customize your decking to your preferences and budget. Solid decking is heavier than hollow boards. Its composition also helps to dull and absorb the sound of walking or running to a greater degree than hollow boards. Because it doesn't have exposed tubing at its ends, there's no need to add end caps to solid decking. However, you should still seal the ends with a water-based sealer to protect them from pool and weather-related moisture. Hollow decking is lighter than solid boards. It tends to respond better to extreme temperature changes and doesn't expand and contract as much as solid boards. Its light weight may put less stress on your deck frame, and hollow boards tend to cost less than their solid counterparts. To fully protect hollow boards, you'll need to install end caps with a dab of silicone sealant. NewTechWood is one of the only U.S. companies that offers both solid and hollow board options. Other companies focus on solid boards because they are quicker and easier to manufacture and extrude. However, we find the option for hollow boards is valuable for those who want a lighter board or need strong materials that won't strain an older substructure. Installing a deck on your own can be a satisfying DIY project. Using hollow boards can simplify this process with easier material transportation and manipulation. Hollow board options give you the freedom to choose materials that work best for your budget and your project needs. Both hollow and solid composite boards make strong candidates for your pool deck. Determining which type of board you use will depend on the details of your pool deck project. Consider the following elements when making a decision:
Are you redoing an existing pool deck? Depending on the type of substructure you have, it may make sense to go with a hollow board for long-lasting strength that won't add stress to the substructure. If your existing deck doesn't have a substructure in place, you may have the option of constructing one that is sturdy enough to support either hollow or solid boards.

Is your deck project DIY or professional? If you're building your pool deck on your own, it may be simpler to choose a hollow board that doesn't weigh as much. To use a solid board for your DIY project, you may want to enlist the help of some friends or family to assist with lifting and placing the boards. If you're working with a contractor, solid boards may warrant a longer installation period than hollow boards.
Is having a quiet pool deck important to you? For maximum sound dampening, it may be safer to opt for a solid board option. The location of your pool deck in proximity to your neighbors' homes and other areas of your home may be factors in deciding if you want a quiet deck. However, if this isn't a high priority in your decking choice, you may consider using a hollow board option.
Ultimately, your decking choice will be unique to your projects and goals. Regardless of what you decide, NewTechWood has an option you can count on.
Our Pool Decking is Available in a Variety of Colors
Choosing your decking profile is only part of the fun! NewTechWood's composite decking comes in a wide range of colors that emulate natural wood tones or exotic colors. Envision your pool deck in one of these many colors:

Natural Wood
Peruvian Teak: A mid-range, orange-toned brown
Brazilian Ipe: A rich, medium-dark brown
Spanish Walnut: A deep, dark brown
Hawaiian Charcoal: A dark, charcoal black
Westminster Gray: A light, silver-gray
Roman Antique: A light grayish tan

Special Order
Australian Red Cedar: A light, red-toned tan
Icelandic Smoke White: A light, smoky white
Swedish Red: A rich, medium-dark red
Floridian Orange: A bright, creamsicle orange
English Oak: A yellow-toned light brown
Indonesian Merabu: A deep, dark brown-black
Irish Green: A medium, yellow-green sage
Honduran Mahogany: A medium red-brown
California Redwood: A rich, medium-dark red-brown
Caribbean Blue: A bright blue, like vibrant Caribbean waters
For special order colors, your decking order should include at least 2400 linear feet — approximately 1000 square feet — and be placed at least 16 weeks in advance. If your order meets these criteria, we can also create custom color or board profiles upon request. When considering a color for your composite pool decking, keep in mind that darker colors will absorb more heat. Composite decking won't retain heat like other pool deck materials, but the color you pick will influence its temperature. Consider some light color options that match your deck aesthetic to reduce the amount of heat you'll walk on with bare feet.
Benefits of Composite Pool Decking for Pools

Composite pool decking outshines the competition when it comes to heat absorption, water capacity, barefoot friendliness and slip resistance. But those aren't the only benefits composite has to offer. Some of the additional pros of using composite decking for pools include:
Look and Feel of Wood: One of the reasons wood has been a popular deck material for so long is the luxurious and classy aesthetic it embodies. When you envision a rustic, high-end spa or sauna, the odds are you imagine sleek wooden floors. Visiting a pool or sauna and admiring the wooden features is ideal because you don't have to maintain them. With composite decking, you can have the best of both worlds. Achieve a modern and chic look without worrying about time-consuming upkeep.
Environmentally Friendly: Because composite is made from recycled wood and recycled plastic, it is one of the only pool deck materials made with a sustainable process. Composite deck boards can be made from recycled plastic bottles, plastic bags and reclaimed wood fibers. When you purchase composite pool decking, you're contributing to a green initiative to reduce the waste that ends up in landfills. Choosing composite allows you to make an environmentally-conscious decision without sacrificing an ounce of style.
Increased Safety: The hidden fastening systems available for composite decking aren't just about appearance. Utilizing a system that attaches underneath the deck boards ensures you won't be stepping on any loose nails, screws or hardware. Stepping on protruding fasteners is dangerous — especially with bare feet. In addition, quality composite decking won't splinter or shift to create an uneven surface. Peace of mind is essential around the pool, and a composite deck can provide just that.
Return on Investment: Return on investment (ROI) is a term used in the business world to calculate solutions and decisions that will maximize profitability. The goal is to end up with greater profit than what you began with. Composite decking harnesses this principle in the areas of time and money. What you invest in your composite pool deck will pay off long-term when you don't have to repair your deck or spend time maintaining it.
Installing Composite Pool Decking
When it comes time to have your composite pool decking installed, the process will look different depending on whether your pool is above ground or in-ground. Based on the size and difficulty of the task, you may choose to complete this project on your own or hire a professional. Whatever your project specifications, the process will begin with planning, progress to frame building and end with the addition of deck boards and other necessary items.

For an above ground pool deck, here are some steps you can expect: Planning & Framing
Many above ground pool decks are constructed like a standard backyard deck with the pool surface in the middle. The installation process will begin with planning a layout that accommodates your pool's height and circumference as well as any mechanical pool parts. Items like pumps, jets, filters and skimmers should be considered when planning the deck design. In this phase, contractors must also consider local building codes to ensure the structure is safe and compliant.
With general plans established, your contractor will start by digging holes for concrete footings. Footings act as the support bases for your deck, and they need to extend at least six inches below the frost line. The contractor may use manual or mechanical post hole diggers to burrow identical holes into the ground around the pool.
Your contractor will then mix and pour concrete into the holes to create the footings. He may use cardboard forms to shape the footings into perfect cylinders. Your contractor may choose to install post bolts into the concrete while it is drying or wait to drill them into the hardened concrete. Either way, the concrete will need to cure for at least 24 hours before moving on to the next step.
When the concrete footings are dry, your contractor will affix support posts to the top of each footing. These posts are typically four-by-four and made from approved lumber. Composite decking is not approved for use as deck support, so you'll need to make sure your support and joist lumber complies with local building codes and standards.
With support posts secured, the project is ready for a general frame. Your contractor will attach approved lumber to the support posts and create an outline of the deck. The scope and size of this outline will depend on the type of deck you want and whether you want to incorporate a staircase into the design.
The final step in framing is attaching support joists within the deck outline. Joists are boards that run perpendicular to the deck boards to act as vital reinforcements. Your contractor will first attach joist hangers to the rim joists in evenly spaced intervals. Then they will add joists into the hanger slots and secure them tightly.
Deck Boards & Accessories
Once the general frame for your pool deck is ready to go, your contractor will install a starting accessory onto the rim joist. This piece of hardware will lock into the first deck board.
From there, your contractor will begin adding deck boards. The process will work differently depending on the type of fastening system you've chosen. T clips, which earn their name from their "T" shape, slide into the grooves on composite deck boards. Your contractor will slide the T clips onto a deck board and position them over each support joist. They will then screw the clips in part of the way and add the next deck board. To secure the two boards, the contractor will apply pressure to the newly added board while fully screwing all clips into the joists.
If you are using a mini gap system for your pool deck, the board installation process will look slightly different. Mini gap clips earn their name because they can create smaller gaps between deck boards. Their backward "Z" shape slides underneath one board, up between the two boards and over to rest on the other board's interior groove. Your contractor will slide the mini gap clips into place over the joists and screw them in. Next, they will affix the second board into place with the groove securely locked underneath the clips.
The contractor will continue to add and place boards around the deck frame until the entire area is full. At this point, they will install the final board according to specifications of the clip fastening system you're using.
For an above ground pool deck, you'll likely want to install composite fascia boards around the edges. Fascia hides some of the frame structure and gives the deck a seamless, polished look. Your contractor will install the fascia boards according to their thickness. If less than .375 inches thick, the fascia should be added every 12 inches on centers. If more than 10 millimeters thick, the fascia can be added every 16 inches on centers. Following these guidelines helps prevent the fascia from warping and buckling over time.
If you're using hollow pool decking, you'll want your contractor to install end caps on the boards. These are typically small pieces of plastic that cover the exposed holes on the board ends. Your contractor will use a silicone sealant and a rubber mallet to secure the caps into place.
If you're using solid pool decking, it is wise to weatherproof the exposed ends with a water-based sealant. Your contractor will brush the sealant onto the edges and let it dry to ensure maximum moisture resistance.
A final step for your above ground pool deck may include installing a railing and staircase. This may be an especially important safety feature depending on the height of your pool. Check with local building codes to ensure that your deck structure complies with local housing organization and safety codes.
An in-ground composite pool decking installation will unfold similarly to an above ground pool deck installation. The main difference for an in-ground pool is the support system installed underneath it. Your contractor will need to assess your current pool substructure and determine if any changes need to be made. When they've ensured the substructure is effective, they can install the composite decking as explained for an above ground deck. Your decking will reach up to the edge of your in-ground pool's coping, which is the thick line of material directly surrounding the pool edge.

Pro Tips For Composite Pool Decking Installation
Whether you're installing your composite pool decking or you're hiring a contractor, here are some insider tips to help the process go as smoothly as possible:
Call Dig Lines: Digging your deck footings puts you at risk for hitting underground utility lines. When you call 811 several days before your deck installation, you'll be routed to your local dig line. The dig line will notify utility companies with lines in your area, and the companies will send representatives to mark potential hazards to avoid. Calling is a good idea even when you're working with a contractor. Your deck area will be marked and ready to go when they arrive, which may speed up the overall process.
Acclimate Materials: Composite materials expand and contract in response to temperature changes. You can help prevent shrinkage after installation by introducing your composite decking to its future environment at least two days in advance. When acclimating, be sure to set your composite boards on a flat and even surface. Dirt or grass can shift and move over time, which may cause the boards to warp. For best results, lay the boards onto wooden joists in a flat area near where your deck will be.
Use White Chalk: Like most construction projects, building a pool deck requires careful attention to detail and measurements. Contractors and DIYers alike use chalk to mark measurements with accuracy that won't stain. Make sure you only use white chalk on your composite materials. Any other colors may cause permanent stains. Inform your contractor and keep this in mind to ensure your deck won't have residual chalk marks left over.
Add Composite Accessories: NewTechWood offers composite fascia boards and railings that perfectly match your composite pool deck. We even offer composite planters and bird feeders to add a homey and environmentally friendly touch to your deck. For a coordinated look, shop our full line of composite products.
Why Choose NewTechWood for Composite Pool Decking
NewTechWood's composite decking is a clear choice for several reasons. Our range of colors, board profiles, board types and accessories gives you the option to customize your pool deck down to the smallest component. You won't find that kind of range and options among our competitors.

Our decking products are also backed with a 25-year limited warranty. If you install and maintain your pool decking as recommended and it doesn't last, we have one of the most comprehensive warranties in the industry. We'll even offer to pay for labor expenses associated with replacing any of your decking material. We've tested and perfected out composite decking materials. NewTechWood composite products undergo tests internally and with the International Code Council (ICC) so that you receive a truly durable product. Here are five tests we've conducted to make sure our products are up to your standards:
Stain Test: We placed blotches of black ink on our composite decking and another conventional decking. When wiped off, our decking showed a less visible stain than the conventional decking. When washed with water, the ink stain completely lifted from our composite decking. The conventional decking had a visible stain left. If you host pool parties or enjoy food and drink around the pool, our composite shield can keep your deck clean and stain-free.
Scratch Test: We tested our composite against conventional decking by creating scratches with a one-millimeter needle and 8N-20N pressure. In all tests, marks appeared on the conventional decking but not on the composite decking. With a NewTechWood pool deck, you won't have to worry about scratches from deck furniture or pool tools. Our boards are the same color all the way through, so scratches won't expose a light interior.
Abrasion Test: In accordance with standards set by the American Society for Testing Materials, we tested our composite boards against conventional boards with abrasive forces. Using 750 grams of weight at a speed of 60 turns per minute for a total of 1000 turns, we put the material under abrasive strain. The conventional decking showed a clear, worn-off ring following the test, whereas our composite showed a very faint ring. If your children are dragging chairs across your deck, you don't want to have to worry about wear marks over time. With NewTechWood, you won't have to.
UV Test: We put our composite decking into a QUV chamber for 3000 hours to test how it maintains its color under UV rays. After testing, experts concluded there was no visible color change at a Delta E less than 5.0. Delta E refers to a number value representing the difference between two colors. What this means for your composite pool deck is that the sun's UV rays won't cause your decking to fade. With NewTechWood, you'll enjoy the color you picked for years.
Boiling Test: In our final test, we submerged our composite decking in pots of water and heated them to 212 degrees. The boards were boiled and documented every 10 hours. At the end of 90 hours of testing, there was no separation between the board cap layer and core, no damage and no cracking. Though you won't be boiling your pool deck, we're confident our composite materials can handle the extreme heat of summer without deteriorating.
Choose Dependable, Stylish & Proven Composite Pool Decking

At NewTechWood, we're dedicated to providing composite materials with unparalleled performance that is sure to satisfy. You deserve a safe, fun and relaxing poolside experience. If you're redoing or installing a pool deck, pick composite decking that you can count on. For more information on our products or to begin your journey to a composite pool deck,
contact us today
!